During the three-day nerdfest of RTX 2019, Austin got a little weirder.
Rooster Teeth's annual convention gave over 60,000 fans and industry professionals an opportunity to meet and speak with content creators from across the board of RT's offerings of animation and gaming July 5-7. Rooster Teeth is a media production company which operates out of Austin, Texas, producing films, animated series, and other online media. The eighth annual convention was held in downtown Austin, in several venues which included the Austin Convention Center, Hilton, and Fairmont hotels.
This was the first RTX convention following the full purchase of Rooster Teeth's parent company Otter Media and shuttering of sister company Machinima, which resulted in the layoffs of around 140 people. Machinima was a company which used video game technology to create animation.
Given the recent headlines for the fandom-driven company, the success of the convention is a good omen—and the state of the union appeared strong.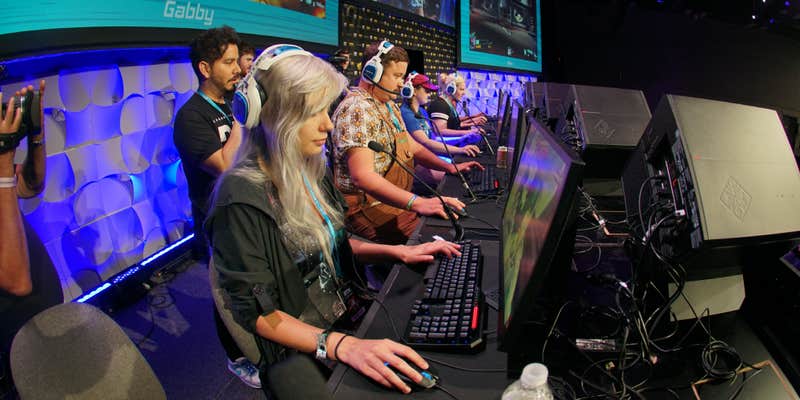 Rooster Teeth's in-house animators, writers, and directors had their own panels, where they took questions about the difficulties of changing roles and directing scripts that they didn't write—and vice versa. Writer and director Miles Luna said that it helped to "stay loose" and let ideas develop. Luna said that he had moments like this while working on RWBY, an animated series produced by RT where young men and women train to defend their world from monsters.
"It's really hard when your job is something that is so artistic because I think all of us put parts of ourselves into the work that we create, but that does not mean that we should be represented by that work," Luna said. "We still have value outside of the job that we do and there needs to be a line drawn in the sand between 'I'm here, I'm giving this my all' and also 'I'm just doing my job right now.'"
Luna worked as an assistant to Machinima animator Kerry Shawcross on Red V. Blue before moving to writing and directing.
Indie hobbyists who create things in their spare time such as furniture, costumes, and décor, were able to talk shop with Rooster Teeth's live-action team, where sewing, metalsmithing, and the many ways a Dremel will bite the dust on an ABS pipe dominated conversations. Fans of inclusive gaming got to chat with  BuzzFeed Multiplayer's Kelsey Impicciche, Branden Smith, and Ify Nwadiwe about the stigmas of gaming as women and members of the LGBTQ community. During their panel on Saturday, they also discussed how BuzzFeed Multiplayer grew to nearly 10 million subscribers, and how gaming has grown since they each started.
I loved the RTX Buzzfeed Multiplayer panel with @kelseydangerous @IfyNwadiwe and @brandenmanden. It was enlightening and interesting and fun and it was excellent to meet y'all!!! pic.twitter.com/XmPD6zFhci

— Amber – Aw Man, I'm All Outta Cash (@AmberofSolo) July 6, 2019
Members from one of Rooster Teeth's partners, Kinda Funny, another media production house that does film, TV, and comics, also featured. They expressed their love and appreciation for their fans by dressing in "cool Greg" style after Greg Gettys, the younger brother of founding member Tim Gettys: matching coral polos, sunglasses, and blue sweatbands. They talked about their time with Rooster Teeth and upcoming plans for their channel.
What Rooster Teeth continues to bank on is a dedicated fandom willing to flood downtown IRL and geek out.
First time seeing @KindaFunnyVids live and meeting some of the crew as well as some of the KFBFs was an awesome experience! An A++ community! #RTXAustin@SadBoyBarrett @Nick_Scarpino @GameOverGreggy @KindaCoolGreg pic.twitter.com/S0hd4Agy2h

— moidivision (@moidivision) July 7, 2019
Fans were also treated to some sneak peeks of RT creators' content, as well as the next season of RWBY. RTX 2019 saw success resembling the 2017 and 2018 conventions, where we previously reported a similar number of people at the convention.
Between the 2018 and 2019 conventions, Rooster Teeth's parent company Otter Media was purchased by AT&T and placed under the Warner Media umbrella, according to Tubefilter, which led to Machinima closing operations in January. The corporate restructuring was not addressed at RTX.
Tubefilter reports that Otter Media was the result of a partnership between AT&T and the Chernin Group in 2014 and that AT&T simply bought the rest of the company from the Chernin Group.
Several Machinima series were picked up by Rooster Teeth, according to Variety. These include Inside Gaming, All Your History Are Belong To Us, Titanfall Dropout, and Boss Battles.
"We're very enthusiastic about the collaborations we've been part of throughout RTX with other WarnerMedia brands, like DC, Adult Swim, ELEAGUE and others. Revealing the covers for our DC Comics for RWBY and gen:LOCK was a highlight of RTX. WarnerMedia recently announced HBO Max and our inclusion on that service as a featured brand and content provider. It's been a year of big change, and that always comes with integration and shifts in the media landscape, but overall we're very excited about the path we're forging in this new world and the future looks bright," Rooster Teeth CEO Matt Hullum told the Daily Dot in a statement.
Judging by the turnout and fandom at RTX 2019, he's right.
This story has been updated.
READ MORE:
Got five minutes? We'd love to hear from you. Help shape our journalism and be entered to win an Amazon gift card by filling out our 2019 reader survey.