Machinima, one of the earliest examples of using video games to animate videos, creating gaming-themed live-action content, and a major force in YouTube culture since its earliest days, has had all of its content removed from its YouTube channel without warning on Friday.
The content removal comes as the result of restructuring in Otter Media, following AT&T's purchase of Time Warner, which owns Otter Media. Lawrence Sonntag, who used to work for Machinima as a member of the Inside Gaming program and now works for Rooster Teeth, was one of the first to discover the content removal.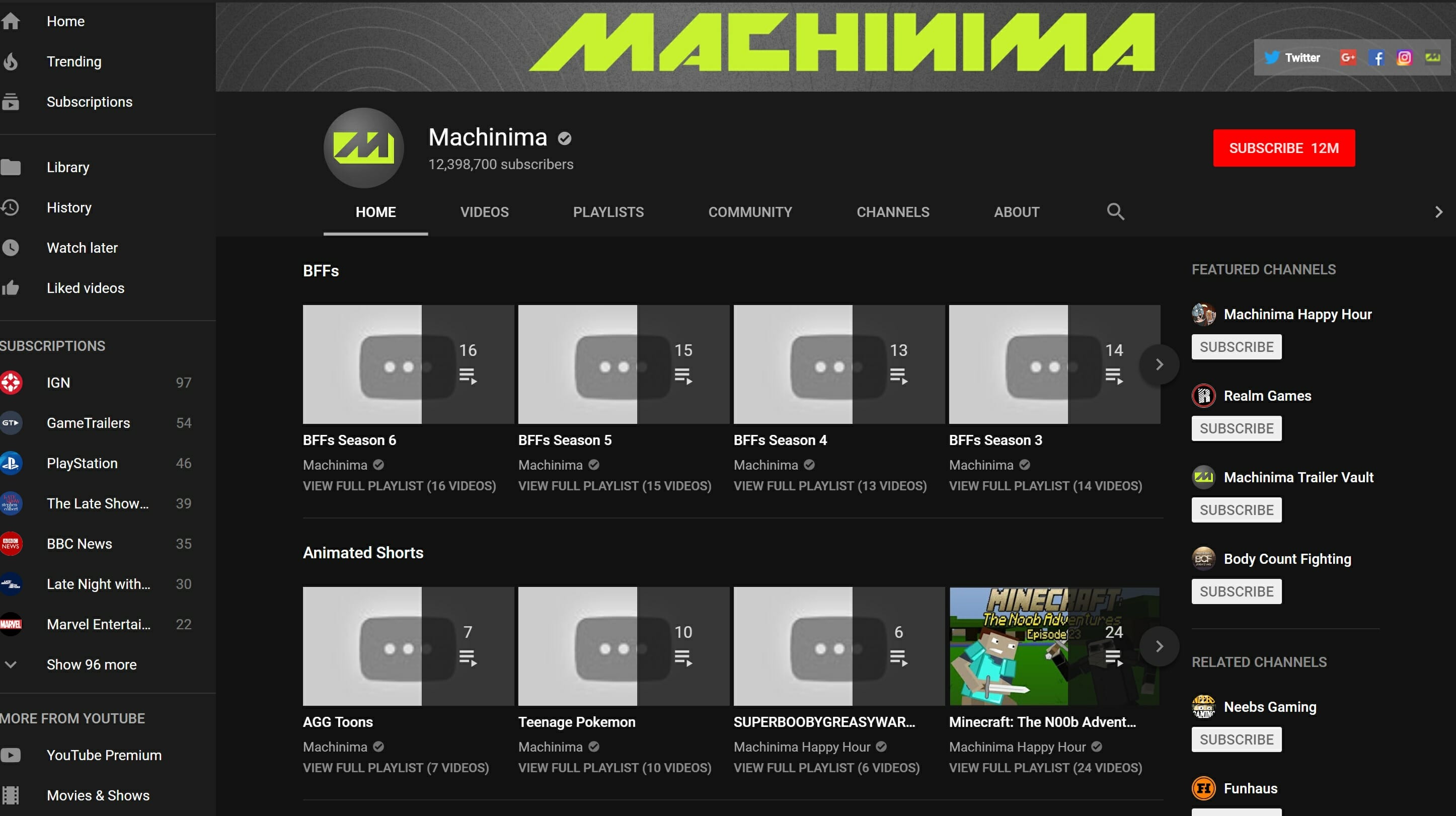 "Warner, at this point, cannot verify the copyrights to all videos in Machinima's network, and there are a ton of videos," Sonntag said in a recent Twitch clip. "It'd cost a lot of money to do it, and this is on videos that aren't getting any views. So, they cut it loose. That's that. It's a business. That's how it goes, man."
The videos in question were previously set to private before being actually removed.
Machinima was home to some of the most popular web series of their time, including Inside Gaming, ETC News, Halo 4: Forward Unto Dawn, Arby n' the Chief, and Two Best Friends Play. By the year 2012, Google invested $35 million into the channel, back when the company hoped YouTube could one day dominate television.
The move has caught not only fans off guard, but also some of Machinima's own content creators, some of whom had their work dropped from the channel. YouTuber GoodGameBro tweeted out Friday, "Someone over at @Fullscreen has some explaining to do because apparently I'm now a YouTube free agent."
Fullscreen is part of Otter Media's collection of media companies. Some YouTubers received emails saying their content had been transferred over to Fullscreen as a result of the merger, according to a report by Destructoid. But after the transfer, Fullscreen apparently terminated partnerships with some creators. 
https://twitter.com/GoodGameBro/status/1086432169050951680
The Daily Dot reached out to GoodGameBro, who provided a screenshot of the email Fullscreen had sent him terminating their partnership.
"Due to the nature of your uploads and because your uploads may potentially infringe on the rights of others or potentially violates applicable laws or regulations, including without limitation YouTube's Terms of Service and/or YouTube's Community Guidelines, we feel it is best that we part ways. Thank you for your understanding, and good luck with your YouTube channel," the email reads.
For GoodGameBro, the situation wasn't as bad as it could have been, but it still exemplified a lack of respect from the companies involved.
"Luckily for me, it was only my secondary channel," GoodGameBro told the Daily Dot. He explained, 
I recently started uploading on that channel again, and even told them that I'd be resuming content there, but they still terminated the agreement with the channel. My partner manager rarely communicates with me proactively (unless they're trying to make additional money off of me), so I've let them know that I'll be moving on from Fullscreen in the near future. If they had simply communicated with me beforehand that the second channel was in danger of having that happen or would for X or Y reason, it would have been a different story. It's just another example, unfortunately, of Fullscreen not caring about creators despite how long they've been with the network.
With more than 12 million subscribers, Machinima was one of the most popular channels on YouTube, but that came along with plenty of accusations of exploiting its content creators. Perpetual contracts (meaning they have no end date, which is generally regarded as unenforceable, but still coercive to content creators who rely on that content's revenue) are a commonly cited source of frustration.
If a creator tried to leave the contract, Machinima could, in theory, pursue legal action for "breaking" an agreement that prohibited creators from putting their content on any other platform. Twitter user @JERICHO described his decision to pursue legal action against Machinima.
Fun fact: I was the first partner to challenge Machinima in court and get out of the contract. It cost me the entirety of my savings at the time. That said, the people that worked there were and are still some of my favorite people, none of which are named Debevoise. https://t.co/SDA6lAESza

— TUCKER (@JERICHO) January 19, 2019
Their contract was a perpetual one that had to be challenged in CA. It means they owned you forever, and there was no termination clause, which is illegal. So I hired a lawyer with some help and went all the way to "buy a ticket and let's go to court" before they let me out

— TUCKER (@JERICHO) January 19, 2019
A breach to leave, because there wasn't a way to leave. You were limited to posting with them forever, and they owned your brand.

— TUCKER (@JERICHO) January 19, 2019
Elsewhere, fans of Machinima and former contributors bemoaned the loss of a key part of YouTube and internet history.
https://twitter.com/Dangersharkz/status/1086436448511741953
Wow… they finally went ahead and deleted everything we'd ever done.
7+ Years of work… lost to the sands of time. #RIPMachinima

Make sure you're subbed to our new channel that we started after leaving Machinima last june – https://t.co/CdswejOfLJ – thanks pic.twitter.com/H8MEVGHaCq

— RickyFTW (@rickyftw) January 19, 2019
The golden age of YouTube has finally been put to rest. What an absolute horrible way to treat the people that put their blood, sweat and tears into something they loved. Shame on you @Machinima https://t.co/DhcYh39HUx

— Creestopher (@SN_CreestopherX) January 19, 2019
It's good that Machinima is gone because it turned into a misrepresentation of machinimas and a soulless husk of what it used to be but all those historical videos got completely wiped out.

— ducci (@ducciboi) January 19, 2019
I know I showed up at a weird time in Machinima's history, but it still stings to see it all just… poof. RIP, Machinima. The university of New Media. Some of my favorite years spent in that studio. You will be missed. pic.twitter.com/AWG0rGwHe3

— Chloe Dykstra (@skydart) January 19, 2019
I learned so much from Machinima over the years, and love so many people that came from there. This sucks. #RIPMachinima

— Brandon Jones (@TrailerJones) January 19, 2019
https://twitter.com/VilinskiKonjic/status/1086444598816370689
The Daily Dot has reached out to Fullscreen for comment but did not receive a response by press time. 
Correction: An Ellation spokesperson says the change is the result of a larger merger within Otter media, and Ellation was not directly involved.
Update 4:35pm CT Jan. 19: A sokesperson from Otter Media told the Daily Dot, "We are focused on creating new content with the Machinima team, which will be distributed on new channels to be announced in the coming months. In the meantime the Machinima network of creator channels continues to showcase the talents of the network. As part of this focus on new content, we have pivoted from distributing content on a handful of legacy operated channels."