Bayonetta 2 has only been in stores for two days, but gamers can't get enough. Even Playboy is joining the fanfare.
Playboy Playmate Pamela Horton donned Bayonetta's costume for a recent photoshoot, and fans on Twitter seem rather pleased. Horton doesn't have the leggy proportions of Bayonetta, but then again, who does? Bayonetta must be at least seven feet tall.
Pamela Horton is the woman who cosplayed Bayonetta in Playboy. She's a total babe. pic.twitter.com/ZQr11VAk7c

— ZachSCARY (@WashingMachineO) October 26, 2014
The nice thing is that that Bayonetta Playboy girl @PamelaHorton13 is an actual gamer and Nintendo fan.

— Phazon (@Phazon4G) October 24, 2014
If you go over to Playboy's website, you'll see large banner ads promoting the new game.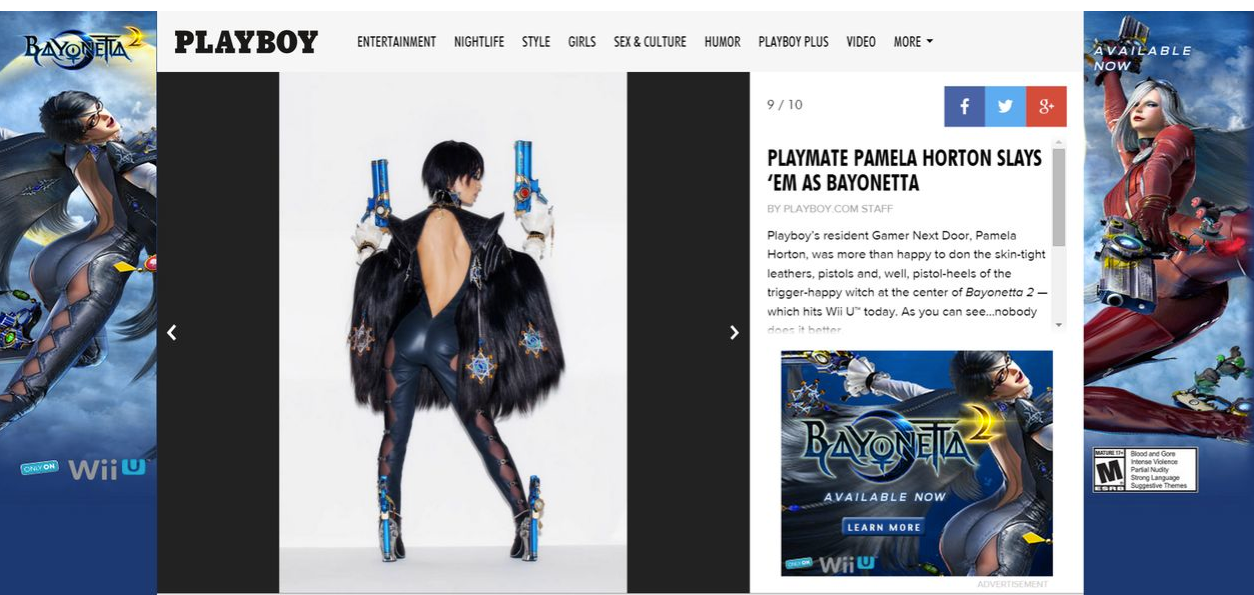 It's not entirely clear what sort of partnership Nintendo has with Playboy. However, a post on Playboy's Facebook page states that the game is available for purchase now.
This joint venture is also acting as fanboy fuel. Nintendo fans are using this as evidence to refute the notion that the Wii U is only a kid-friendly console.
Playboy is advertising Bayonetta 2 with permission from Nintendo. Remember everyone, it's a kiddie console. pic.twitter.com/cplEMLvqSt

— InThisGraveChuckLais (@comtar) October 24, 2014
We're still not entirely sure what to make of this. It's just so not Nintendo.
H/T Power Up Gaming | Images via Playboy