Pizza Hut is bringing a childhood toy to life at Comic-Con.
The chain partnered up with Paramount Pictures and built a real-life, 12-foot Pizza Launcher to debut this weekend at San Diego Comic-Con as part of a promotion for Teenage Mutant Ninja Turtles.
No, really.
The Pizza Launcher, for those who haven't watched the cartoon, was popular during the original TMNT show run during the late '80s and early '90s that shot out plastic pizzas at enemies (or your friends, if you were a less competitive child).
According to Pizza Hut, the launcher is built on top of a 2002 Toyota Tacoma and stands at more than 12 feet tall, nine feet wide, and 16 feet long. It has a 180-degree rotating tower and a turret-mounted seat, and while you won't actually get to launch actual pizzas, SDCC attendees can launch fake Cheesy Bites pizzas at enemy targets.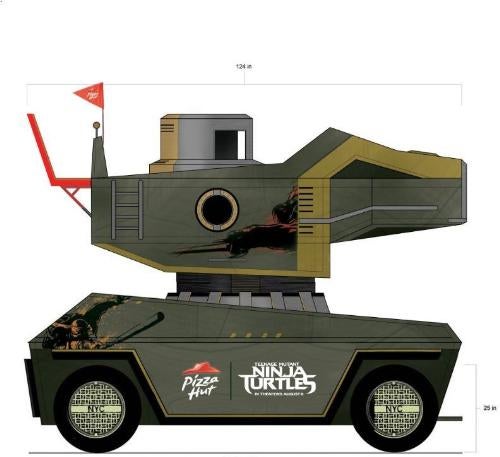 Photo via Pizza Hut
You'll have to wait until Comic-Con for the actual reveal, but until then, feast your eyes on the machine's teaser trailer. It just might be the best thing to come out of the new TMNT movie.
It seems pretty useless outside of Comic-Con, but one person who might be in need of this? The guy who's been tossing pizza the old-fashioned way.
H/T The Mary Sue | Photo via Paul Roth/Flickr