Twitch streamer Pink Sparkles may be regretting her decision to move into a content house. After being caught during a live stream telling her roommates to be quiet, she's facing a wave of online vitriol.
The houses are a new trend among streamers and other content creators. Popular online personalities like Ice Poseidon are shacking up with their fellow streamers to capture the extra chaos and hijinks for their viewers. Many popular streamers are young, too, which also means that many of them are caught in their prime partying years. For League of Legends streamer Pink Sparkles, that might mean some late nights in her new shared home in Austin, Texas.
She announced the move-in with six of her fellow streamers in a mid-April tweet. Things seemed fine until the weekend.
https://twitter.com/Twitch_Pink/status/1117145103775125504
The incident
Not long after the move, however, Pink Sparkles and some of her roomies hit a snag. After her roommate Mitch Jones, among others, returned home from a late night out over the weekend, he resumed partying while streaming the action live. When Pink Sparkles was awoken at around 4am by her new housemates, she was understandably angry. A video of her reaction quickly circulated through Reddit's LivestreamFails subcategory.
The clip is generally what you would expect. Jones and his slightly inebriated companions are hanging out and having a noisy conversation, only to be cut off by Sparkles shouting from off camera. "Shut the fuck up Mitch. Shut the fuck up its 4am," she said. The clip doesn't show any interactions beyond Mitch acknowledging the hour and finishing with, "Yeah, I should probably be quiet. I apologize."
The response
The interaction should have ended there. Even with the clip circulating online, one would think most rational people would end up solidly in Pink Sparkles' camp. After all, 4am is a very reasonable hour to be asleep, no matter who you are. Unfortunately, anyone who thinks as much is forgetting that this is a female streamer on the internet, and they are frequent targets of harassment.

Twitch is known as a hub for toxic gamers, usually men, who tend to feel that attractive female streamers are invading their space. For these men, any female who dares to enjoy games is imposing.
"I think LSF knows that Pink Sparkles is a twitch thot, you're safe," one tactless commenter wrote. "We all know she's there to suck the credit card out of [her boyfriend] Asmon's dick lmfao."

The reaction to Sparkles' outburst was quick. Though there were those online who supported the reasoning behind her outburst, the rational voices were quickly overpowered. Condemnation for Sparkles' desire to sleep during traditional sleeping hours came pouring in.

Most people pointed to her living situation as the rationale behind their criticism. "You're pretty retarded if you were expecting cosey silence for your sleep schedule when your [sic] in a streamer house that has many people on different sleep schedules on Saturday night," one commenter wrote.
Sparkles' defense
Despite the fact that an irritated 4am shouting match is really no one's business, Sparkles was criticized for her reaction online. She responded to the growing controversy on TwitLonger. In her statement this week, she explained that the house had recently decided upon a noise curfew. She also noted that sound carries well in the mostly empty home and that she tends to struggle to fall and stay asleep.
Again, it should be noted that no one should need to explain why they were upset by loud roommates at 4am.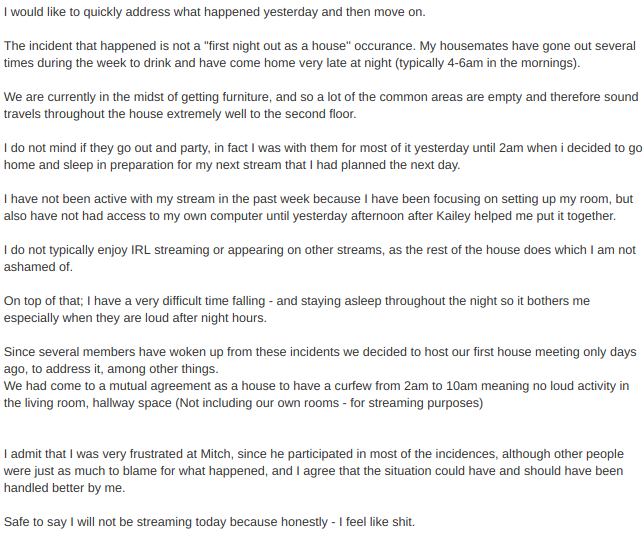 Asmongold steps in
Because it's the internet, Sparkles' words were not enough. Online trolls continued to drag her for daring to sleep, only beginning to back off when her partner stepped in. Sparkles is dating popular World of Warcraft streamer Asmongold. He defended her in a stream several days ago. In the video, he noted that the reaction by the online community disturbed him.
"It is genuinely disturbing to me that someone responding negatively to being woken up at 3 am to yelling—that person is in the wrong," he said. "Even whenever it was previously agreed on that it wouldn't happen."
We've reached out to Pink Sparkles for comment.
READ MORE:
H/T Dexerto