Be honest: You've oft wondered what it would be like to date as a pigeon. Of course you have, you're only human! Dating as a pigeon would be so simple, yet so much more complicated, than dating as a human: While you wouldn't have to worry about Tinder swipes and pick-up lines, instead just approaching prospective partners by sniffing their cloacae, you wouldn't be able to go out for dinner and drinks without having to fight to the death with a roach in a dumpster behind a French restaurant.
If you've ever been curious about what it'd be like to make love with a rock dove, but don't quite want to go dumpster-diving for day-old boudin, the gaming developers Devolver Digital and Mediatonic are partnering up for the English version of Hatoful Boyfriend, a wildly popular dating sim that allows you to adopt the persona of a WSP (Woman Who Has Sex With Pigeons).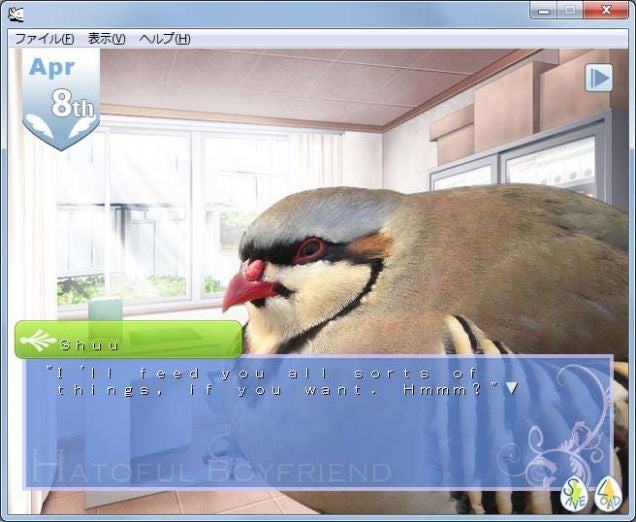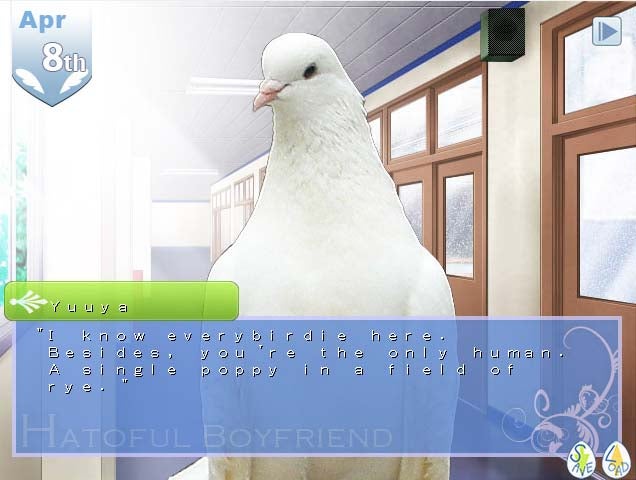 Originally from—surprise—Japan, Hatoful Boyfriend, which literally translates into "Pigeonful Boyfriend" (the name is a pun on the words for "heartful" and "pigeon," which sound similar in Japanese), initially launched on April Fool's 2011 as a parody of the genre of otome, or romance games for female players. In the game, the player is a human female looking for love at a school for male pigeons, the hilariously named St. PigeoNation's Institute.
Players can choose between Sakua, "a pompous and prideful bird of French nobility," Nageki Fuji, "a loner who spends most of his time reading books with one wing," and Yuya Sakzaki, who is rumored to be "quite the playboy [playbird]." There are also a few other bizarre characters, including an infirmary doctor who demands pupils give him body parts for experiments and a lovable, mentally impaired pigeon on an eternal quest for pudding.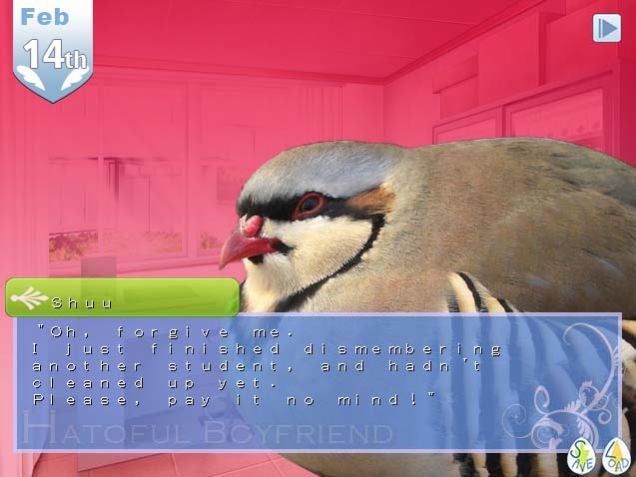 What began as an April Fool's Day joke, however, quicky evolved into a genuine cultural phenomenon. Since its launch, Hatoful Boyfriend has spawned English translations, a book, three "drama CDs," as well as a great deal of fan art and fiction. The game's popularity has apparently prompted Devolver Digital and Mediatonic to pair up to create a version for English-speaking players.
The new English version of Hatoful Boyfriend will debut to a select audience at E3 this week, with PC and Mac versions launching later this year. That gives you plenty of time to brush up on your bird social skills with the pigeons outside your office in advance of the game's release. Just be careful not to get too close, or you could end up with histoplasmosis (or get bird poo on your head, either one).
H/T Kotaku | Photo by Jean-Daniel Echenard/Flickr (CC BY ND 2.0)