Oberyn Martell, the charming Prince of Dorne who's out for vengeance for his sister's murder—and is arguably Game of Thrones's breakout character in its fourth season—is turning into something of a sex symbol. Women want him, and straight men… well, it turns out they want him too.
A small, yet growing part of the Game of Thrones male fandom has found themselves suddenly attracted to Oberyn (and the Chilean actor who plays him, Pedro Pascal). For these straight guys, the character transcends sexuality. And, luckily for them, there's now a subreddit to handle those feelings: r/gayforoberyn.
"Has Oberyn Martell got you questioning your sexuality?" the subreddit description states. "Is there something about him that is too irresistible to ignore, even though you don't normally feel that way about men?"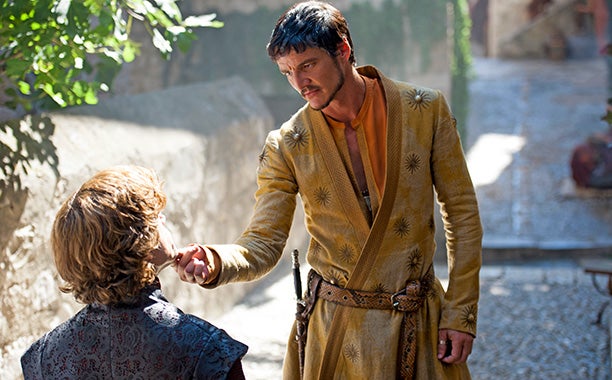 When isn't showing a burning desire for vengeance that surpasses Inigo Montoya, Oberyn has been mostly seen in one of King's Landing's many brothels with his paramour, Ellaria Sand.
In the series, Oberyn identifies as bisexual, telling one prostitute that "everyone is missing half the world's pleasure." He's charming and threatening at the same time, and was able to best Tywin Lannister at a game of wits.
"There are two kinds of people, those who haven't met Oberyn and those who are gay for Oberyn," SupriyaLimaye, who identified as a woman, wrote in a post.
Those who already identify as gay are already flocking to the subreddit as well.
"I'm already gay, but I'm like extra gay for Oberyn," Fanzellino wrote. "Like, he holds a special place in my butt heart."
The subreddit's passion for Oberyn became uncontrollable after Sunday's episode, when he volunteered to fight as Tyrion's champion in a battle-to-the-death with the Gregor Clegane, The Mountain. He offered to put his own life on the line, even if it was in the name of revenge, to save another fan favorite from certain death. Everyone was Tyrion by the end of that scene.
After the next episode, set to air June 1, which sets up an epic fight between the Red Viper and the Mountain, this subreddit will have plenty to drool over and talk about.
Photo via Game of Thrones Wikia