Every Nov. 7, fans of Mass Effect join its creator BioWare in celebrating the role-playing video game series for a holiday known as N7 Day. N7 refers to the special forces military program the beloved main character, Commander Shepard, is a part of in the game. Despite the fact that the last game in the series was released two years ago, its fandom is still alive and well.
To commemorate the occasion, geek fashion retailer Black Milk Clothing released a special limited-edition unisex Mass Effect shooter Friday. The shooter displays the classic N7 colors and logo on the front while displaying Shepard's name on the back. In the past Black Milk had a whole collection of Mass Effect-inspired clothes, but the retailer has since stopped making them. 
Not only does this item give both men and women a new way to express their love for the series, but Black Milk has also restocked its classic N7 leggings. Many of the sizes for each are already sold out or have limited availability so fans will want to act fast if they plan to add either to their wardrobe.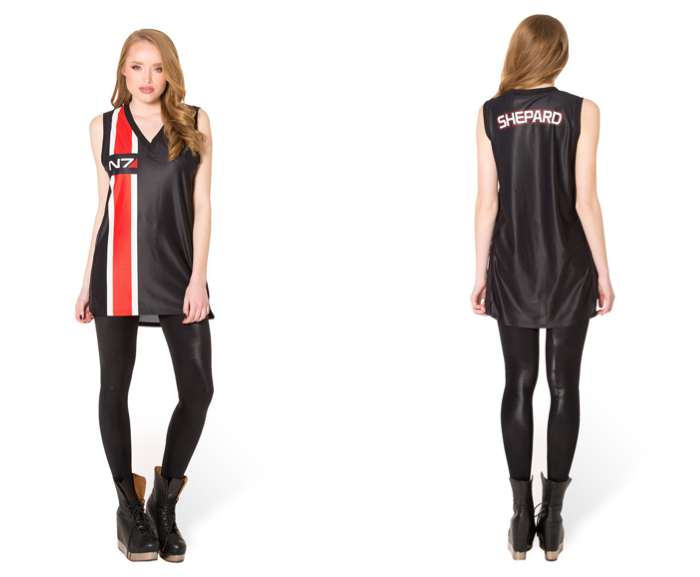 A number of fans decided to celebrate their love of the series by wearing their Black Milk or other Mass Effect-inspired fashions, and they shared their photos on Twitter.
Happy #N7Day! Rockin N7 legs from @BlackMilkTweets. I'm the 1st human spectre. @bioware thanks for an amazing series. pic.twitter.com/e2uERck0I7

— Crystal Clark (@geekpinata) November 7, 2014
#N7DAY14 @masseffect was my gateway game. Now i cant keep up with every thing waiting to be played. pic.twitter.com/BFWnmYVfuI

— Aims Walker (@AimsTheFirst) November 7, 2014
Others shared their love of the games through fanart, food, and by expressing what the series meant to them personally and how it impacted their lives.
Mass Effect changed my life back in 2010. It reignited my passion for games & it got me through tough times. Thanks and happy #N7Day indeed!

— Allie Q (@Qeilla) November 7, 2014
Happy #N7Day!! Vegan cupcakes ♥️ pic.twitter.com/NDOk1zhQZx

— Sylvie Pratt (@rneowth) November 7, 2014
Mass Effect changed my life in awesome ways, and helped introduce me to some very amazing friends. Happy #N7Day

— Mad (@TexasEx06) November 7, 2014
@Bioware Decided to paint my favourite Quarian for #N7day ! <3 http://t.co/JuX15BF8UJ

— Viktor Engholm (@Viktormon) November 7, 2014
BioWare also held a developer roundtable for N7 Day to discuss the next game in the series. The company showed concept art, said it would include new species and alien races, and once again confirmed the return of the Mako, a vehicle from the very first game.
Sounds like planetary exploration is coming back to the Mass Effect series. Yay, Mako!

— loydcase (@loydcase) November 7, 2014
All new Mass Effect concept art released on the #N7DAY14 via @bioware #2 pic.twitter.com/8NjML4ebMX

— Luana Tavares (@pringtella) November 7, 2014
The new @masseffect concept art has made me so excited. I love the look of the environments and the emphasis on exploration.

— Sanchia (@aichnas) November 7, 2014
While Mass Effect fans will have to wait for any other concrete news of the series, if the dedication displayed on N7 Day is any indication, these fans won't be going anywhere anytime soon. 
Photos via Black Milk Clothing/Facebook and BlackMilkClothing.com