Let's Play video game hosts on YouTube are considered men and women of the people, just like regular gamers. Only some of those YouTubers take money from game publishers.
In a survey of video game YouTubers, Gamasutra, a business-to-business publication written primarily for a game-developer audience, found that 26 percent of those who had 5,000 or more subscribers said they had received money directly or indirectly from a video game developer or publisher to record videos of their games. An additional 5 percent preferred not to say.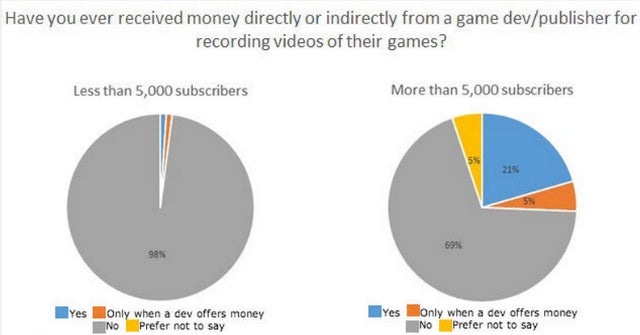 While YouTubers may not always produce video game reviews in the strictest sense, it wouldn't be unreasonable to suggest that a popular reviewer can endorse a game with his or her enthusiasm. The question, then, is how transparent these transactions are to the viewers of Let's Play videos, which effectively serve as promotional material for the video games being played.
Concerns over bias that might be introduced when reviewers are paid in cash or free stuff, especially when there's a long-term relationship between reviewer and reviewee, are entirely fair. Segments of the video game audience are particularly loud about the issue when it comes to video game reviewers, who often get games and hardware for free for review purposes.
After veteran game reviewer Jeff Gerstmann scathingly reviewed Kane and Lynch: Dead Men on GameSpot in 2007, he was let go by the website. GameSpot was, at the time, accepting advertising money from Eidos, the publishers of Kane and Lynch: Dead Men.
Gerstmann later clarified in 2012 that a new management team with little experience dealing with editorial panicked when Eidos threatened to pull ad revenue from GameSpot as a result of Gerstmann's review. The website Gerstmann founded shortly after his firing, Giant Bomb, became and remains immensely popular among video game fans. Giant Bomb was purchased by CBS, the parent company which owns GameSpot, in 2012.
The Gerstmann firing, which concerned a single reviewer at a single outlet and took place more than seven years ago, is one of few verifiable cases critics point to when discussing corruption in video game journalism. It will be interesting to see if the same segment of the video game audience that makes these accusations will now turn their eyes towards YouTubers.

H/T Joystiq | photo by PhotoAtelier/Flickr (CC By 2.0)