Starz really wants you to watch its new show, Outlander.
Outlander's TV premiere is on Aug. 9, but for the week leading up to that date, you'll be able to watch the first episode on the Starz website, various on-demand streaming sites, YouTube, Facebook, the Starz TV app, and possibly just projected onto the face of the moon every night. 
So, why is Starz so keen for you to watch Outlander?
Well for one thing, there's a Game of Thrones-shaped hole in our TV viewing schedules for the next few months. With its mixture of historical drama, sex, and violence, Outlander could potentially fill that gap. Adapted from a series of bestselling novels by Diana Gabaldon, Outlander is pretty much the only show people are comparing to both Game of Thrones and Fifty Shades of Grey in the same breath.
Yes, Fifty Shades of Grey, although plenty of fans would balk at the comparison. The Outlander books are difficult to pin down, spanning two different historical timelines and including elements of science fiction, but primarily focusing on the intense romance between the two lead characters.
The story begins with 1940s nurse Claire Randall accidentally traveling back in time to 18th Century Scotland. There she meets a sexy young Scotsman named Jamie Fraser, and eventually they fall in love—despite the fact that Claire is already married back in the 1940s. 
The series now includes eight central novels following their tumultuous relationship and adventures around the world (hence the Game of Thrones comparisons), and has gained a huge fan-following thanks to its combination of sci-fi, historical romance, and erotica. Just ask Orange Is The New Black: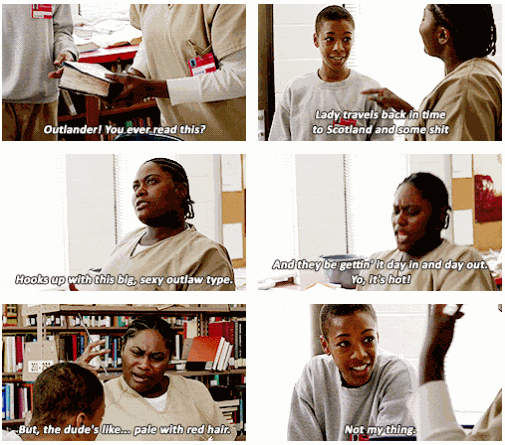 GIFs via outlandered/Tumblr
A lot of Outlander fans will probably be annoyed by the new wave of comparisons with romance publishing phenomena like 50 Shades and Twilight, but these books do have a certain amount in common.
Whether or not you agree that the Outlander series are "romance novels," they certainly have a strong element of romance and plenty of sex scenes, and are predominantly read by women. They are a lot more than just that, though. It's just that so-called genre fiction is usually a lot easier to pigeonhole into a single category, which Outlander defies by being solidly cross-genre from beginning to end. 
Much like Showtime did with Penny Dreadful a couple of months ago, Starz is making a concerted effort not just to get people watching the show, but to get them involved. The Outlander site is already full of assorted social media tchotchkes and things like a "downloadable pocket Jamie" cardboard cutout. The Outlander team were also sent to Comic Con, making use of showrunner Ronald D. Moore's considerable nerd credibility following his work on Battlestar Galactica.
This appeal to Internet fandom makes perfect sense, because the Outlander books have always inspired a passionate following of fan clubs and discussion forums. The TV series is definitely something that people will become obsessed with, rather than simply tuning in and enjoying every week like Downton Abbey.
Unfortunately, this media strategy is more than a little ironic once you know about Diana Gabaldon's attitude toward fandom. The existing fandom for the Outlander books is predominantly female, with the TV adaptation implicitly targeting a similar audience. The main character is a woman, one of the central themes of the series is romance, and Jamie is quite obviously designed to be attractive, rather than being a male fantasy hero.
So, what is the most popular and influential interest in the female-dominated side of fan culture? Fanfiction.
The problem is, Diana Gabaldon really doesn't like fanfiction.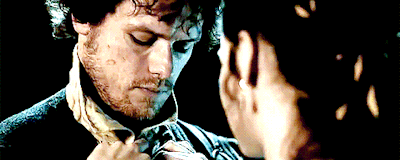 GIF via heughligans/Tumblr
Gabaldon is one of a handful of high-profile authors who have explicitly stated a dislike of fanfic. Her website features a polite but very clear policy requesting that her fans do not write, publish or share any kind of fanfiction based on her work.
Rather more controversial is the fact that in 2010, she wrote a blog post on the topic of fanfiction, saying, "I think it's immoral, I know it's illegal, and it makes me want to barf whenever I've inadvertently encountered some of it involving my characters." She goes on to compare fanfiction to seducing her husband or breaking into her home.
This post was quickly deleted, but not before being saved and reposted by many fans due to the furore it caused. Fan writers are happy to keep their fanfiction private and separate from its original inspiration, but nobody reacts well to being told their hobby is disgusting and wrong. This was the worst way anyone could break the fourth wall between fans and creators.
On another occasion, Gabaldon wrote that "99% of [fanfiction] is Just Awful, and it's revolting to see your characters being made to do and say idiotic things, or be forced to enact simple-minded sex fantasies (which is what most fan-fic that comes to my unwilling attention is).  Like someone selling your children into white slavery." 
This extreme reaction to fanfic is easy enough to understand on an emotional level: Diana Gabaldon views her characters and books like her children, and any interference feels like a violation.
However, this all makes a lot less sense once you learn that Gabaldon has admitted on several occasions that her inspiration came from Doctor Who. Specifically, the time-traveling 18th century Scotsman Jamie McCrimmon, played by Frazer Hines. The male protagonist of the Outlander series is, of course, named Jamie Fraser. It's easy to argue that Outlander is kind of fanfiction itself, or at least it began that way.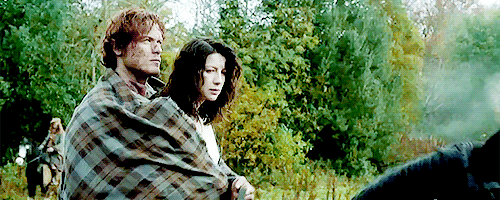 GIF via heughligans/Tumblr
A lot of fans have also commented on the clash between Gabaldon's disgust with fanfic erotica, and the large number of sex scenes in her own books. Gabaldon is staunchly anti-porn when it comes to fanfiction, but one of the main draws of the Outlander series has always been its combination of plot and explicit sex scenes.
There's also a Game of Thrones-esque quantity of rape and sexual coercion throughout the series, and at a recent Q&A promoting the new TV series, Gabaldon said to one of her actors, "Please take this in the sense that it was meant, but I'm really looking forward to seeing you raped and tortured." 
It's difficult not to see Gabaldon's attitude as somewhat hypocritical, although it's possible that her views on fanfic may have mellowed in the past couple of years. The TV adaptation is a form of fanfiction in itself, after all.
Either way, it will be interesting to see how the fandom situation pans out after the TV series debuts.
Like many TV networks and movie studios in recent years, Starz understands that the best way to get people watching something is to get them involved on a personal level. And preferably, to get them involved in a way that draws in new viewers, like social media contests and creative fanworks that get shared on sites like Tumblr and Twitter.
If Starz is trying to court a fandom audience (particularly a fandom audience that enjoys cross-genre romance), then fanfiction is inevitable. So either Gabaldon will have to tolerate it at at least go mum on the issue. If she decides to loudly reiterate her anti-fanfic policy for the new generation of fans, she risks alienating the very audience Starz wants to attract.
Photo via Starz