In the era of eSports and Xbox One, where video games are played competitively and on-demand, Indie Essentials: 25 Must-Play Video Games, a new exhibit at Museum of the Moving Image, harkens back to a simpler time.
"The excitement of being able to play a game online has somewhat abated," offers associate curator Jason Eppink. "People are sick of the 14-year-olds screaming in their headphones. There's enough people interested in video games now to round up to play together in one place."
Indeed, the exhibition in Astoria, New York City, features the 2013 IndieCade award winners along with landmark independent games from the last decade. Every game in the exhibition is playable. If you're a gamer, it's the best way to spend an afternoon.
Indie Essentials is co-presented with IndieCade, an international festival that CEO Stephanie Barish likens to the "Sundance of the gaming industry." The Museum of the Moving Image hosted IndieCade East last year, which prompted the idea for bigger, more immersive showcase.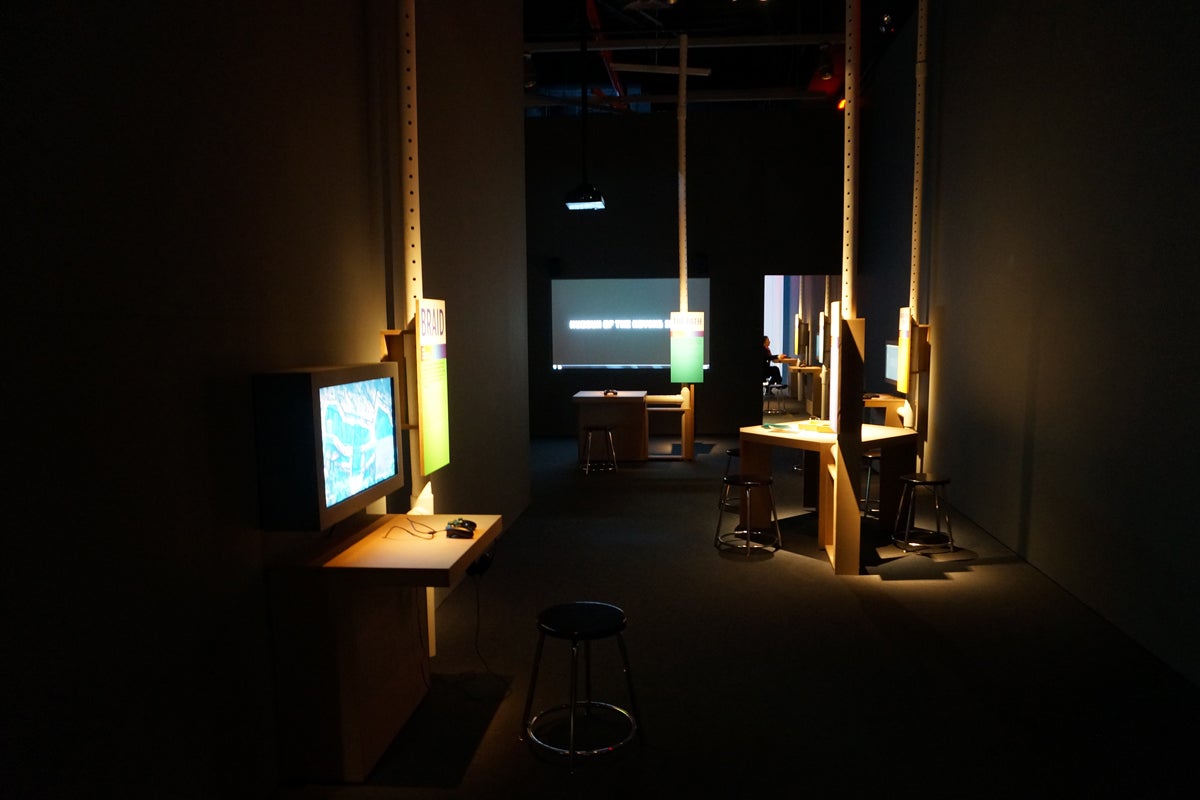 Indie Essentials takes up part of the Museum of the Moving Image's top floor.
"We're about putting a spotlight on indie games that people might not otherwise have heard of," Barish said, "and our mission is to bring these amazing games to a broader audience."
Some of the stellar, landmark games featured in the Indie Essentials that gamers definitely have heard of include Braid, Passage, Minecraft, World Of Goo, Spelunky, and Flower.
There are also a few games that have yet to release, like Killer Queen, which is a five-on-five local multiplayer arcade game, originally designed as a physical game.
"They custom built the cabinet," Barish said. "It's been so successful, it won the audience choice award at IndieCade and they put it in an arcade for the first time in San Francisco."
Eppink added, "Killer Queen isn't something that you'd see on Xbox or PS4."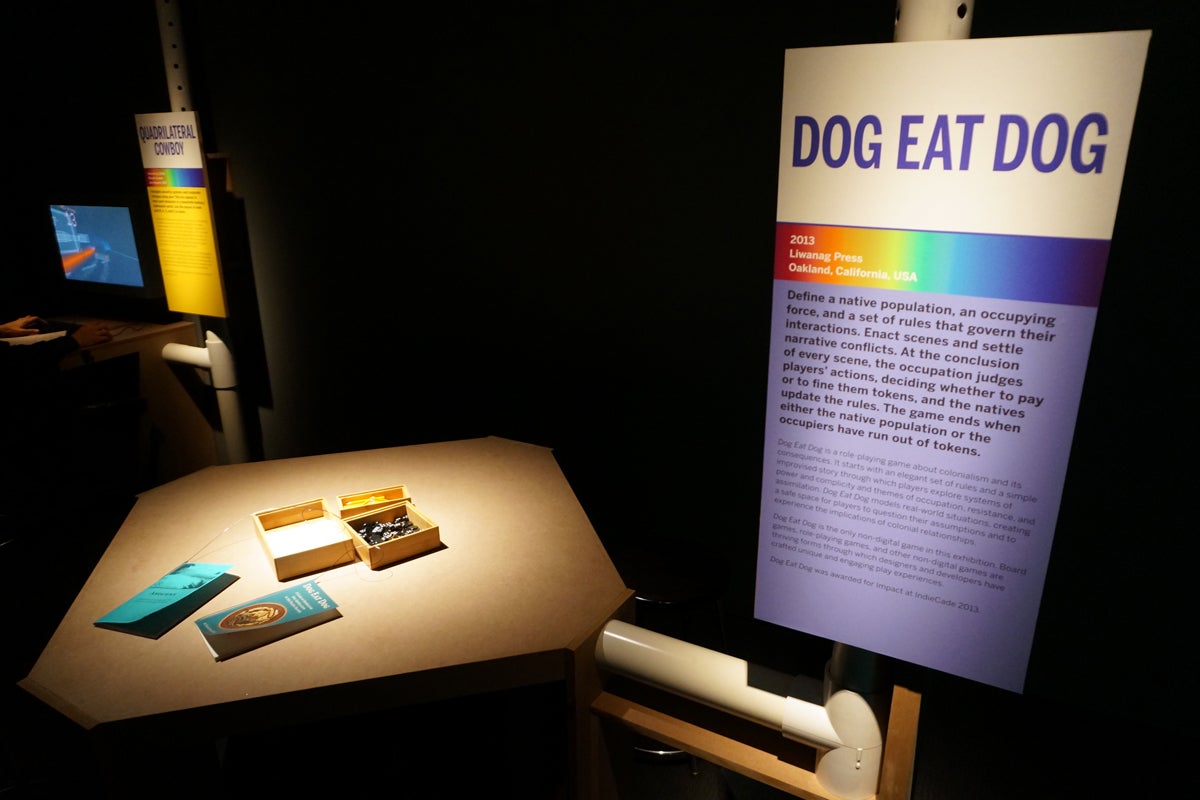 Dog Eat Dog is actually a pen-and-paper game
But just because something isn't on one of the major consoles doesn't mean Microsoft and Sony haven't taken notice of indie games. Eppink said both companies are courting independent developers because, "they realize more and more people are interested in indie games."
Then you have games like Spaceteam, where the focus really isn't on the screen. Instead, it's how you communicate with your teammates. Eppink doesn't think any big developer would take a risk on developing something like Spaceteam because it doesn't fit a predefined genre or way of playing that gamers already understand.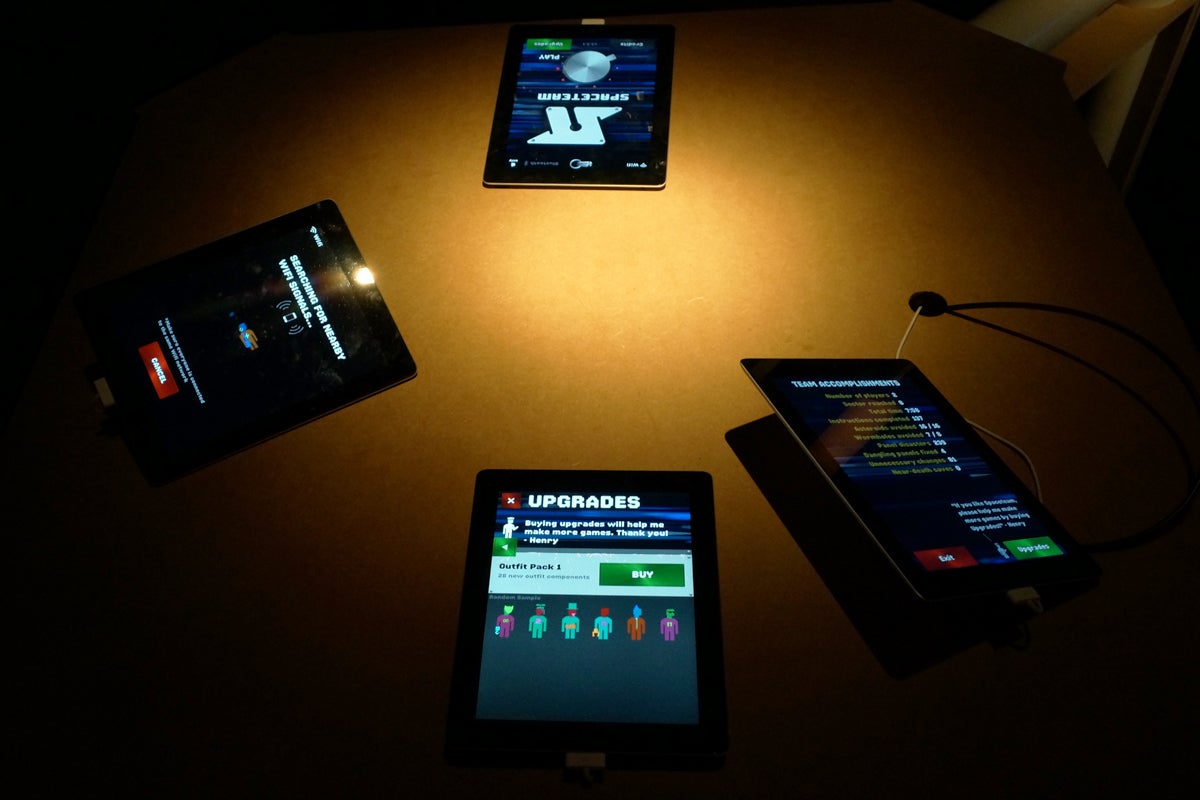 Spaceteam requires multiple tablets, connected over Wi-Fi or Bluetooth.
Most of the games in the exhibition are games that need you to give them a chance. There isn't the marketing swirl that accompanies a game like Call of Duty: Ghosts. You have to sit down and play them, and see them through to then to get the full experience, especially in cases like Quadrilateral Cowboy, which Eppink calls "a real knockout."
That's how Minecraft became such a revolution. Enough people gave it a chance and recognized it for the simple, enjoyable, and deeply creative experience that it is.
You never know when the next Minecraft will hit, but chances are it's featured at Indie Essentials. You'll have to play them to find out.
Indie Essentials: 25 Must-Play Video Games runs through March 14, 2014. A full list of games and additional information can be found here.
All photos by Chris Anderson