The largest digital storefront for PC games is being flooded with titles. And that's not a good thing for independent game developers.
In the past 20 weeks, Steam has seen more than 600 games launch on the platform. That's more than all of 2013 combined, according to Gamasutra. This is largely thanks to Steam's Greenlight program, which allows game developers to forego a traditional publisher and launch directly on Steam.
This saturation is akin to what's happened in Apple's App Store. With so many games being released at once, new titles get little time to shine. It's making it much more difficult for developers to find an audience and make profit.
Last year, games from indie developers had a good chance on staying on the front page for a few days. Now, the list gets updated on a daily basis, so the chances of a new game getting any front page attention is much lower—especially when you combine this shorter front-page timespan with vastly greater number of titles for sale.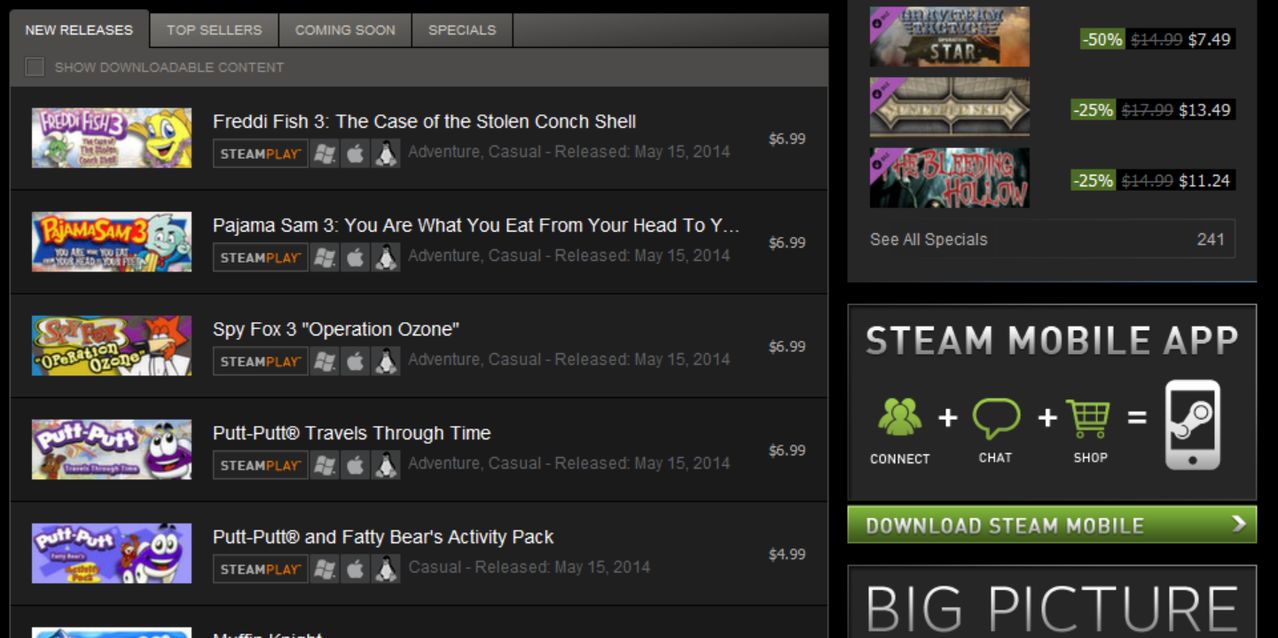 Steam's storefront.
As a result, some developers are looking to other platforms, such as the Playstation 4, Xbox One, and PS Vita. Take Towerfall Ascension, for example. The small indie title launched on PC and PS4 last month and, since then, it's hit $500,000 in sales—a majority of which were on the PS4. Jonathan Blow's The Witness is also set to launch directly on the PS4, forgoing an initial PC release.
Last February, Sony announced that developers would be allowed to self-publish on the Playstation 4 for the first time. Not to be outdone, Microsoft dropped the traditional publisher model for its Xbox One shortly thereafter. It's generally more expensive to create games for the Playstation 4 and Xbox One, but that also means these platforms are far less saturated.
On the PS Vita, games like Thomas Was Alone and Spelunky have seen some serious success. Interestingly, many developers have been actually been turning towards Sony's struggling handheld platform. With an install base of only 8.2 million, it's a far cry from the hundreds of millions of iPhone users. But the attach rate on PS Vita is incredibly high per player. Every PS Vita owner, on average, has purchased more than ten games, meaning that its been adopted by the type of hardcore crowd that craves great little indie titles.
Steam's over-saturation could have one other deleterious effect on indie game makers. Most of these teams are made up of a few developers. But with increased competition, teams are struggling to gain media attention. And that means a bigger part of the budget has to be taken away from development and invested in marketing.
Photo by Flavio Ensikibattlestat/Flickr (CC BY 2.0)