The stars of Spider-Man: Homecoming took to the red carpet for the film's Hollywood premiere Wednesday night, or at least someone who looked like a star. 
Comedian Hannibal Buress, who appears in the movie as Coach Wilson, ended up sending someone in his place.
Earlier Wednesday, Buress put a call out on Twitter calling for a lookalike for a mysterious event—and promised to pay $500 for it.
"LA. I need a lookalike with solid comedic timing for an event tonight," he wrote in a now-deleted tweet.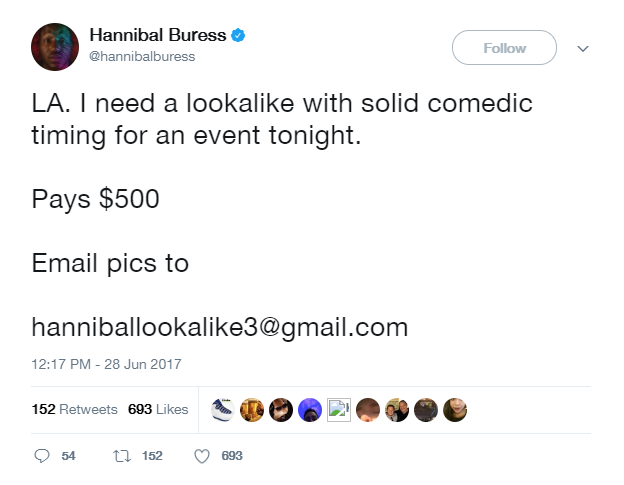 While he didn't say what it was for, fans found out what Buress had up his sleeve just a few hours later. The Hollywood premiere of Spider-Man: Homecoming, which streamed live on YouTube, featured an interview with Buress. Except it clearly wasn't Buress.
I'm out here at the @SpiderManMovie premiere. In theaters July 8th. pic.twitter.com/ggEdqt5oDr

— Hannibal Buress (@hannibalburess) June 29, 2017
Actually July 7th. But also July 8th too

— Hannibal Buress (@hannibalburess) June 29, 2017
As it turned out, Buress, who was in Atlanta, according to a recent Instagram geotag, couldn't make the premiere of his upcoming film so he hired someone who looked like him to take his place. And when entertainment websites started to write up the stunt, Buress reposted it and added "FOMO."
It's called extreme FOMO. https://t.co/nJUtgqMvdB

— Hannibal Buress (@hannibalburess) June 29, 2017
https://www.instagram.com/p/BV6XAQ7A4Ce/?taken-by=hannibalburess
Entertainment Weekly identified the Buress lookalike as Joe Carroll, who shared photos of himself in the limousine on the way to the premiere and on the red carpet.
"When @hannibalburess hits you up and tells you to crash the red carpet since he couldn't make it…. You crash the damn red carpet," he wrote.
Buress also shared a video of his lookalike's interview on the red carpet in which he's easily able to answer the reporter's questions without having seen the movie yet.
Peter Parker would be proud.