George R.R. Martin may mercilessly kill off your favorite characters in his books, but in real life he has a heart of gold.
Last month, Martin started a crowdfunding project on Prizeo to raise money for the Wild Spirit Wolf Sanctuary in New Mexico and the Food Depot of Santa Fe, and everyone who donated would gain an entry to a contest to tour the sanctuary with Martin himself.
With just two days until the campaign closes, he's more than doubled his initial goal and raised more than $450,000, thanks in part to two lucky fans (one of them a Facebook employee) who paid $20,000 to have a character named after them and killed in a future A Song of Ice and Fire novel.
One of those fans was Jack, a 13-year-old fan of Game of Thrones who really wanted to get killed off by Martin. He didn't have $20,000 to donate for the charity, but he decided to give Martin all of his pocket money anyway—all £153 ($260) of it.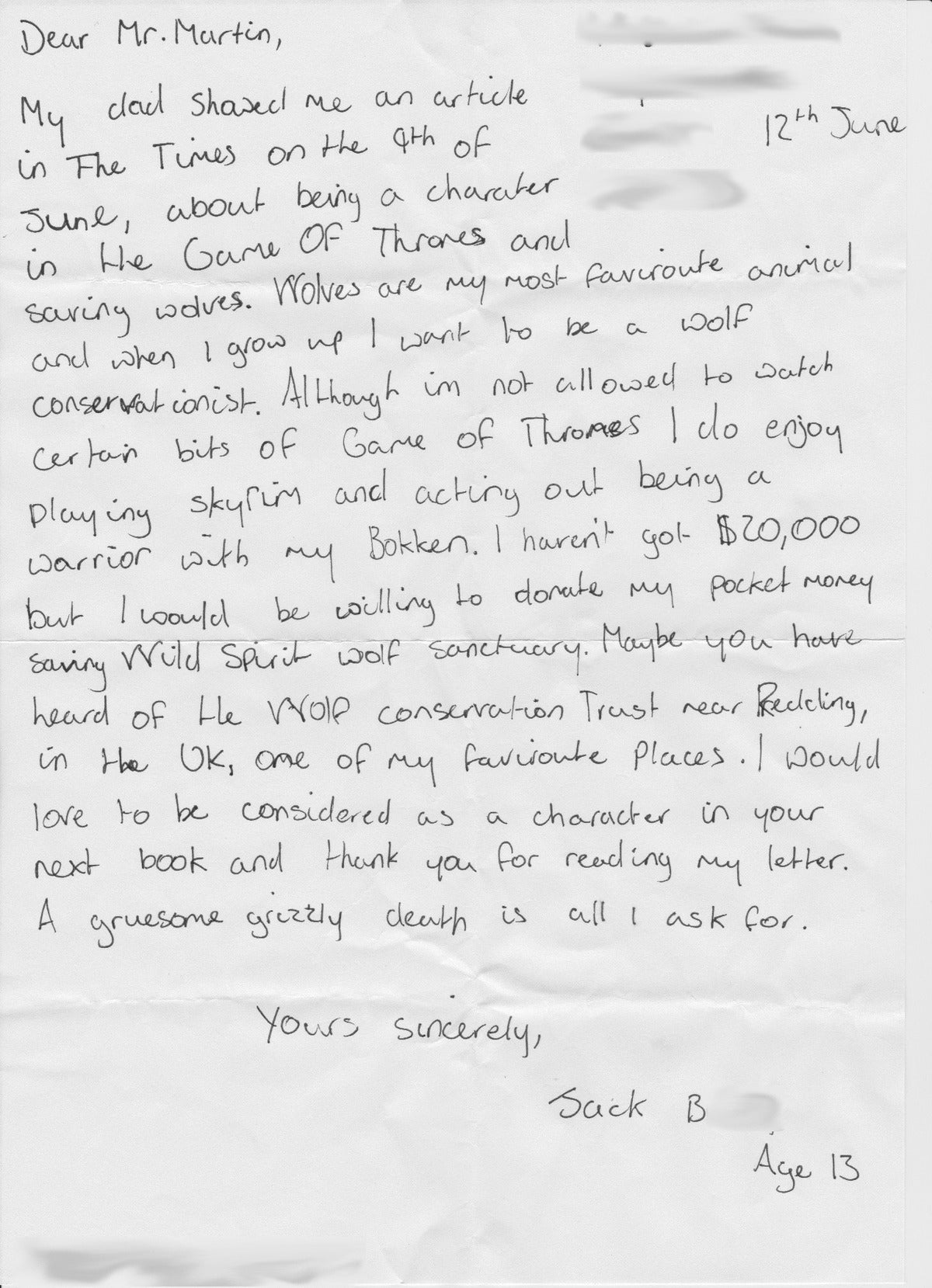 Letter via Mashable
"I would love to be considered as a character in your next book and thank you for reading my letter," Jack wrote in a letter obtained by Mashable. "A gruesome grizzly death is all I ask for."
And while Martin couldn't actually kill him off in his books since two other people purchased that perk already, he did send a letter back to Jack with a $10,000 donation to the U.K. Wolf Conservation Trust.
Dear Jack,

Thank you so much for your heartfelt, touching note.

I've heard that you donated all your £153 pocket money savings to my Prizeo fundraiser on behalf of the Wild Spirit Wolf Sanctuary. I cannot tell you how much that moved me. It pleases me no end to know that my novels, and the TV series based on them, have inspired readers as young as yourself to rally to the support of these majestic and too often stigmatized animals

Alas, I cannot promise you a grisly death in THE WIND OF WINTER. Those spots have already been filled by some very generous donors, and there's a limit to how many people even I can kill.

However, inspired by your example, my friends at Prizeo and I would love to follow your lead with a $10,000 in your name to the UK Wolf Conservation Trust. That's a wonderful organization that I've heard much about, and they are lucky to count people like you as supporters.

I wish you the best of luck in your future career as a wolf conservationist, and hope that you inspire many others to follow your lead.

Yours,

GRRM
It's not a death in the books, but it's a hell of a consolation prize.
H/T Mashable | Photo via Gage Skidmore/Flickr