In the pantheon of gimmicky sales tactics that retailers employ to push their wares, the most dubious would have to be the mystery bag. 
It preys on people's hopes of getting something valuable for less money, even though the gamble is rarely worth the cost. 
The latest retailer to try the mystery bag shtick is GameStop. Buy a mystery grab bag for $19.99 ($17.99 for Pro members), and GameStop will ship you four used games. According to the product page, GameStop wants to "reward your curiosity with a surprise." Sounds exciting, doesn't it? If you keep reading: "every Mystery Grab Bag consists of 4 preowned Xbox 360 games we've pulled out of our Vault of Awesome Yester-Year Games." We're already getting hints that this could be an easy way for GameStop to relieve itself of some extra inventory it can't seem to unload. 
GameStop guarantees that you'll get $30 to $65 in value for your $20 purchase. But the fine print is that the "Combined Value is determined by the sum of the list price for each game," meaning that GameStop uses its own discretion in valuing the games and not the actual going rate. 
From the image above, you can see that GameStop advertises your mystery bag could contain games like Borderlands 2, which isn't that old and could come out to a pretty decent value. The mystery grab bags are available for the Wii, Xbox 360, and PS3. For the purposes of our test, we went with the Xbox 360 grab bag, and we have detailed our findings below.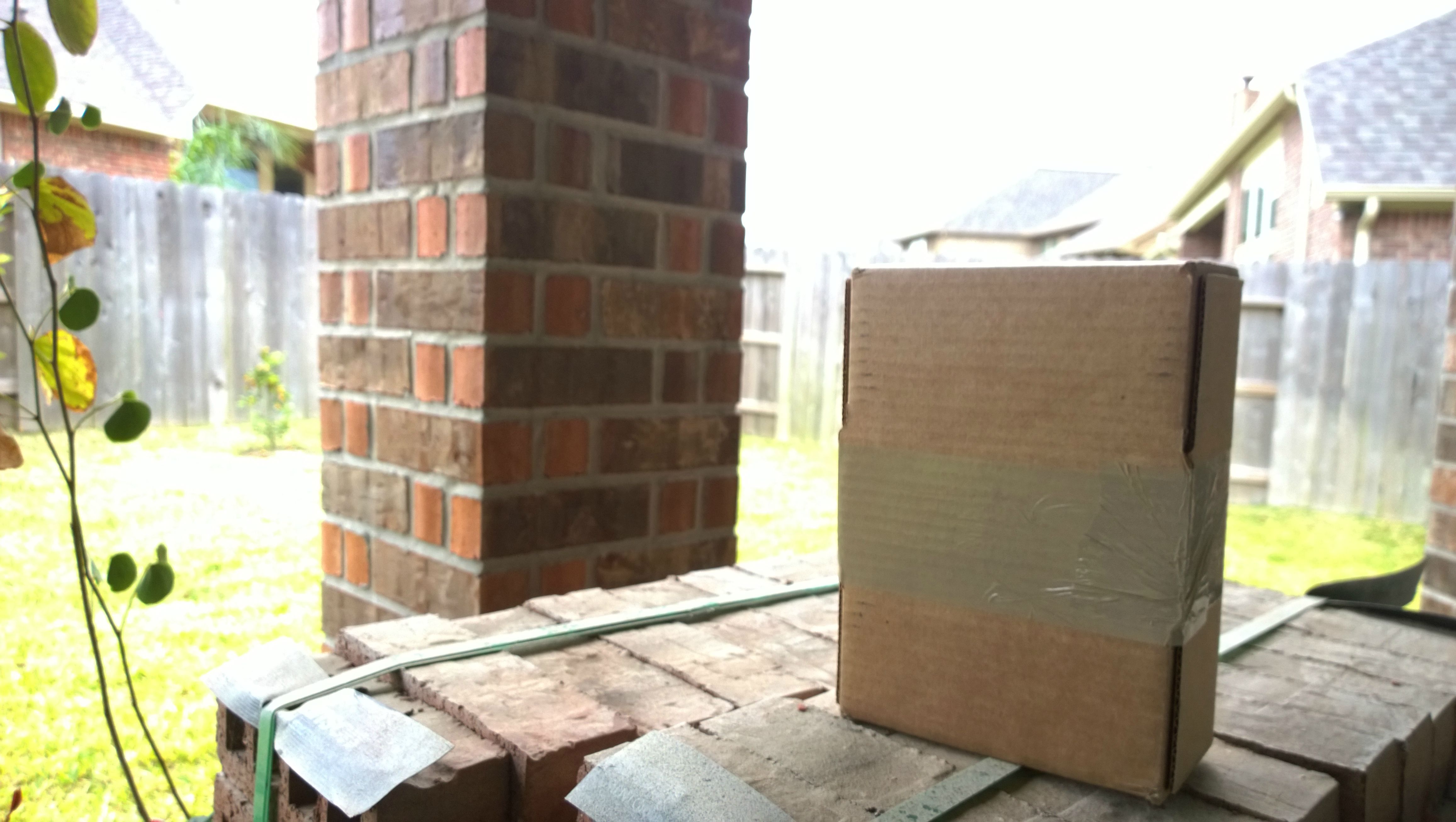 So, let's open up the mystery bag and see what's inside. It starts out as more of a mystery box than a mystery bag, but whatever.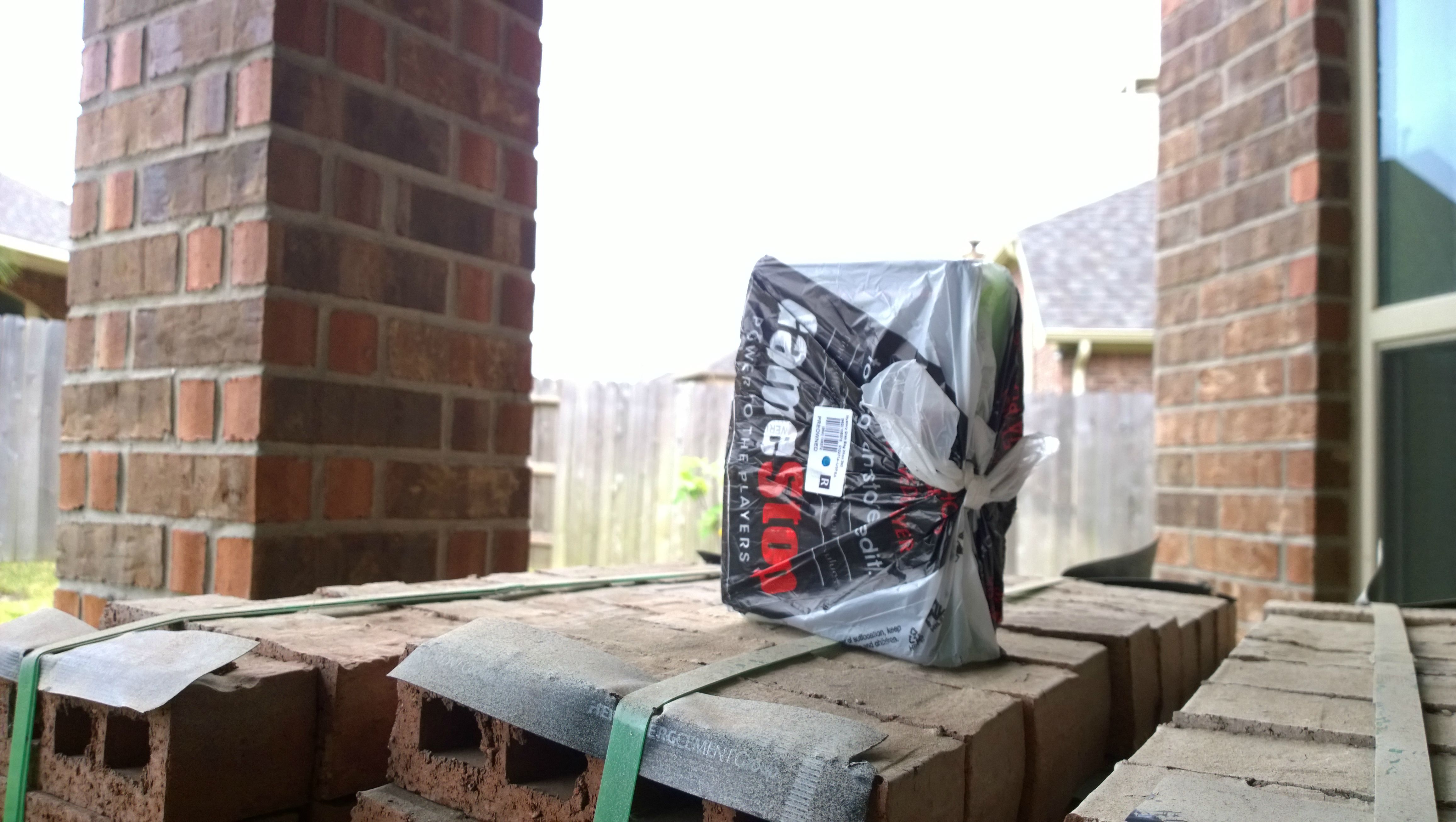 Oh, there's the bag! At least GameStop stayed true to its promise.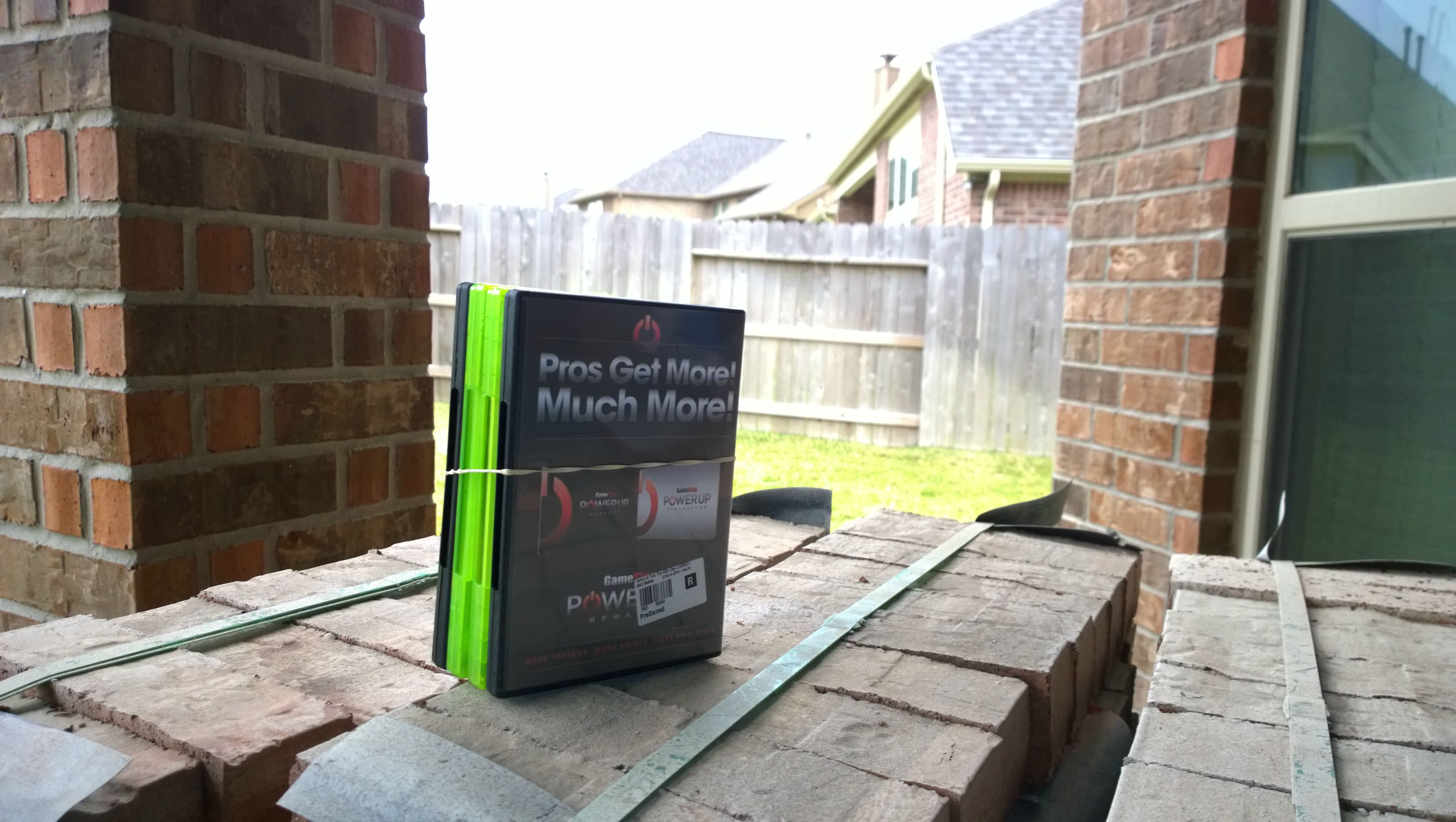 The games come banded together, some in their original cases, some not.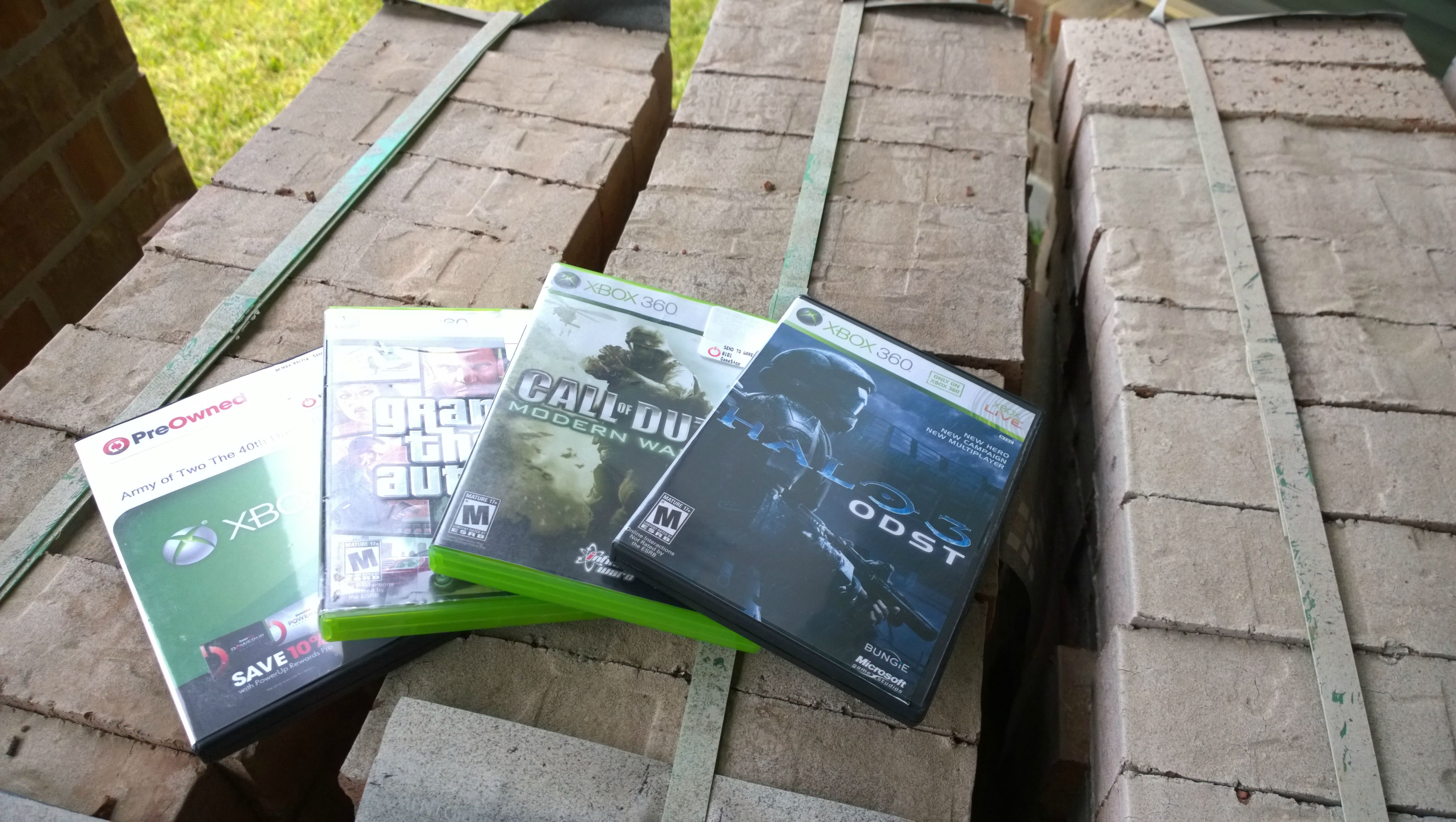 So, here are the games. Army of Two: The 40th Day. It's sitting at a 73 on Metacritic, and is a decent enough game to kill some time with. On Amazon, the game is going for $4 to $6 used with shipping. Over on eBay, there are a bunch of copies on sale, but very few are actually getting bids. With some sleuthing, you can probably buy this game for about $5 dollars, shipped.  
The next game is Grand Theft Auto IV, easily one the best-selling games of last generation. According to VGChartz, the Xbox 360 version alone pushed more than 10 million copies. And rightly so—the game is sitting at a whopping 98 on Metacritic and is clearly a must-have. All those copies means it's pretty easy to find at a great price. Right now, there are literally hundreds of copies for sale over at eBay. With shipping, you can get the game for about $5 on Amazon. This is, of course, the original version of the game, not the souped-up edition. If you want to invest yourself into the world of Liberty City, it's very likely you will want to purchase the DLC. 
Third, we have Call of Duty 4: Modern Warfare. This is the game that started the console military shooter craze back in 2007. It's an old game and one that sold boatloads of copies. VGChartz estimates that more than 9 million copies sold for the Xbox 360. Just like Grand Theft Auto IV, this is the standard game, not the fully loaded "game of the year" edition. That means that you won't be getting any of the extra DLC map packs. Surprisingly, there are still a decent amount of people playing this seven-year-old game. When I popped it in, 3,309 people were active in the game. There are still a few miles left in this old jalopy. 
The last game in the bag was Halo 3: ODST. It's not the most popular Halo game in the series, but it's one that was still critically well received. The game sits at a solid 83 on Metacritic, and can get you a decent amount of gameplay out of it. On Amazon, the game is going for $5 to $6 used with shipping. Prices are eBay are comparable. Most people go into Halo for the multiplayer experience. The multiplayer in ODST is just the Halo 3 multiplayer experience. Even though Halo 3 is seven years old, the lobby still had 4,533 people playing online.
The physical quality of the actual games themselves were a mixed bag. Each game had a bunch of hairline scratches on the disk. Call of Duty, for instance, had a bunch of scratches on the front face of the game. It was probably tossed around quite a bit by the previous owner. All the games in the package did work, so those hairline scratches didn't turn out to be a big issue. Unsurprisingly, not all of the games come with the original manual. Halo 3: ODST didn't come with a green case, but did still have the original slipcover. Army of Two was just the game disc in generic GameStop packaging. GTA IV had everything except the manual. If you're a completist collector, then the GameStop mystery grab bag may not be for you.
The bargain hunting freaks over at the CheapAssGamer forum have also been discussing pros and cons of the mystery grab bag, and their findings are a bit surprising. 
User Monoxide1986 purchased two mystery grab bags for Xbox 360, only to find that the bags weren't all that mysterious.
"Got my two "grab bags" for 360……

One is…..
Red Dead Redemption (missing manual)
Call of Duty MW3 (disc only)
Medal of Honor (disc only)
Armored Core 4 (with Lego Star Wars and Lego Indiana Jones manuals… wtf?)
and.. drum roll please….

Second one is…
Red Dead Redemption (missing manual)
Call of Duty MW3 (missing manual)
Medal of Honor (complete)
Armored Core 4 (missing manual) 
Kinda pissed, but I should have been half expecting this… games don't seem all the fucking random if they gave me two of each…

Calling them to see what my options are…"
YouTuber cmgirty also ordered two PS3 mystery grab bags that came in the same box. He noticed that each bag was labeled with the same number. 
So, at least from Monoxide1986's and cmgirty's cases, it does look like GameStop's warehouse made these specific bundles of games and just labeled them a "mystery." Perhaps because of complaints from buyers, GameStop seems to have remedied the problem with a simple colored sharpie—at least that's what TurtleKev3 noticed.
"So I bought two PS3 mystery bags and after reading this thread, I was honestly expecting duplicates.

#1 – with black sharpie dot next to bar code
Infamous 2 (disc only)
God of War III (complete)
Dead Rising 2 (disc only)
Soul Calibur IV (disc only)
$(sic)2 – with purple sharpie dot
Uncharted 3: Drake's Deception (disc only)
UFC Undisputed 2010 (complete)
Call of Duty: World at War (disc only)
Grand Theft Auto IV (complete)
I'm going to call to see if they'll accept mix and match returns."
Of all of the bundles, the Wii mystery bag contained the weakest selection of games. Very few users got Nintendo-exclusive games, and most were third-party games. User Rawrker compiled a list of all the mystery grab bags people have received on the forum to date. 
Wii bundles listed so far:
Monster Jam Urban Assault (disc/case)
Lego Indiana Jones 2 (disc/case)
Rayman Raving Rabbids (cib)
Metroid Prime 3 (cib)
Rayman Raving Rabbids: Complete.
MX vs ATV Untamed: No manual.
Transformers: Revenge of the Fallen. Complete
Lego Indiana Jones: No manual.
Lego Star Wars Complete Saga: Complete.
Disney Epic Mickey: Disc only.
Need for Speed Prostreet. No manual
Star Wars Force Unleashed 2: No manual.
LEGO STAR WAR COMPLETE SAGA (no Manuel or case)
WII SPORTS (no Manuel or case)
GAME PARTY 3 Complete
SONIC AND THE SECRET RINGS complete
Epic Mickey
Star Wars Lego The Complete Saga
Rayman Raving Rabbits
Mario & Sonic Olympic Games
Star Wars The Complete Saga
Sonic Unleashed
Wario Land Shake It!
Super Mario Bros Wii
It seems going with the PS3 mystery bag will net you with a better chance of getting four overall better valued games. If you get the Xbox 360 grab bag, there's a higher chance you'll end up with old sports games. But, you could get a copy of Titanfall, which is worth around $40. Avoid the Wii grab bag. It's simply not worth it.
In our case, we only received about $20 dollars worth of games, so it fell short of GameStop's guaranteed "$30 dollars in value" claim. Of course, that was based on our own calculations, and not GameStop's. 
Would we recommend getting a mystery grab bag? Well, it depends. If you've owned either one of the three consoles from the last generation for awhile, it's not very likely that you'll get anything new. If you just picked up a new Xbox 360 or PS3, we would say go for it. It's a pretty good value if you're a new console owner. Either way, these mystery grab bags aren't too mysterious. It's just a bunch of old games put it behind a veneer of value and chance.
Images by Imad Khan