There's no need to hide that you're a member of that secret group of feminists supposedly trying to change the world of gaming to ruin all the fun for male gamers. Instead, you can flaunt your membership with pride thanks to a stylish new t-shirt declaring allegiance to Gaming's Feminist Illuminati! As #StopGamerGate2014 trended worldwide on Twitter Tuesday night, online gaming merchandise retailer Fangamer released the Gaming's Feminist Illuminati shirt, designed by artist Elizabeth Simins, and discovered customers eager to join the conspiracy.
Simins originally used the phrase "gaming's feminist illuminati" in a webcomic she drew for Kotaku about her experience at this year's Game Developers Conference, where she mentioned "rubbing shoulders with gaming's feminist illuminati."
"This started as a throwaway joke in a comic strip for Kotaku, but turned into a T-shirt and something of a tongue-in-cheek movement," Simins wrote on her website.
The shirt first became available for purchase for a brief time on teespring.com, whereupon people began sharing selfies featuring the shirt. Slowly, this "fueled by misandry" fashion movement expanded. Now, the shirts are back, as Simins has partnered with Fangamer to sell pink and black tees in women's and unisex sizes. For every one of the $23 shirts that is sold, $4 is donated to Girls Make Games, an indie studio that encourages girls to explore video games in a number of ways.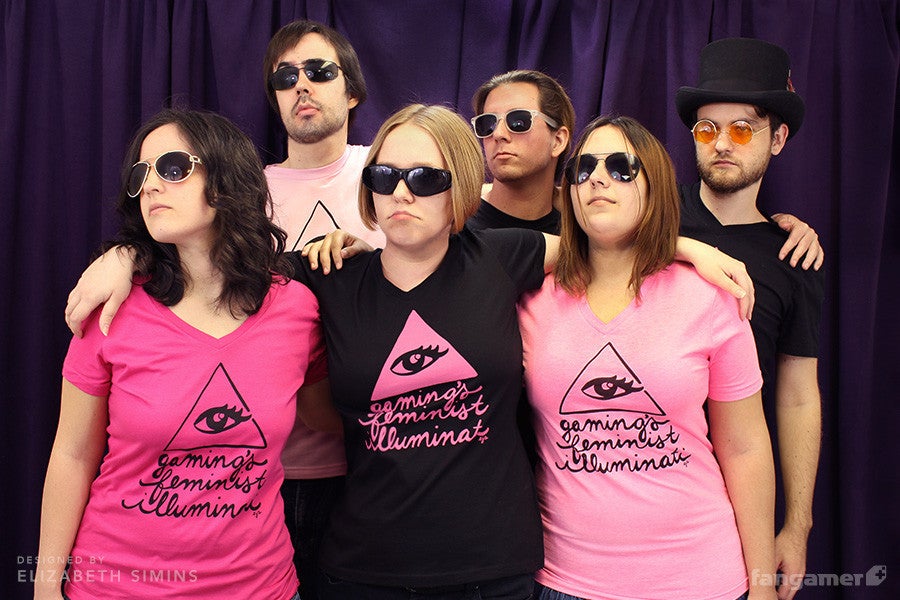 Based on the first 24 hours of sales, it looks like there are a lot of people who want to display their membership in the Gaming's Feminist Illuminati. According to Fangamer's Tumblr, by Wednesday the shirt had become their fastest-selling product.
"We're starting to sell out of certain sizes, so we're currently working on a reprint," Fangamer wrote. "If we're sold out of your size, please select your size & color when you sign up for the restock notice on the product page so we know how many to order next time!"
Considering the discussion about GamerGate that exploded on social media this week, it appears the shirt arrived just in time for anyone who wants to show their support for women in gaming.
All Photos via Fangamer