First there were X-Men Twinkies; now there's Game of Thrones wine. Finally, someone figured out how to market your drinking games.
Sometimes movie and TV tie-in products can sound like a corporate nightmare, but we can get on board with this one. Wines of Westeros isn't officially affiliated with the HBO show, circumventing copyright infringement (hopefully) by naming wines after various various houses from Game of Thrones, with minimalist labels based on each household's coat of arms. Either way, this seems like an ideal excuse to test the super-obvious Game of Thrones drinking game of taking a sip of wine every time Cersei drinks on screen.
"A mind needs wine as a sword needs a whetstone," reads the Wines of Westeros website, introducing the well-known scientific fact that booze makes you smarter. "Whether it's a bottle from beyond the wall or a case from the cellars of the Iron Bank, keep your mind fit for the death of summer with the lion's share of vino."
OK, sure.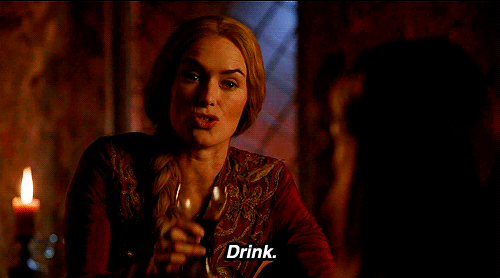 GIF via thecomfortador/Tumblr
The Northern houses like Stark and Greyjoy are represented by white wines, while the Dothraki are a merlot and the Night's Watch is a Shiraz. 
You won't be able to drink any of those Westeros Wines until closer to the fifth-season airdate in 2015, but at $20 a bottle, we suspect the pre-orders will be snapped up pretty quickly.
It's impossible to say whether this wine will be any good, of course. But with the exception of medieval weaponry or real live pet dragons, we can't think of a more appropriate tie-in for Game of Thrones.
Photo via Game of Thrones Wikia