Inspired by sports anime and manga, Fence is a new comic from author C.S. Pacat (The Captive Prince trilogy) and artist Johanna the Mad. If you're a fan of Yuri on Ice or the hockey webcomic Check, Please!, Fence arrives at just the right time. Both creators are longtime fans of sports manga, combining fan-favorite tropes with queer romance.
Fence introduces an intense rivalry between two competitive fencers at the same boarding school: 16-year-old outsider Nicholas Cox, and reigning champion Seiji Katayama. Pacat—an amateur fencer herself—worked with a trainer to research the sport, collaborating with Johanna to create distinctive combat styles for the main characters.
We're already hooked after just one issue, diving into a world of dashing duels and teen drama.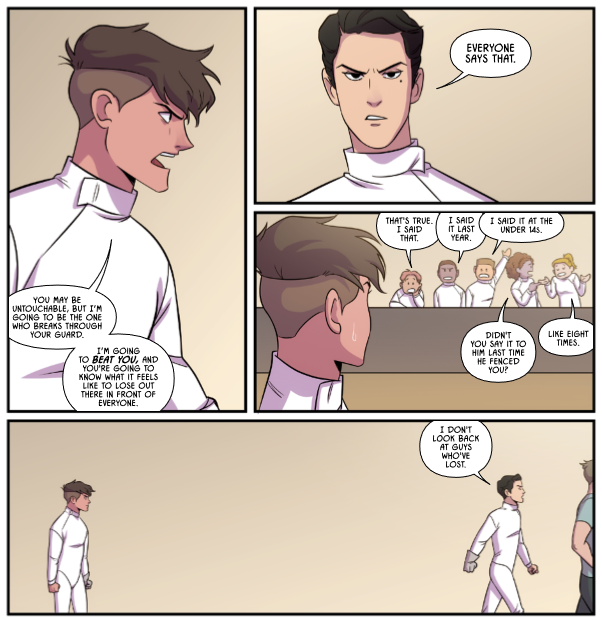 On this week's Parsec Podcast, we chatted with C.S. Pacat and Johanna the Mad about fencing, fandom, and why Fence is riding the pop-culture zeitgeist. It's the kind of project that inspires its own fandom before the first issue is even out.
The two creators met online (Pacat fell in love with Johanna's Mulan fanart), and Pacat's Captive Prince novels became bestsellers after finding an audience on Livejournal. Like Check, Please!, their work is definitely influenced by queer fandom culture; something we rarely see in mainstream comics.
Also discussed in this episode: The magic of Yuri on Ice, and our earlier interview with Check, Please! creator Ngozi Ukazu. You can find previous Parsec Podcast episodes here, and we always welcome a rating or review on iTunes!
Fence #1 came out on Nov. 15, with new issues released monthly from Boom! Studios.