There's festive Caribbean-tinged electronic music playing over the loudspeakers at the cavernous SXSW Gaming Expo in Austin, Texas.
Thousands of people wander the vendor-lined corridors. Teens try on virtual reality headsets while dads check out the latest, most realistic-looking video game rifle. Large screens broadcast featured first-person shooters that emit bass-rattling explosions over the din of conversation on the convention-center floor.
Yet nestled directly in the center of this cacophony of sound and cutting-edge gaming technology is the tabletop gaming area, a place entirely lacking the boom and flash of other exhibitors. And it's popular.
Dozens of teens and young adults huddle over Magic: the Gathering cards, Settlers of Catan, and Terra Nova. Not only do board games and card games have a place at this decidedly tech-centric affair, they're in the middle of it, under the event's glowing central art piece.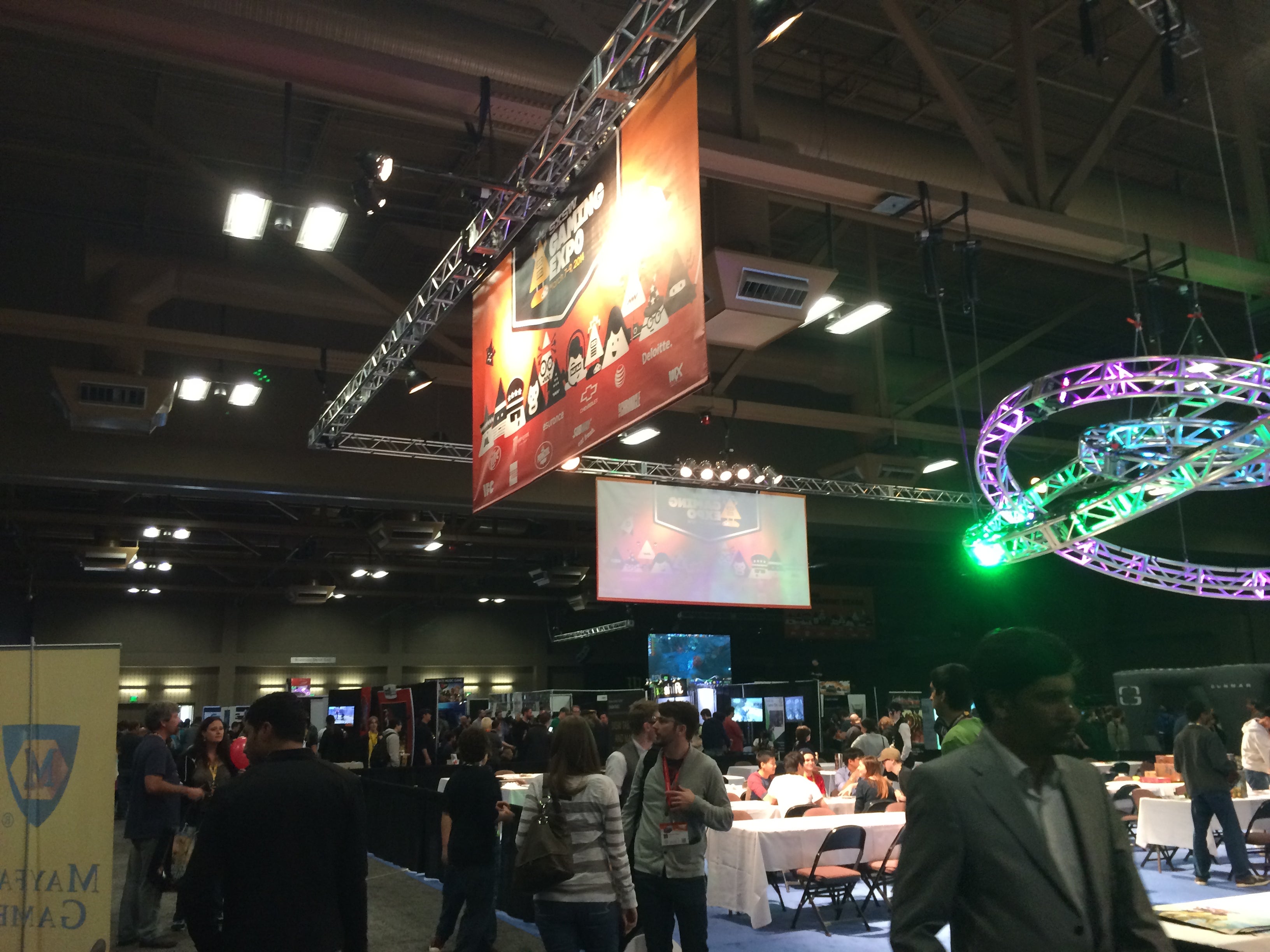 How did this happen?
Boyan Radakovich, producer of the webshow TableTop, says analog games are experiencing something of a renaissance right now.
"It's absolutely breaking through in mass media," he told the crowd during a presentation on tabletop gaming at the expo.
While five to 10 years ago, references to analog games in popular culture often had a negative, mocking bent, shows like Community and even Parks and Recreation are helping to spin board games as nerd cool. And TableTop, a webseries created and hosted by geek darling Wil Wheaton on Geek & Sundry, has become a fantastically popular propeller of analog games.
Each episode features Wheaton hanging out with friends and trying out a new board game. While watching someone else play a board game may sound like, say, watching paint dry, Wheaton and his friends pack the show with comic relief. Radakovich said it didn't take long for retailers and game producers to notice that after each episode, sales for the featured game would spike dramatically.
"That's when people started to realize that TableTop was legitimate," Radakovich said. He's quick to point out that the show isn't a commercial—though it does have that effect.  "The intention was to grow the gaming community."
And to that end, the producers of TableTop decided to create their own holiday to celebrate the anniversary of the show. Last spring marked the first world-wide TableTop Day. Gaming fans were encouraged to throw parties, especially in public, to generate new interest in board games in their own communities. TableTop registered more than 3,100 parties in 64 countries last year. This year's event is on April 5, and yes, you're invited.
"Go down to your favorite coffee house and play Bananagrams," Radakovich suggested. "It's all about the power of the community."
This renaissance in board games hasn't just been good for retailers and distributors of classic and popular games—it's been encouraging for people who create their own games. Radakovich said Kickstarter was the single biggest influencer on game publishing last year, as a place where new games can get funding and the attention of large distributors.
Before Kickstarter, people with an idea for a game had to convince commercial distributors and retailers to get their product in front of consumers. Now the power has shifted to gaming fans, who have a say in what games they want to see become a reality through crowdsourcing platforms.
The popular Cards Against Humanity game, for example, was launched on Kickstarter where it surpassed its funding goal by more than 300 percent.
But aside from a shifting production model and better representation on TV, Radakovich said there's something special about board games that's attractive to a growing audience. Tabletop games are as much about the communal experience of being with other people as they are about the game. While video games tend to be all-consuming sensory experiences for the ears and eyes, board games really only come to life when you're seated around them with friends.
In a world increasingly filled with screen time, getting away to the park, or a coffee shop, or just a friend's kitchen table can be a much-needed break.
"It's not video games versus board games—it's both," Radakovich said, but "if you give me two or three hours I would rather sit down with my friends and play an analog game."
Photos by Sarah Weber