BY ANN HOEVEL
As early as two months before Dragon Con, cosplayers, convention volunteers and attendees inundate their social channels in anticipation of four days of pop culture nirvana in Atlanta.
It's no surprise to Johnny League, one of the founding members of the Metro Atlanta Geeks meetup group, that displays of fandom and questions about hotel rooms and costumes reach a fevered pitch around this time.
"We have a funny saying," he said. "All conversations lead to Dragon Con."
But once attendees are in one of the five host hotels and dressed up as their favorite, nerdy inspiration, the conversation about Dragon Con changes.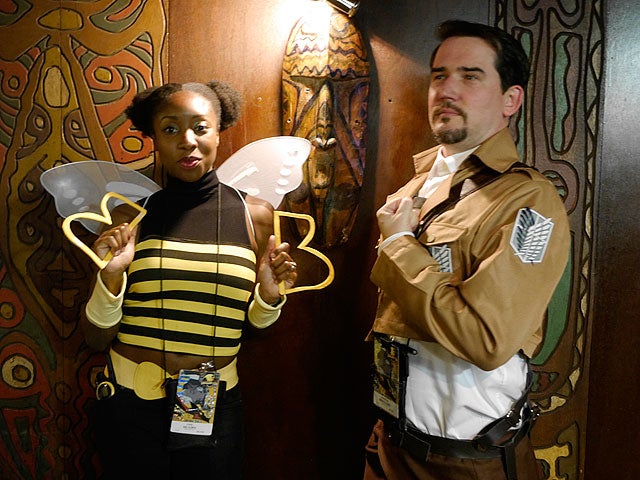 Gail Alonso, dressed as Teen Titan Bumblebee and her husband, Andrew, dressed as a Scout from Attack on Titan. 
Sure there's the expected onslaught of cosplay photos and celebrity sightings that accompany most modern fan conventions, but the way fans communicate with their friends becomes far less obvious.
Things can get especially confusing when it's time for dinner or a pre-party cocktail.
Connecting at Dragon Con
Any Muggle confronted with Dragon Con might reasonably suggest that aliens invade Atlanta over Labor Day weekend. There are plenty of Storm Troopers, Klingons, Colonial Fleet pilots, Serenity crewmembers, and Time Lords milling around to back up such a claim. 
As much as attendees celebrate that aspect of Dragon Con, growing crowds can get in their way, too. 
Adam Darby, a front-end web developer and cosplay enthusiast, said his attempts to meet friends at the convention resulted in mayhem of delayed texts:
Me: Yo. Pulse.

Them: I'm here! Don't see you!

Me: Upstairs! 

Them: I'm here! Don't see you!

Me: Downstairs!

Them: I'm here! Don't see you!

Me: Went to karaoke. see you next yr lolz 
Besides spotty texting, League said Metro Atlanta Geeks are using their Facebook page, the meetup.com app, and a Google document to organize group outings.
When they finally do connect online and in person, Dragon Con attendees have a variety of bars and restaurants to visit during their stay. 
Two of those establishments are truly transformed when the convention gets going: Pulse Bar and Trader Vic's. They are landmarks of the convention and perennial crowd-pleasers. You'll be lucky to get a table or standing room.
Science fiction and Mai Tais
Pulse Bar in the Marriott Marquis atrium is Dragon Con's version of Ten-Forward, the futuristic bar on board the USS Enterprise in Star Trek: The Next Generation.
Inside Ten-Forward, off-duty Starfleet personnel have a drink and look out on the universe. Dragon Con attendees like Darby head for Pulse for exactly the same reason.
"Pulse is just in the heart of the action, right next to the area that most people go to strut their stuff," Darby said. The bar's loft area is probably the best place to scope out extraordinary cosplayers you want to get pictures with, he added.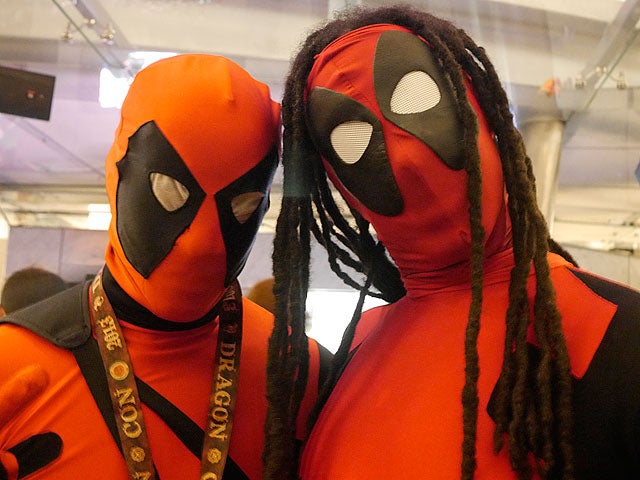 Adam Darby (right) and his brother, Jason (left) pose in Deadpool cosplay while at Pulse Bar.
The Marriott's atrium is the largest of all the Dragon Con hotels, and most of the convention's prime cosplay viewing happens there. Surrounded by the spine-like shell of the Marriott's 47 floors, Pulse Bar is distinguished by a 50-foot tall sail structure. Illuminated in blue, it looks a bit like the time-rotor column in the middle of the TARDIS' control room.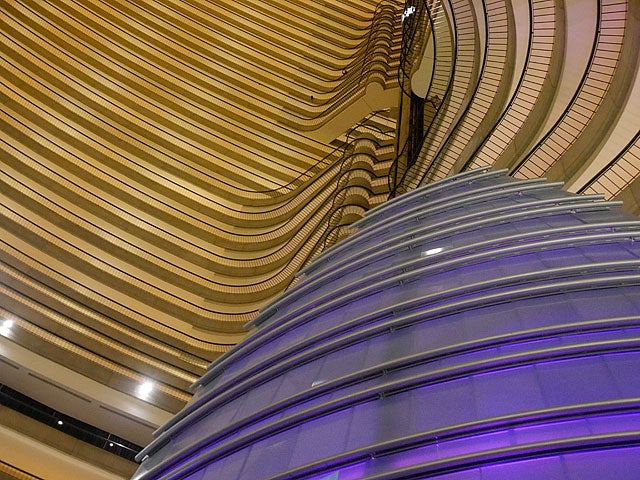 But what if, like Aleck Ragsdale, a 34-year-old Atlanta native, you want a spot that's a bit more secluded to start off a night of nerdy camaraderie? Cosplayers and convention staff looking for a respite head for the Trader Vic's in the basement of the Hilton next door.
During Dragon Con, Trader Vic's is analogous to the Mos Eisley Cantina on Tatooine from Star Wars, Ragsdale said. He starts each night of Dragon Con at this restaurant and bar.
Known for its Tiki theme and Polynesian décor, Trader Vic's becomes a cosplay/luau mashup. 
"Everyone's in costume," Ragsdale said. "The bar will be full. You'll see Wolverine, people in Star Trek uniforms," he said. 
On the night before Dragon Con's programming starts, X Track director Leigh Bennett-Connor goes to Trader Vic's for discount Mai Tais and a chance to visit with friends before the 32-hour gauntlet of panels she organized.
"It's the time to go and dance and see your friends and chat," she said. It's also a poorly-kept secret that some of the Con's visiting celebrities will head to Trader Vic's for a drink after they arrive on Thursday.
"They're doing the same thing as everyone else," Bennett-Connor said. "Celebs are there to have fun when they're not working," she said, and the Dragon Con crowds respect their need to relax. "I've never seen anyone try to get an autograph (at Trader Vic's)" she said.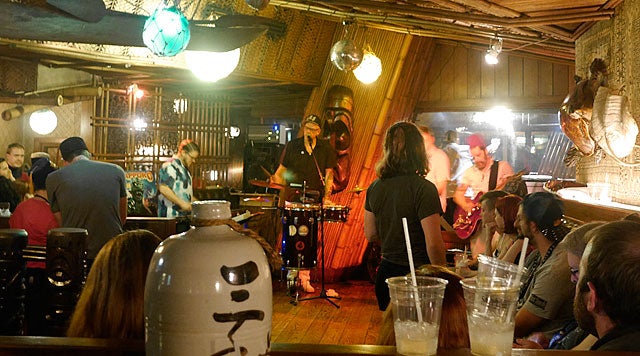 Tongo Hiti perform Thursday night at Trader Vic's.
Even the house band, Tongo Hiti, which performs Thursday nights, includes a celebrity. Internet sensation Puddles Pity Party has an alter ego there—that of percussionist and band founder "Big" Mike Geier. He towers over the crowd at 6 feet, 8 inches tall as Storm Troopers and anime cosplayers drink and chat the night away around him. 
Photos by Ann Hoevel