The Doctor will see you now, America.
With a little over a week until the latest season of Doctor Who arrives on TVs in the U.S. and U.K., showrunner Steven Moffat and stars Peter Capaldi and Jenna Coleman descended on New York for the latest stop on a whirlwind, global world tour. Over the course of 12 days, Capaldi and Coleman will travel to seven cities across five continents (due to "production commitments," Moffat can only make some of the stops) to meet thousands of fans who bought tickets for a special fan screening to see "Deep Breath," the premiere episode, followed by a Q&A session.
By the time the trio arrived in New York, Capaldi and Coleman had already been to four cities on three continents. They'd just flown in from Australia, and they were slated to head down to Mexico City soon thereafter. Later in the night, speaking about the jet lag, Coleman said that "time has lost its meaning."
Tired as they may have been, they answered reporters' questions on the blue carpet (TARDIS blue, of course) and were all smiles during the Q&A with Chris Hardwick. At one point, Capaldi corrected a fan who gave the wrong name of his other Doctor Who character in a season 4 episode, and even if you haven't been following the tour or any of his previous interviews, you could tell that Capaldi is a lifelong fan of the show.
He watched when Doctor Who first premiered in 1963, and he made his daughter watch the reboot when it came back—still had incredible love and respect for it even now as he helms the sonic screwdriver and the TARDIS.
"The show started when I was 5, so I literally grew up with it," he said. "I loved them all."
They were concerned about whether the fans would like the new episode, as not only was it a new episode, it was an entirely brand new Doctor. While there's always buzz and interest surrounding a new episode, there's plenty more intrigue with the introduction of a new Doctor or Companion.
Like one Doctor showed when another redecorated the TARDIS in the 50th Anniversary Special, fans might not always initially like change. They were initially disappointed that Moffat went with yet another white guy for the Twelfth Doctor instead of a woman or a person of color, but Capaldi has already managed to win people over with his charming Scottish accent, fan interactions on the set, and press interviews, even though he and Moffat insisted that claims of Capaldi and Moffat clashing over the scripts were untrue.
In any case, judging from the crowd response, they needn't worry. While we've only seen the first episode, some might even say that Capaldi's Twelve just might be their new Doctor.
•••
It's hard to imagine that just four years ago, Doctor Who wasn't anywhere near as big as it is now. Tahlia Hein, a TV blogger and TEDx post-event coordinator who attended that screening, noted that the event was much smaller and even had a meet and greet afterward.
"When [the BBC] screened Matt Smith's first episode in New York several years ago, not only did tickets not sell out for days (Doctor… who?), but the event was held at the Paley Center for Media, in a theater with a capacity of no more than 200 people," she wrote.
By contrast, BBC America held the screening and Q&A at the Ziegfeld Theatre on Thursday—the largest movie theater in Manhattan—and the tickets sold out in minutes.
People started lining up as early as Wednesday night, and BBC America made sure that they were taken care of. Those who arrived early were treated to doughnuts from the BBC America crew and visits from one of the Cybermen and the Adipose, "marshmallow-shaped beings" made almost completely of fat, who "run" the official Doctor Who Tumblr page.
12:43 AM this morning- Whovians already lining up for the #DWWorldTour NYC event! #DoctorWho pic.twitter.com/Eq0MjhnhwR

— Doctor Who on BBCA (@DoctorWho_BBCA) August 14, 2014
Doing our theater prechecks, everything looks great so far! #DoctorWho #DWWorldTour pic.twitter.com/5YXHxUPm4Y

— Doctor Who on BBCA (@DoctorWho_BBCA) August 14, 2014
"It's been wonderful," Brooke Bivona, who came up from Cherry Hill, N.J., told me. "They've been so friendly, and if we have a question, they try really hard to answer. BBC's been really kind to us."
Bivona got into Doctor Who at a friend's suggestion after procrastinating on college finals, and although she'd never really been into sci-fi before, she was hooked, calling it a "gateway drug" into comics and sci-fi. She was looking to be blissfully surprised by the episode.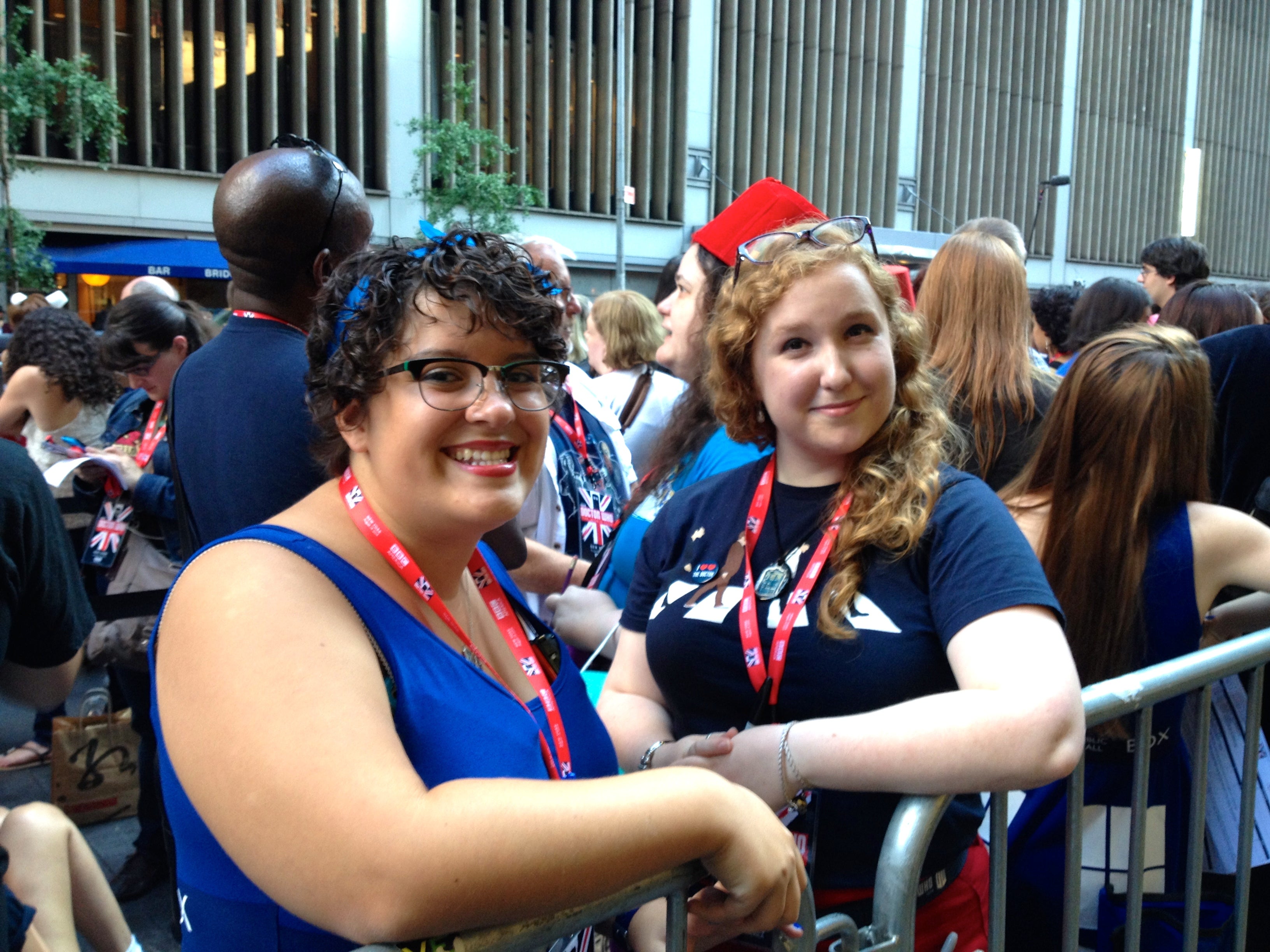 Bivona, left, and Liz Dircks had been waiting in line since noon Thursday.
Doctor Who has been successful from the start of the show's reboot in 2005, growing slowly in the U.S. while introducing it to a new generation of fans too young to watch the Classic series. With the entire new series available on Netflix (as well as some of the Classic Era, all of which are now on Hulu Plus), the capability to binge-watch the show only helped fan the flames, as people could easily catch up in a matter of days or weeks.
Bivona's story isn't a unique tale by any means. With the show airing on BBC America, a channel that not everyone has, many of the fans lining up (as well as the ones hoping for a ticket in standby) found the show through word-of-mouth from people who were already sucked in by it.
But no matter how they got into the show, the lucky thousand or so fans were there with lanyards marking that their tickets were verified. Cosplay was out in full force as plenty of Doctors, Claras, Amy Ponds, and one very elaborate Idris costume, and they were all celebrated when the cosplayers were brought on stage. There weren't many Twelve costumes yet, but Peter Capaldi's Doctor is sure to take over conventions—if not by DragonCon or New York Comic-Con, then almost certainly by San Diego next year.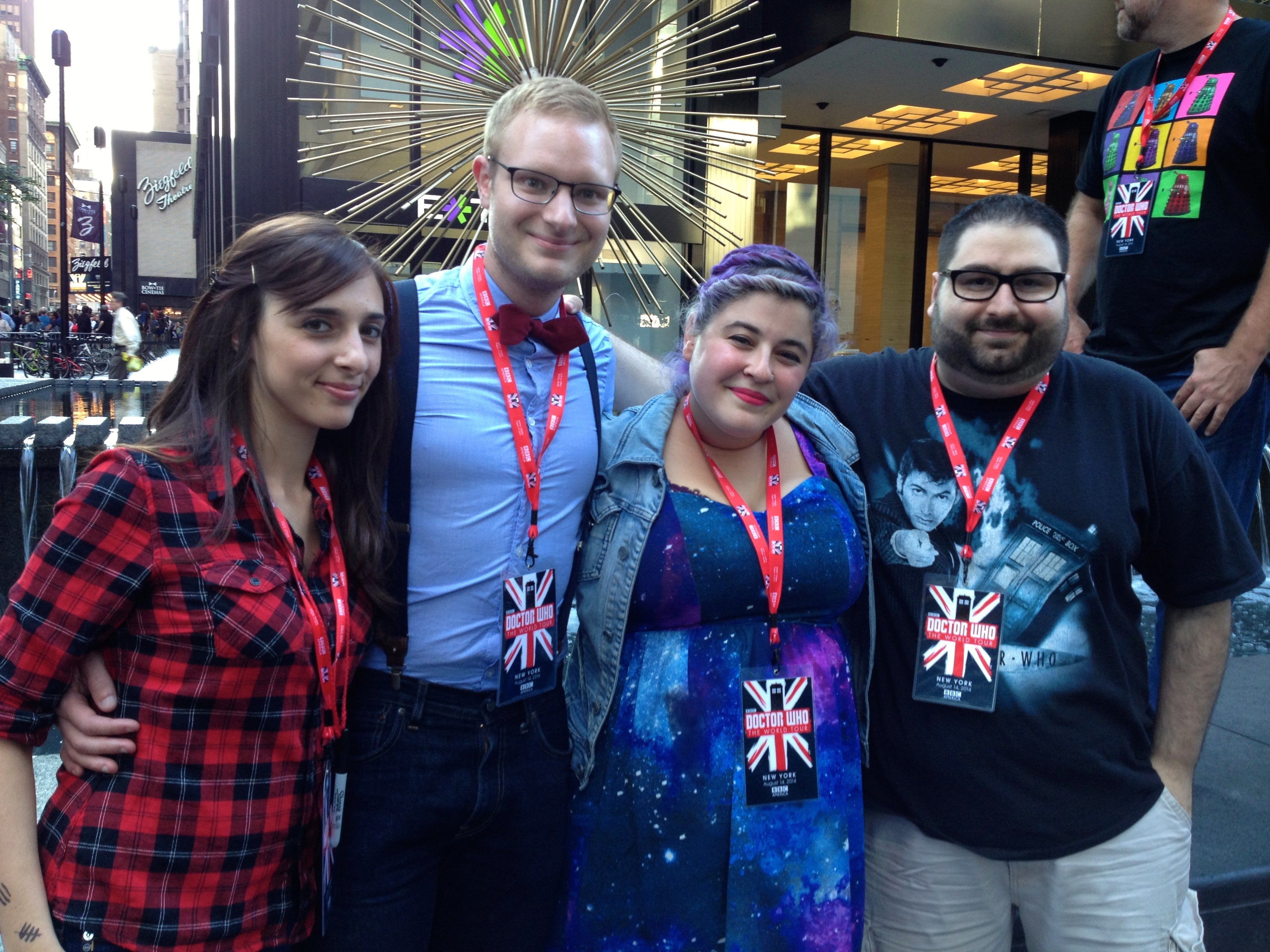 From left: Jesika Feldman, Justin Scott, Frankel, and Rob Pecora wait in line
It's almost impossible to talk about Doctor Who without going on a tangent or five, especially after trading origin stories. (For me, it involved my older sister and the episode "Doomsday" in utter confusion… and later sadness.) From there, it can break off into reminiscing about different episodes, theories about what's happening, and how Moffat was going to acknowledge Capaldi's earlier turn in Doctor Who. Soon enough, two or three conversations are going on at once, but everyone has something equally important to say.
"I'm scared [Coleman's] gonna leave, though," said Carrie Blanchard, who travelled three and a half hours from Massachusetts with Simba Pasipanodoia. "No companion has ever done more than two full seasons." Others around her brought up examples of Companions who had stayed longer, and then it broke off into a discussion of an earlier Companion, Rose Tyler.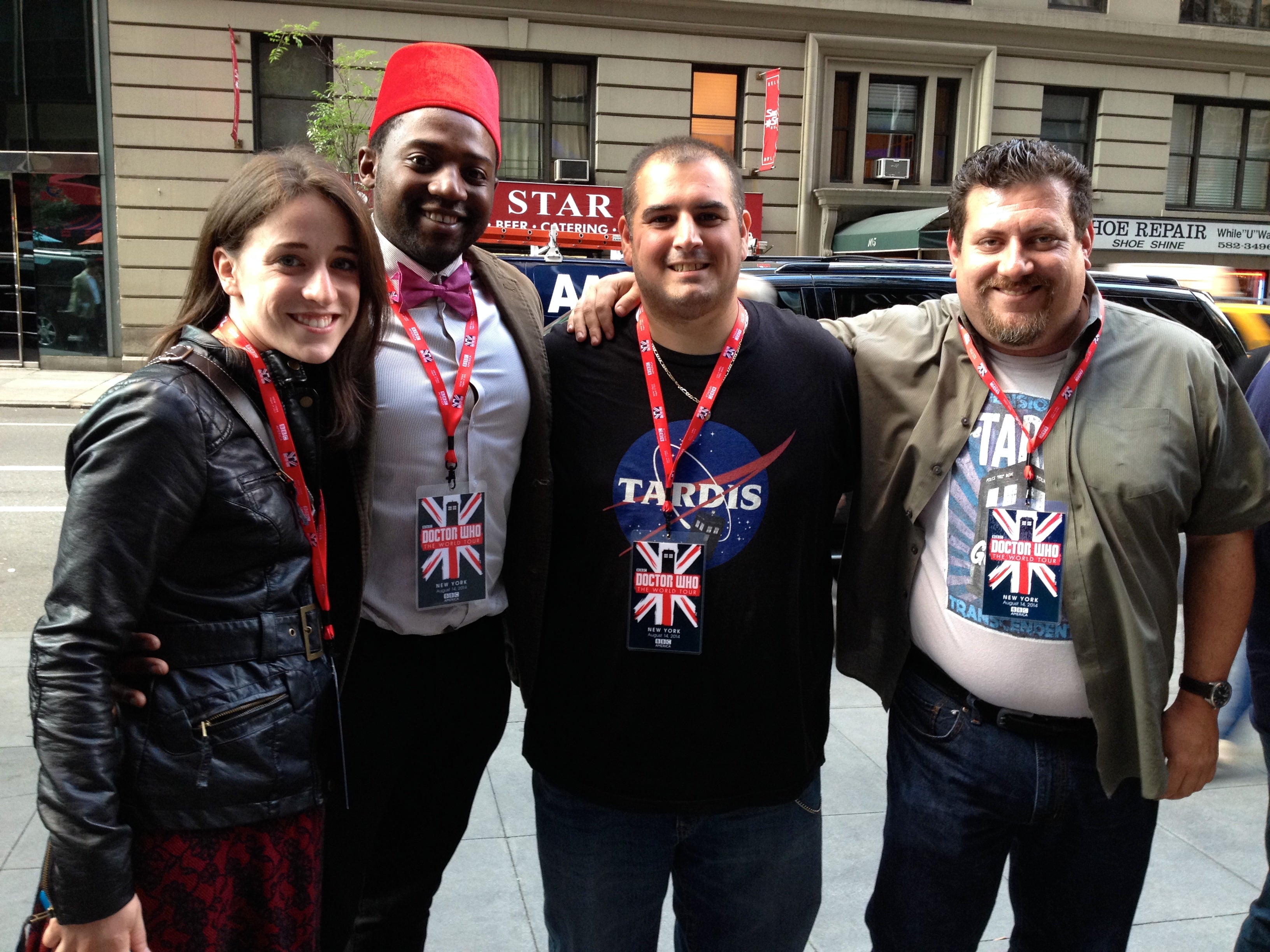 From left: Blanchard, Pasipanodoia, Johnny Giammarino, and Jeremy Pinquist
•••
If the fan atmosphere wasn't apparent from the lines, it certainly was in the theater. Fanart was displayed on the giant screen, and as Moffat later revealed during the Q&A, a new title sequence for the show was inspired by one made by Billy Hanshaw.
"Hanshaw created this title sequence, put it up on YouTube," he explained to the crowd. "I happened to cross it, and it was the only new title idea I'd seen since 1963. We got in touch with him, and said, 'OK, we're going to do that one.'"
Moffat on fan art: "#DoctorWho makes people more creative, and what more can you want from a show that that?" #DWWorldTour

— anglophenia (@anglophenia) August 15, 2014
Only one thing could darken the tone a bit: Scripts for the first five episodes (as well as "Deep Breath" itself) had been leaked online, and Moffat had to reiterate to fans not to leak any revelations from the episode. If you do leak spoilers, he said, "then you are a bad person."
They touched more on Capaldi's fanboy nature after doing his previous episode of Doctor Who, costume choices for both the Doctor and Clara, catchphrases, and whether the Doctor would ever meet Malcolm Tucker, the character that made Capaldi a household name in the U.K.
And with a final answer, they took their leave, only to do it all over again in Mexico City.
.@Nerdist to Peter Capaldi, in closing: "On behalf of America, welcome to the #DoctorWho family." #DWWorldTour

— anglophenia (@anglophenia) August 15, 2014
The new Doctor is here to stay, and we're OK with that.
Main Image via Amy Sussman/BBC AMERICA | Photos by Michelle Jaworski