Doctor Who season 11 marks a brand new era for the series. With a new showrunner (Chris Chibnall) and a new Doctor (Jodie Whittaker), it's an even bigger change than when Steven Moffat replaced Russell T. Davies as showrunner in 2010.
The BBC's Doctor Who magazine revealed the list of new writers on Aug. 20, and it's an interesting lineup. As expected, Chris Chibnall is the only one returning from previous seasons.
The biggest name is former British Children's Laureate Malorie Blackman, best known for the acclaimed Noughts and Crosses book series, a love story set in a racist dystopia. Then we have Pete McTighe (creator of the women's prison drama Wentworth, and a longtime Doctor Who fan), and three up-and-coming British TV writers: Joy Wilkinson (Doctors), Ed Hime (Skins), and Vinay Patel (Murdered by My Father). None are known for their work in sci-fi or fantasy TV.
The BBC also announced a team of new directors for the season: longtime British TV director Sallie Aprahanian, Jamie Childs (who directed Jodie Whittaker's reveal as the Thirteenth Doctor), Jennifer Perrott, and Mark Tonderai (Lucifer, Gotham).
Our first photos from season 11 show the Doctor fixing some kind of machine, posing dramatically with her three companions, and the new companions hanging out in what looks like a junkyard. They're all wearing lowkey outfits with no historical or futuristic details, avoiding any hint of potential spoilers for the episode.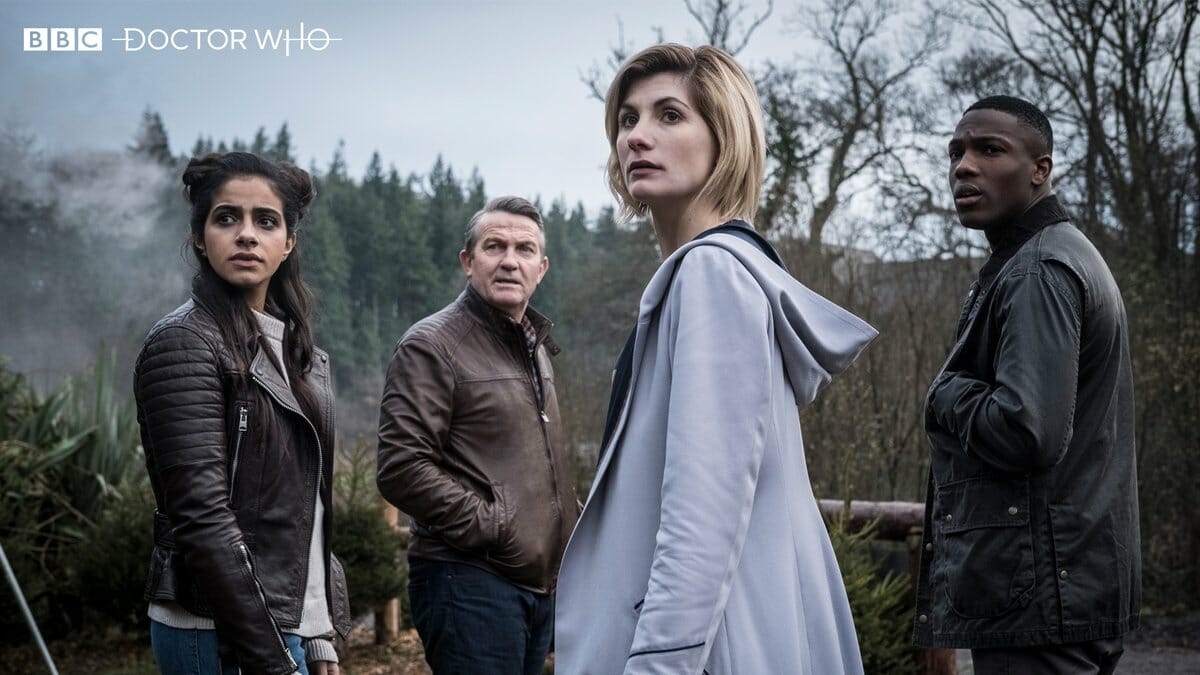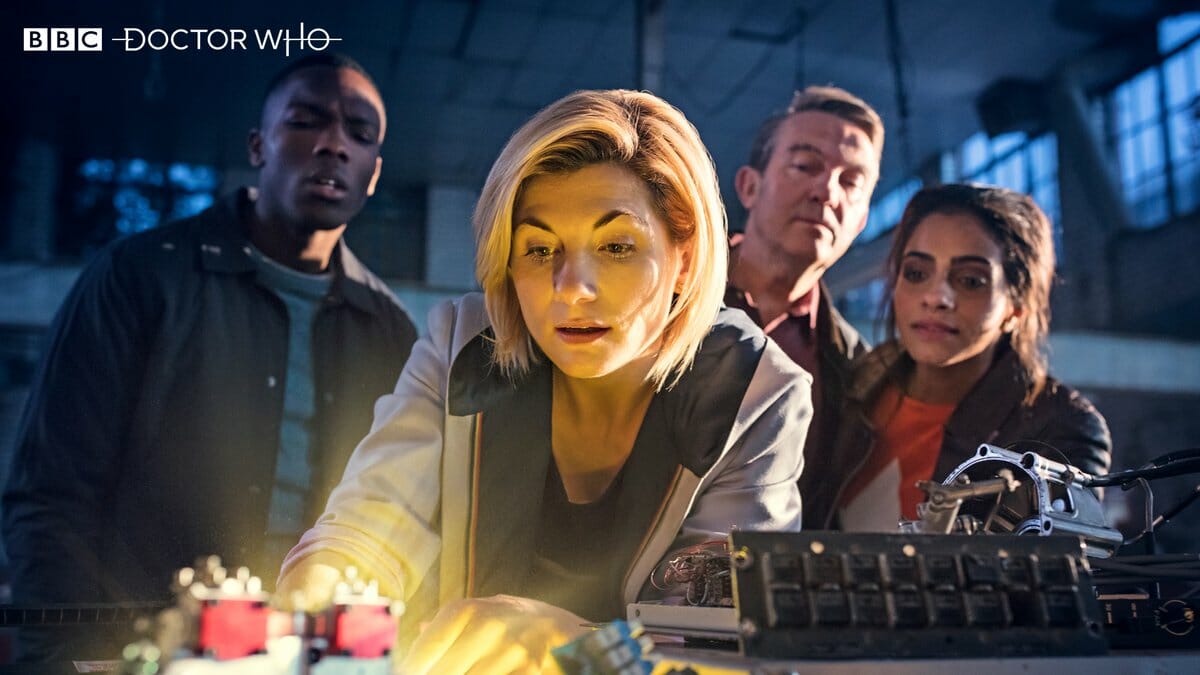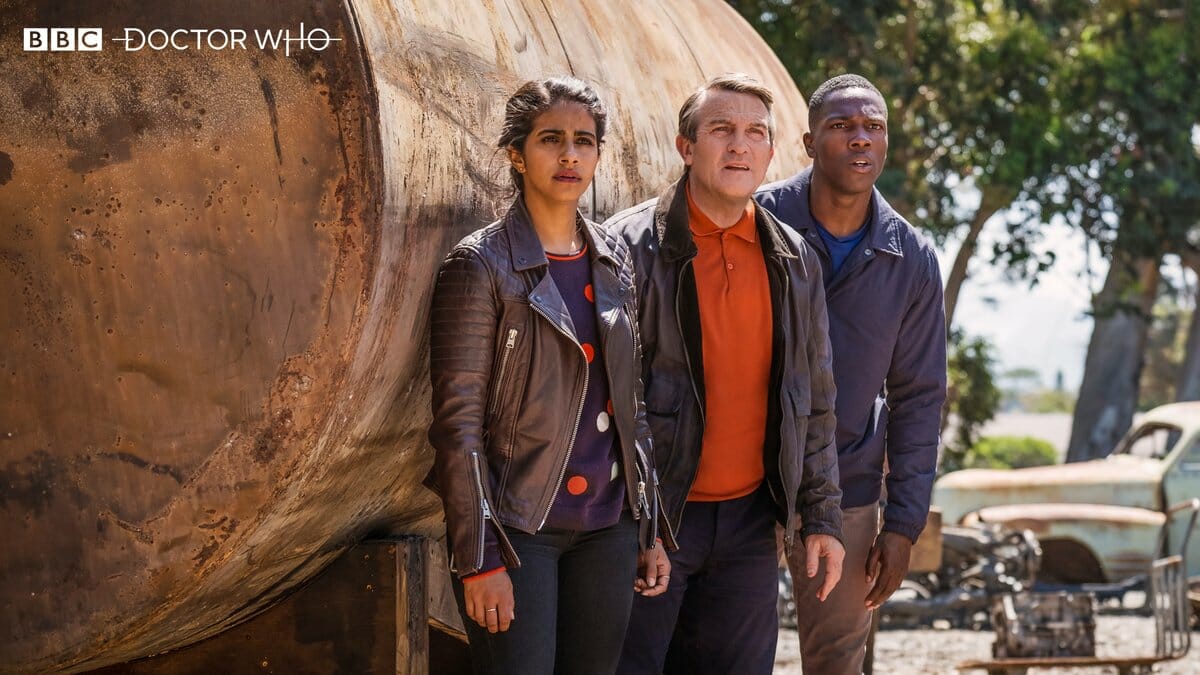 The BBC is notoriously secretive about Doctor Who spoilers, so no one knows anything about season 11's plot yet. In the meantime, here's everything we know about the new cast and writing team, along with Jodie Whittaker's groundbreaking role as the first female Doctor—and those new team members introduced during the World Cup final.
Doctor Who season 11 plot
We now have spoiler-free plot synopses for the first two episodes:
"The Woman Who Fell to Earth"
'We don't get aliens in Sheffield.' In a South Yorkshire city, Ryan Sinclair, Yasmin Khan and Graham O'Brien are about to have their lives changed forever, as a mysterious woman, unable to remember her own name, falls from the night sky. Can they believe a word she says? And can she help solve the strange events taking place across the city?
"The Ghost Monument"
Still reeling from their first encounter, can the Doctor and her new friends stay alive long enough, in a hostile alien environment, to solve the mystery of Desolation? And just who are Angstrom and Epzo?
Doctor Who season 11 cast
Jodie Whittaker is obviously the big news here. After years (decades!) of demands for a female Doctor, Whittaker was revealed as the Thirteenth Doctor last summer. She's known for both comedic (Attack the Block) and dramatic work (Black Mirror) in the U.K., and previously worked with Chris Chibnall on his smash-hit crime drama Broadchurch.
The cast and crew teased the upcoming season of Doctor Who at San Diego Comic-Con on July 19, although the panel was light on actual details. Whittaker called her Doctor as "a pillar of hope"
Season 11 will have all standalone episodes (and a Christmas special confirmed) with Chibnall describing it as "the perfect jumping on point for that person in your life who has never watched Doctor Who." He also promised that each of the characters would go on "big emotional journeys."
The trailer featured a brief look at the Doctor's new sonic screwdriver. Unlike models held by recent Doctors, the sonic screwdriver is curved. The toy version of the sonic screwdriver (which was sold at the convention but will be available to preorder soon) features two modes: one that lights up and makes buzzing sounds and one where the light within the sonic screwdriver rotates.
So far, we only know a couple of things about Whittaker's role as the Thirteenth Doctor: She'll speak with her natural Yorkshire accent, and her costume looks like this: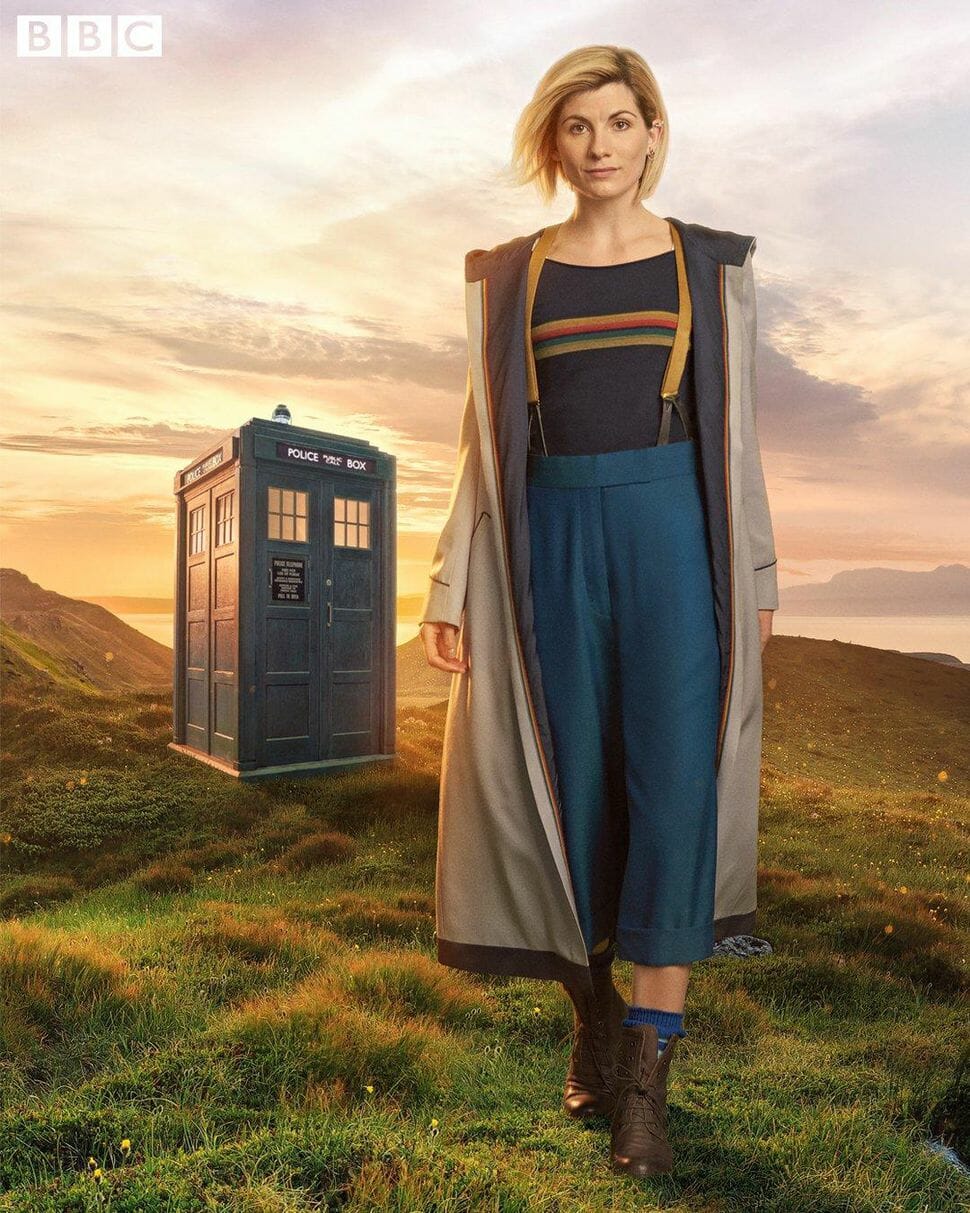 Whittaker regenerated from Peter Capaldi's Twelfth Doctor in the 2017 Christmas Special. Unlike recent iterations of the show, she'll be joined by more than one companion. The Doctor's new sidekicks are Graham (Bradley Walsh), Ryan (Tosin Cole), and Yasmin (Mandip Gill). This shakes up the typical format of a male Doctor accompanied by a younger female companion, although they've made sure to include a middle-aged guy (Bradley Walsh) to stop the fanboys from panicking too much.
Walsh is known for his work as a comedian, actor, and TV presenter in the U.K., while the other new companions are lesser-known actors. Although if you're a serious Star Wars aficionado, you may recognize Tosin Cole from his very brief role as a Resistance pilot in The Force Awakens.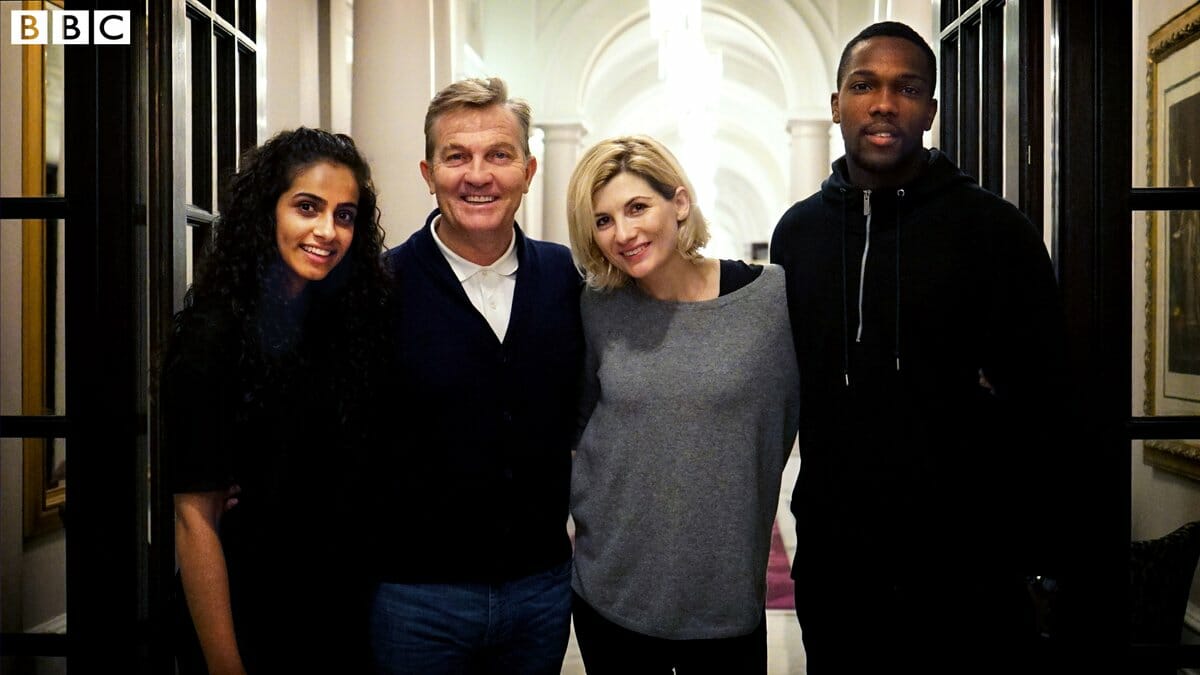 The BBC hasn't confirmed any further casting, but you shouldn't expect to see many familiar faces from Steven Moffat's era as showrunner. As with the transition between Davies and Moffat, they probably want to make a fresh start.
Alan Cumming will guest star as King Kames I of England (and VI of Scotland; it's complicated), and it might be a recurring role. Speaking to the LGBTQ podcast Homo Sapiens, he said: "I'm a nice baddie, I'm James I, so I'm kind of like a dandy, foppy sort of coward who kind of comes alright in the end. And they said he might come back."
Hopefully, Doctor Who will take the rare tack of actually acknowledging a historical figure was queer. James I was known to have relationships with men, including George Villiers, who was given a dukedom and slept in a bedroom connected to the king's. Since Alan Cumming chose to discuss this on an LGBTQ podcast, we can put two and two together.
Some new guest stars suggest that season 11 may include a storyline set during the Civil Rights struggle. Fans noticed that the casting website Spotlight lists two actors playing Raymond Parks (Rosa Parks' husband) and civil rights attorney Fred Grey.
Executive producer Mark Strevens also confirmed that season 11 will feature characters from "across the spectrum" of the LGBT community.
Doctor Who season 11 news
Chris Chibnall has extensive experience writing for Doctor Who and its spinoff Torchwood, penning episodes including "The Hungry Earth" and "Dinosaurs on a Spaceship." While he's not generally considered to be a standout writer in the Doctor Who pantheon, he's better known for creating Broadchurch. This gritty crime drama stars David Tennant and Olivia Colman, and it inspired an American remake, Gracepoint, in 2014.
In 2017, Chibnall said he has a five-year plan for the show, hinting that he may focus more on season-wide arcs than episodic storylines. "What the BBC was after was risk and boldness," he said. No other writers have been confirmed yet, but there are rumors that Chibnall will adopt a new approach for season 11. Previous seasons saw individual writers pen single episodes as freelancers under guidance from the showrunner. Instead, Chibnall may use an American-style writers' room—a rare approach in British TV, partly because it's expensive to employ all those writers full-time. He's expected to hire new blood, with no writers confirmed to return from Moffat's era of the show.
Two directors have been announced so far: Sallie Aprahamian (Wolfblood, The Worst Witch) and Jamie Childs (Next of Kin).
Jodie Whittaker's Thirteenth Doctor will make her comic book debut around the same time as the season premiere. Titan Comics just announced a new series written by Jody Houser (Orphan Black; Marvel's Rogue One), drawn by longtime Doctor Who comics artist Rachael Stott, and colored by Enrica Angiolini (Warhammer: 40,000).
BBC Drama director Piers Wenger confirmed that "a number" of the scripts this season were written by female writers. Recruiting diverse creative talent was an ongoing problem during Steven Moffat's tenure, but Wenger said of the new season, "Having a diverse team on that show feels appropriate, important, and essential."
Doctor Who season 11 music
For the first time since 2005, Doctor Who's score and theme music will be composed by someone new. Composer Murray Gold revitalized the show's distinctive score under Russell T. Davies and Steven Moffat, but he'll be replaced in season 11 by Segun Akinola.
After training at the Royal Birmingham Conservatoire, Akinola composed the music for a number of British TV shows and movies. This is his most high-profile work to date. Originally created by composer Ron Grainer and electronic music pioneer Delia Derbyshire in 1963, the Doctor Who theme has gone through many different versions over the years, including several new arrangements by Murray Gold.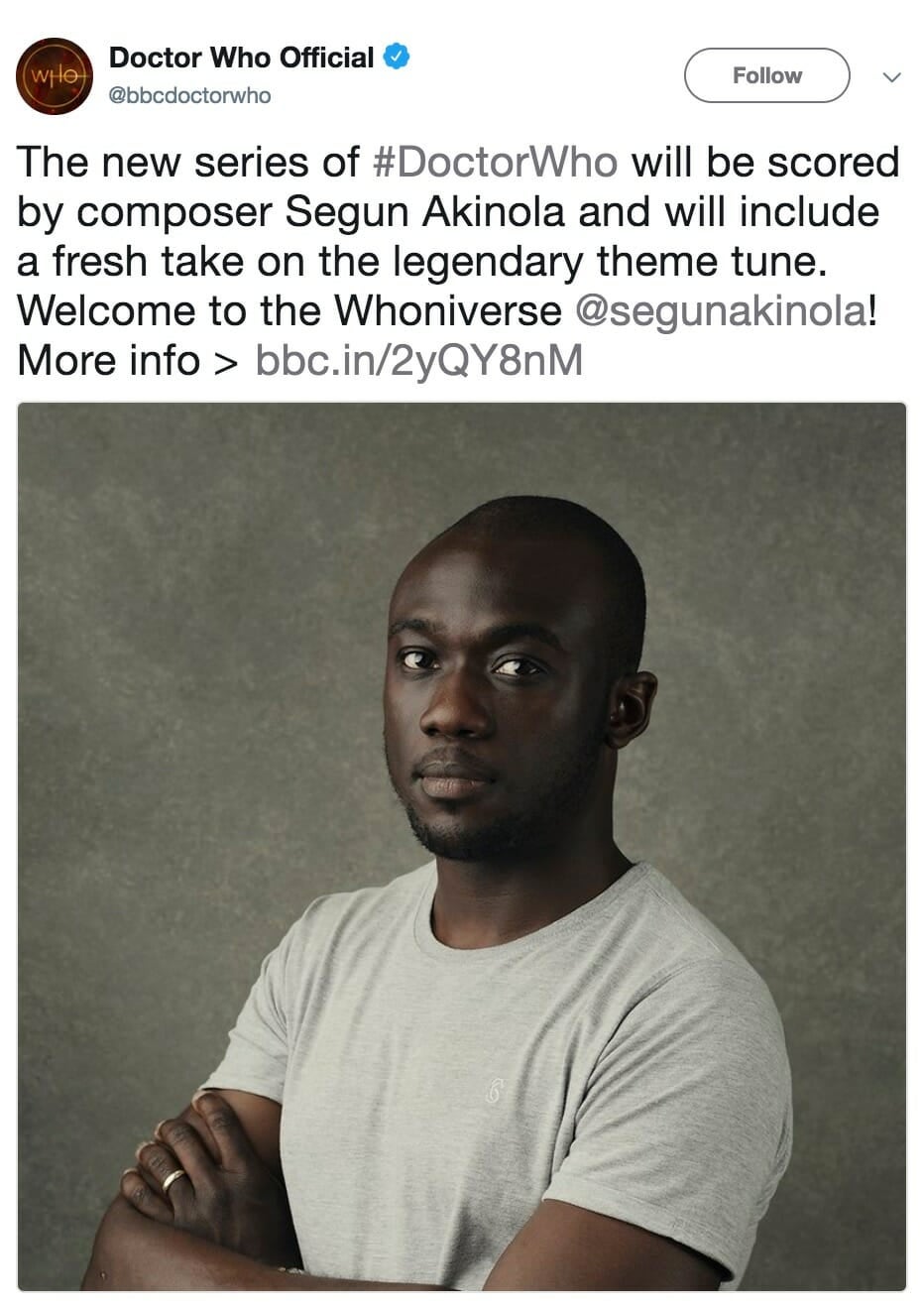 Doctor Who season 11 trailer
The newest Doctor Who trailer gives us a closer look at the Thirteenth Doctor in action and helping the people around her. And if it wasn't evident before, it's her show: At one point, after a man questioned just who put the Doctor in charge, her new companions all respond, "Says us!"
The first footage from the new season of Doctor Who debuted at San Diego Comic-Con, which featured the Doctor and her three new companions as she teased new adventures and asked them to be her "new best friends."
Season 11 dropped its first teaser during the World Cup final on July 15, introducing the new cast with a mysterious 50-second scene. The Doctor's new companions are going about their daily lives when some kind of time anomaly disrupts a minor detail nearby. (Is this some kind of side-effect of the Doctor's regeneration process? It looks like Yasmin's pizza regenerates out of nowhere.) We also learn our first bit of new info about one of the companions: Graham (Bradley Walsh) seems to work in a chip shop.
Doctor Who previously debuted a teaser trailer and a logo, which replaces the sharp, mechanical style logo used during Capaldi's era. The new logo uses warmer colors, incorporating reds and yellows as it shows the TARDIS pulsing and traveling through liquid.
New Doctor, new season, new logo. #DoctorWho pic.twitter.com/hZT7gBnz3W

— Doctor Who on BBC America (@DoctorWho_BBCA) February 20, 2018
The teaser poster uses the same font, showcasing Whittaker's Doctor cast in the shadows as the sun rises behind her TARDIS. The tagline on Twitter reads, "A new era of #DoctorWho is dawning…"
BBC America confirmed that Doctor Who will return Fall 2018 but did not provide a specific date for the season 11 premiere.
At Gallifrey One, a Doctor Who convention in Los Angeles, longtime composer Murray Gold revealed that he wouldn't be returning to score the newest season after working on the show since it relaunched in 2005. A new composer for the season has yet to be announced.
You can see Whittaker's Doctor regenerate from Peter Capaldi in the 2017 Christmas special and watch her initial introduction video below.
Doctor Who season 11 release date
The season will consist of 10 episodes, slightly fewer than previous years. The premiere will air simultaneously in the U.S. and UK on Sunday, Oct. 7, re-airing on BBC America during a primetime slot for viewers who can't tune in for the U.K. time zone.