At first it seems like your average passive beauty shot: The woman, dressed in a Wonder Woman costume, lies prostrate on a bed, posed as if she is sleeping.
The photo's title, however, reveals the chilling context: "sexy Amazon chloroformed."
The photo gallery is one of many hidden away at deviantART which reveal disturbing fantasies that playout in photoshoots and fanart: women being attacked and chloroformed, usually by unknown male assailants.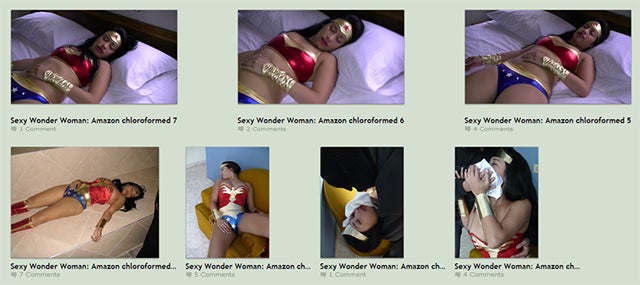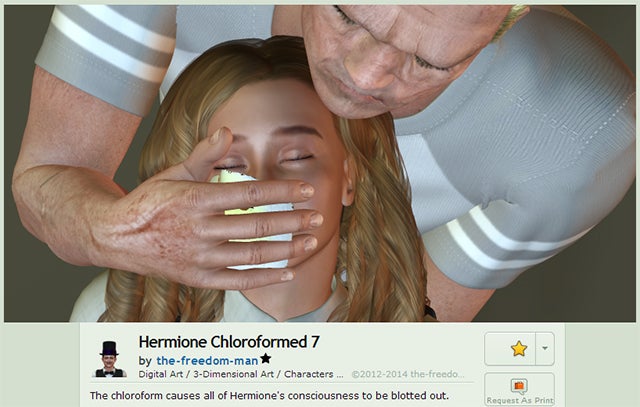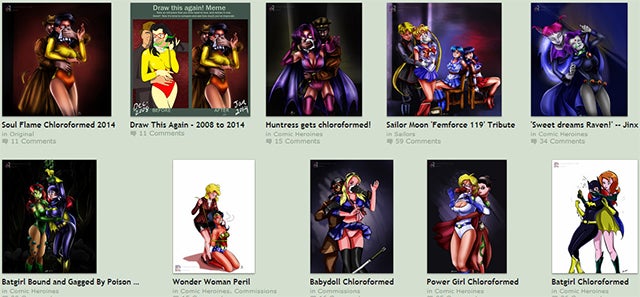 A search for the word "chloroformed" on deviantART reveals hundreds of images of women, particularly superheroes, being chloroformed or passed out after presumably having been chloroformed.
It's a disturbing undercurrent. Sexual kinks, while forbidden, have always been readily available at deviantART. Remember the fetish around photoshopping the heads off women? But these images seem to go beyond the typical bondage kink and become out-and-out rape fantasy—particularly because of the way that the fantasy images place the viewer in the position of the assailant and would-be rapist, not the unconscious victim.
One artist, LordoftheCarry, posted a typical example of a woman in the act of getting assualted by an unknown man. When he shared the art with deviantART, one of the comments in response was deeply disturbing:
nice

plz make some blows on the heads too
LordoftheCarry's deviantART gallery is full of images of unconscious women, some of whom appear to be in the process of getting raped. Though it would hardly be surprising to find such content on a porn site, it's alarming to run across the images on deviantART, where the minumum age to join is 13. Even more disturbing is the realization that "chloroforming" is apparently a whole art trend glorifying sexual assault.
It's also interesting that so much of the "chloroforming" trend done by male deviantART members is targeted towards female superheroes, as if the stronger women, the stronger the rapist fantasy of dominating and overpowering them physically.
When contacted, a representative for deviantART pointed me towards dA's Etiquette policy, which forbids any "sexually driven" material or "obscene" postings, though it doesn't exactly give guidelines as to what constitutes obscenity. Most of the images aren't pornographic, in that they don't feature women in the nude, or women engaged in sexual activity; and taken individually, many of the images wouldn't even register alarm until you read the descriptions: After all, they only show women sleeping.
But grouped together as a whole, "chloroforming" seems like a disturbing, dangerous trend—especially for women who go to fandom spaces like deviantART to feel accepted and safe.
Illustration via deviantART