If you're already missing Doctor Who since it completed season 7 earlier this month, we may have found a way to exterminate that feeling.
The Daily Dalek is a webcomic created by British cartoonist and Doctor Who fan Anthony Naylor. A longtime fan of the British science-fiction TV show, Naylor challenged himself to draw 365 days of cartoons featuring the Daleks, an alien race often considered as the ultimate foes in Doctor Who, which focuses on an alien who travels through space and time.
He told the Daily Dot that the Daleks seemed like an ideal subject since they would hold his interest and pose a challenge to his skills—even though they're sometimes referred to as trash cans with wheels by fans.
While Naylor started the comic in 2011,  he has yet to reach his 365-day goal. Unexpected breaks including a week long hospital stay and, more recently, a burglary at his home studio have delayed him. But he's getting close. As of May 29, Naylor has reached cartoon 324.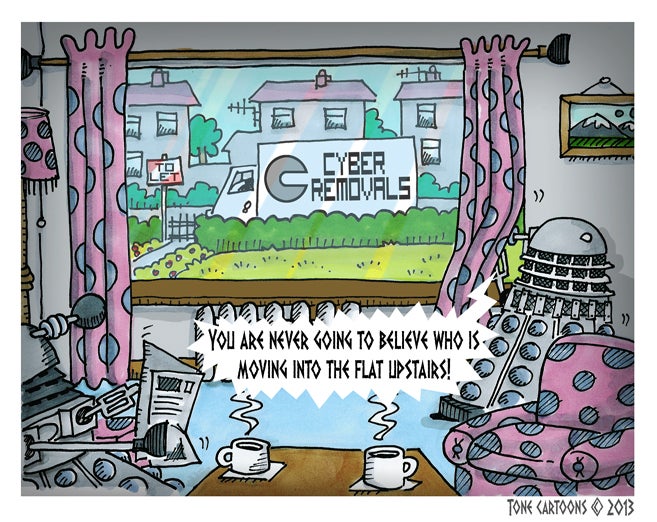 Since the Daily Dalek's creation, his webcomic has become increasingly popular. He has a large following on Tumblr, Twitter, and Facebook where he has over 36,000 likes. While his cartoons may be based off characters from a British TV program, Naylor said his main audience is in America. His cartoons clearly have a wider appeal however since some have been translated into Portuguese, Korean and German. He even has a RedBubble account in response to demand for certain designs to appear on T-shirts, stickers, and other merchandise.
"I try to create my cartoons to suit all age groups in all countries, from toilet humor to high art parody, even to cater for people who don't like Doctor Who, so hopefully there should be something for everybody," Naylor said.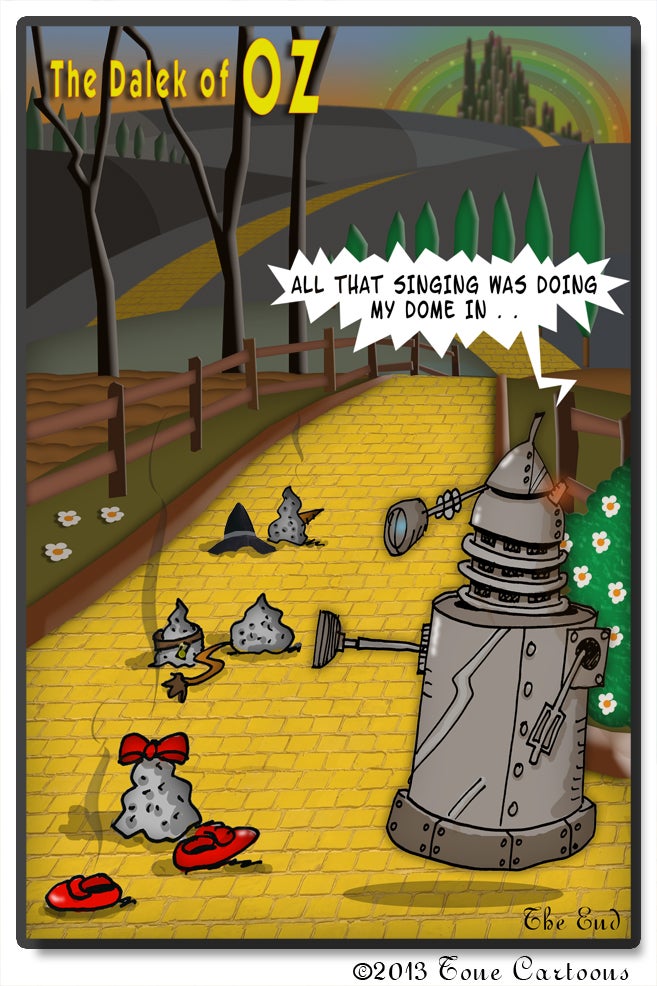 Some of his most popular comics are mashups of the Daleks with other areas of pop culture. His most popular pieces include "The Last Supper of the Daleks," "Dalek Avengers," and "Darfield." Many of his Dalek movie poster mashups have been showcased on websites like The Mary Sue and Geeks Are Sexy.
His use of a wide variety of cartoon styles is another reason his comic has appealed to such a wide audience. Naylor said he changes the style depending on what will keep things interesting to himself and his readers. He also tries new styles to develop his skills. The webcomic acts as an online portfolio of his work and freelance services.
When he reaches his 365-day goal, Naylor would like to compile the comics into a book and is currently looking for a publisher. It can be hard to believe that so much has resulted from a webcomic based on one TV show's dangerous villain, but Naylor thinks it's just that which makes them appealing for a webcomic audience.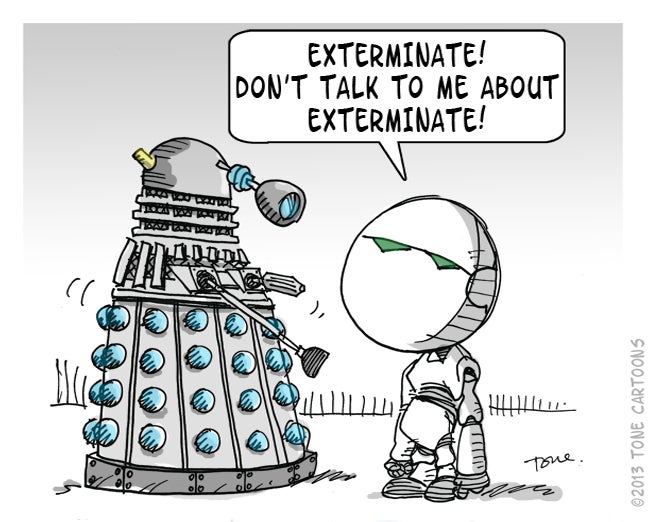 "The contrast between their serious deadly nature and how alien they are to us works well when they are put into everyday situations," Naylor explained.  "After they frightened me for many years as a child it is quite satisfying to render them as silly or even cute sometimes."
Illustrations via The Daily Dalek