A new Pokémon-like RPG is currently in development that will bring a unique twist to the classic formula. In Collectems (sound familiar?) players will be able to traverse the randomly generated world of Tamota, capture critters, and battle them out. 
One of the greatest parts of playing Pokémon as an uninitiated child was that sense of mystery in exploration. The worlds were new and nothing was familiar. But after playing so many Pokémon games over the years, you pretty much know the score. Collectems plans to have a completely randomly generated world, meaning that each playthrough will result in a different environment. That makes it harder for the player to find a pattern to world design, but it also keeps things interesting. 
Collectems adopts the same pixelated art design as the original Pokémon on the original Gameboy and Gameboy color. Sprites will look simplistic and a tad unrefined. The game can be switched between greenscale, grayscale, simple color, and full color.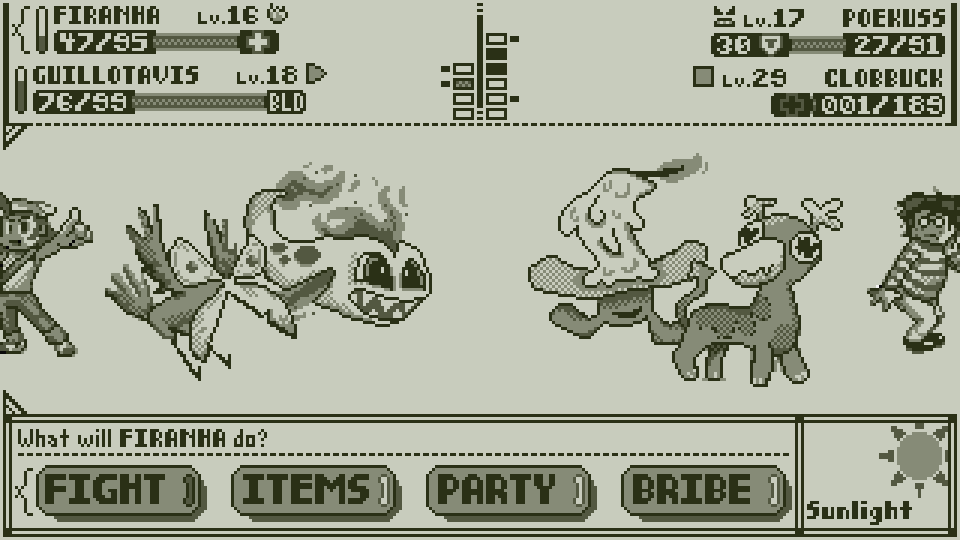 The game, however, will be far more in depth than Pokémon Red. Taking a cue from the current Pokémon competitive scene, breeding and eugenics will play a large role. Mixing and matching Collectems to yield the most powerful monster will be integral to the strategy. Interestingly, if a Collectem falls, its DNA can be transferred to its successor. That means permanent death is a factor in gameplay, which could turn a few people off. Luckily, that feature can be turned off. 
Collectems is currently in development by The Layabouts. Plans are to release the game on PS4, PS Vita, PC, Mac, and Linux. A release date has not been set.
H/T VitaBoys | Image via collectemsgame | remix by Jason Reed