Celebrities want to walk the floors of San Diego Comic-Con incognito, just like us.
While many of the world's biggest stars are there purely to take part in panels, signings, and interviews over the course of the convention, others find that they're not always able to enjoy SDCC in their off-time because the moment they enter the main floor as themselves, they're often accosted by fans wanting autographs or pictures.
So, in recent years, they've gotten creative. Last year, Breaking Bad's Bryan Cranston wore a Walter White mask so he could walk around without being bothered.
This year, more celebrities took a similar approach and cosplayed as some of their favorite characters (or, in some cases, just donned a mask), and while fans still asked for photos, it was often because of the costume, not who was wearing it; they often didn't realize who it was until later.
Did you spot any of the secret cosplayers? Let's check.
1) Daniel Radcliffe
Despite having starred in one of the world's most successful franchises for a decade, Radcliffe just attended his first Comic-Con this year for a panel on Horns. But when it came time for the actor to roam the Comic-Con floor, he looked to his favorite comic book character for inspiration: Spider-Man.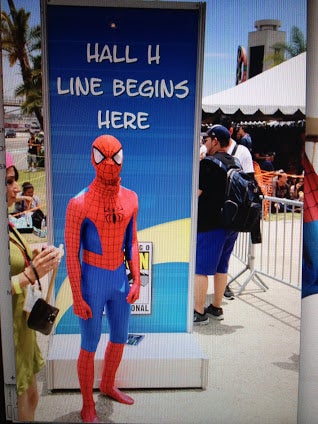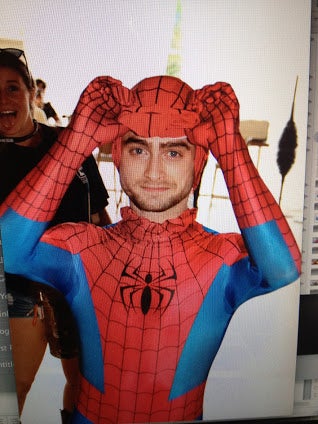 Photos via Daniel Radcliffe/Google+
"I did an American accent for the whole time," he said. "I even took a rucksack, so I look like I'm just coming to Comic-Con. I had a whole look. But it was great… I took lots of pictures with people who did not know that it was me."
He revealed the photos on his Google+ page Friday, and he lamented on missing out on an opportunity for a winning photo op with Mary Jane Watson and Gwen Stacey.
2) Maisie Williams
Spider-Man seems to be a popular choice among celebrities. The Amazing Spider-Man star Andrew Garfield dressed as his character a few years ago and told fans how much he appreciated their support, and now Williams, one of the stars of Game of Thrones, donned Spidey's mask, as well as a Guy Fawkes mask, to explore the floor.
Williams's entire Instagram account is worth checking out, and as season 5 filming starts, there's probably plenty of tidbits for fans to analyze.
3) Peter Jackson
Jackson didn't take a page from the book he adapted into three separate films, opting instead to don an Evil Jester mask and costume to walk around. As seen from the photos he posted on Facebook, fans suspected nothing, even when he pointed toward Hobbit merchandise.

4) Adam Savage
Going out at Comic-Con incognito is an art—and a yearly tradition for Savage, who makes an elaborate costume every time he attends and tries to hide in plain view. This year, he debuted his space suit from Alien, a project nearly 10 years in the making, and guessed that he lost three pounds walking around in it for just half an hour.
Needless to say, fans were impressed.
5) Osric Chau
The Supernatural star may have been (spoiler alert!) killed off this season, but that doesn't mean he's ready to say goodbye to the show. He dressed up as a character from Journey and crashed the Supernatural panel to ask when his character would be brought back.
Not only did the move shock fans, it shocked his fellow cast members.
6) Jack Black
Black bought a Stormtrooper helmet in order to buy things on the floor, but soon enough word got out that he was the man behind the mask—and not disguising his voice didn't exactly help. Next time, he'll need more than a mask to hide him from his fans.
Bonus: Stephen Colbert
There's no word on whether Colbert actually disguised himself to walk around Comic-Con, but as the surprise moderator at the Hobbit panel, he and his son showed up as their characters from The Hobbit: The Desolation of Smaug. And Colbert was ever the Tolkien nerd.
Who's moderating @TheHobbitMovie panel? @StephenAtHome in his Lake-town costume! #SDCC pic.twitter.com/ICBJdH9c05

— Warner Bros Pictures (@wbpictures) July 26, 2014
H/T Nerd Bastards | Photo via Tested/YouTube