Famed character actor Cary Elwes is perhaps best known to the world as the pirate Westley in William Goldman's The Princess Bride. But when Elwes approached Goldman about writing a memoir on the cult-film-turned-beloved-children's-classic, Goldman said no. The legendary screenwriter was afraid a close look back at his beloved film might rob him of some of the magic.
Thankfully, Elwes eventually prevailed upon Goldman to let him tell his favorite stories of the iconic fantasy. And if Elwes's press conference at Dragon Con on Friday was any indication, all the magic is still intact.
As You Wish: Inconceivable Tales From the Making of The Princess Bride features a forward from the film's director, Rob Reiner, and all-new interviews with members of the cast and crew.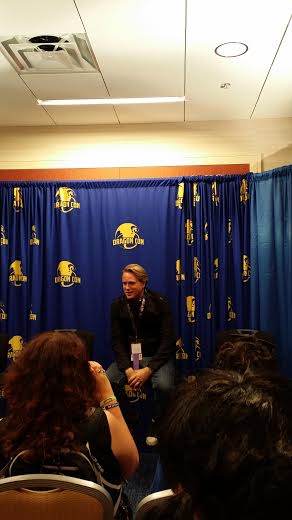 Photo by Aja Romano
"We laughed every day," Elwes said when recalling the atmosphere on set. The ensemble film may have taken place in the faraway land of Florin, but the reality of filming in Britain's Peak District was a bit different. Elwes recalled how Reiner, dissatisfied with the rural fare of Devonshire, would cook meals for the cast using a Hibachi in his hotel room.
"It was like camp," Elwes reminisced.
Though it's been 27 years since Elwes swashbuckled his way into our hearts, it's clear that the Dread Pirate Westley is still close to his own, and he readily admitted it was his favorite part. Although he has since starred in a long line of films, including the hit Saw series and Shadow of a Vampire, Elwes said he viewed Westley as "the gift that keeps on giving."
He also said it wasn't until years after the film that he realized its impact: After taking his order, a waitress in a restaurant responded with Westley's trademark phrase, "As you wish."
As You Wish became the "no-brainer" title of Elwes's memoir, out in stores on Oct. 14. Elwes was downright jaunty when describing some of the book's "inconceivable tales" to a rapt audience at Friday's press conference.
Among the anecdotes he shared were details from the filming of the famous Fire Swamp sequence, which included one breakneck stunt by Elwes and a moment of panic for screenwriter Goldman. Despite authoring the book and adapting it for the screen, Goldman, whom Elwes deemed "a national treasure," had forgotten that his own script called for Robin Wright's dress to be set on fire. When filming started on the first day of shooting and the flames began spurting, Goldman was appalled and tried to halt the scene in fright before Reiner convinced him he'd wanted it filmed that way.
Though it's hard to recall a time when we didn't all know every line of The Princess Bride by heart, Elwes noted that the film suffered upon release due to the difficulty of marketing a pirate romance fantasy comedy for kids, which also featured Peter Falk as a modern grandfather. It wasn't until the film came out on video that it found new life as a permanent fixture of home libraries and children's film screenings.
Years later, Goldman and Elwes attended a screening of the film and were blown away by the audience reaction.
"Can you believe how much they liked the movie?" Goldman kept asking Elwes afterwards.
"You wrote a classic," Elwes informed him.
Though Elwes says his future writing plans will depend on the success of As You Wish, the memoir should have no trouble appealing to kids young and old. As Elwes jokingly noted, The Princess Bride may have been a movie that was once "mostly dead," but it's gone on to enjoy a long and happy ever after.
Photo by Gage Skidmore/Flickr (CC BY-SA 2.0)