Let's face it: Mobile devices seemed more exciting a decade ago than they do today. Sure, they're way more powerful and useful now, but they're not exactly the Hot New Thing anymore. So when an exciting new technology like augmented reality makes its way to mobile, it's kind of a big deal. (Just look at 2016's Pokémon Go craze.)
To be fair, AR has been possible on mobile for a while, but Apple and Google gave it a big boost last year by building it into their operating systems. Apple's ARKit and Google's ARCore make it a lot easier for developers to make AR apps. That's why we've seen an influx of new AR games recently. But how can you find the good ones?
We've rounded up all the best AR games you can play on your AR-capable phone right now. Let's get started.
The best augmented reality games on mobile
1) The Machines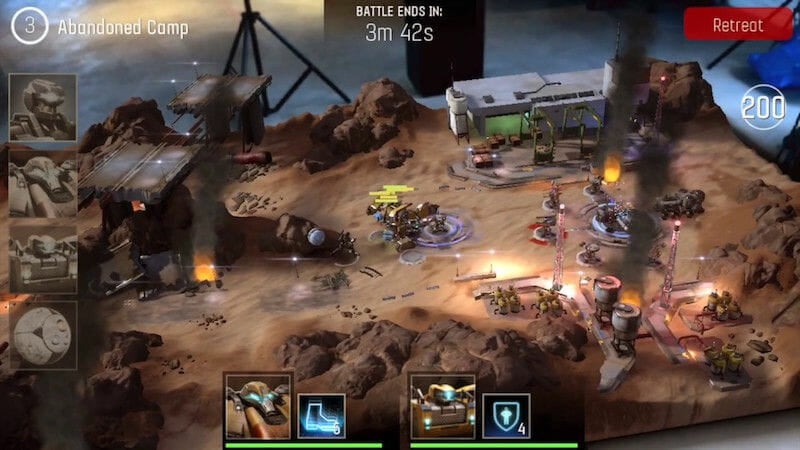 Available on: iOS
Like Dota 2 or League of Legends, The Machines is a multiplayer online battle arena game (or MOBA). It plays out like a live-action board game on your table. To play, you actually have to move around your play space, leaning in and pulling back to get a clear view of the action. You guide two characters with unique powers in battle against the enemy team.
2) GNOG
Available on: iOS, PSVR
GNOG is a unique, eye-catching puzzle game. Without offering players any instructions, each level presents you with a robotic head that looks like it's floating or standing on a surface in front of you. Your job is to poke, prod, and swipe at it to figure it out the solution. Each head is a puzzle box that opens up in all kinds of unexpected ways. It's a charming game, and the AR mode makes it even more interesting.
3) Ghost Snap AR Horror Survival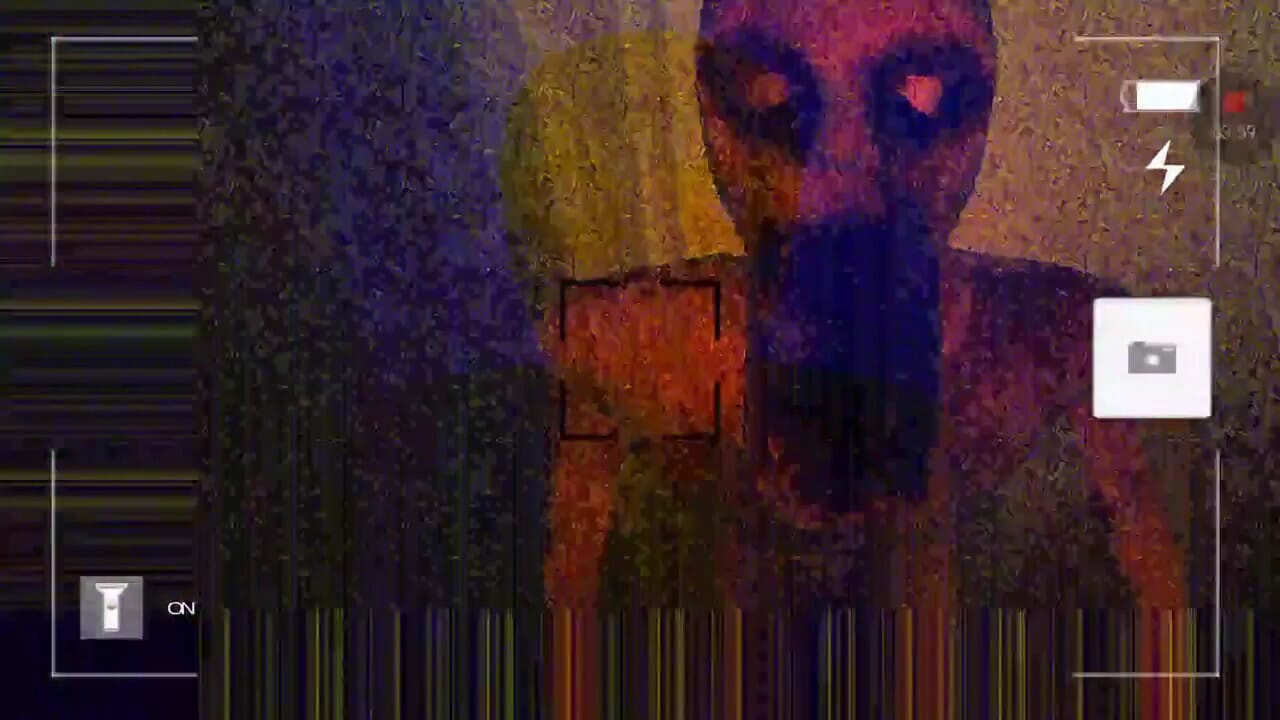 Available on: Android
With Ghost Snap AR Horror Survival, you can turn your own home into a house of horrors. This AR game makes any environment you're in look like the night-vision-lit set of a ghost hunting show. But unlike those shows, you'll actually find evidence of malevolent ghosts in your house. Thankfully it's just a game… right?
4) Pokémon Go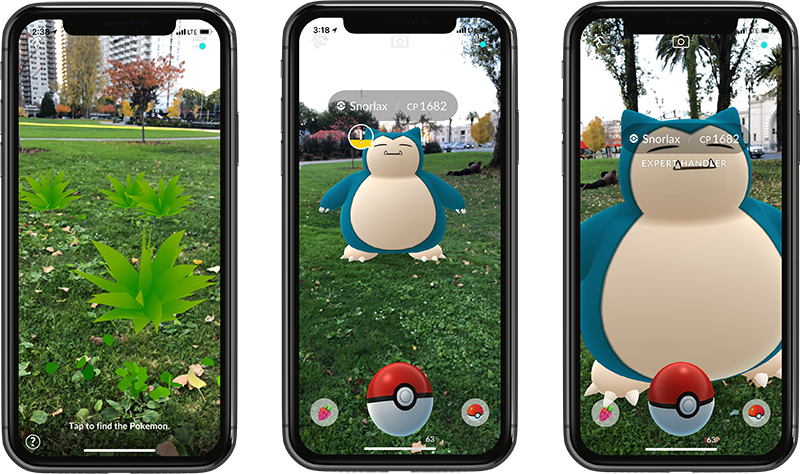 Available on: iOS, Android
You've probably played this one before, but Pokémon Go recently got an AR update on iPhone that makes it significantly better. Now you can actually creep up close to the Pokémon you find, and they'll react to your movements. They might even run away. But if you get close without scaring them off, they're easier to catch with your pokéballs.
5) AR Sports Basketball
https://www.youtube.com/watch?v=hJVP1uHpe2Q
Available on: iOS
Have you ever been sitting at your desk or riding the bus and wished you could shoot some hoops? With AR Sports Basketball, you can. Using this AR game, all you have to do is find a place to set up your virtual b-ball hoop and voila: You're in the game. Flick the virtual ball toward the virtual hoop for a fun way to kill some time.
6) CSR Racing 2
Available on: iOS, Android
The cars in CSR Racing 2 are incredibly detailed. Thanks to the game's AR mode, you can see just how detailed they are by inspecting life-sized models that appear right in front of you. You can walk around your cars, pop the hoods, peek in the trunks, and even open the door and get inside.
7) Stack AR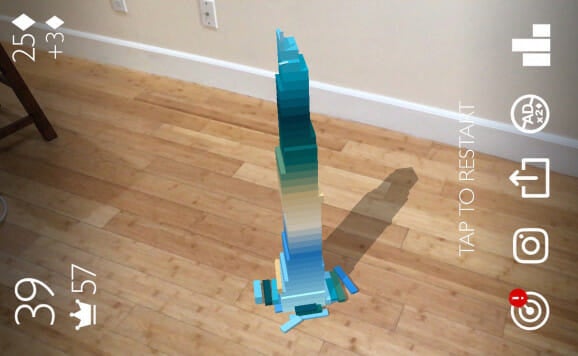 Available on: iOS, Android
Stack AR is a game about (no surprise here) stacking blocks. All you have to do is situate yourself in front of a flat surface and open the game. Now you can stack AR blocks on that surface to your heart's content. The graphics are simple, and the tone is relaxing. If you're feeling competitive, you can compete for high scores. But if not, that's cool too.
8) Silent Streets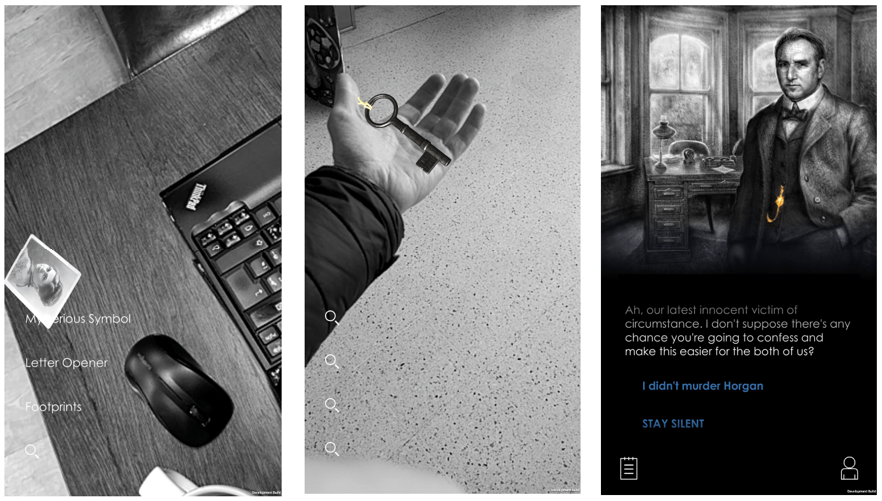 Available on: iOS, Android
Feel like getting some exercise? How about solving a murder while you're at it. Silent Streets is a Victorian-style murder mystery that puts you in the walking shoes of a detective to solve the crime. The catch? To get your in-game detective to travel around town to find clues, you have to log actual steps in the real world. When you do find clues, the game switches to an AR view that lets you examine the clues in your real-life surroundings.