Ever dreamed of falling asleep in real-life Lego Land? For one lucky family, that dream can become a reality. Airbnb and Lego have teamed up to unveil a contest that will award one family a trip to Billund, Denmark, for a one-night stay in the newly opened Lego House—Lego's 130,000-square-foot museum and interactive experience.
Winners of the contest will sleep in the sprawling Lego wonderland, which is outfitted with items made completely out of Lego bricks. From the teddy bear, lamps, alarm clock to the TV, story books, and even a pet cat, everything is brick-ified, but that's not all!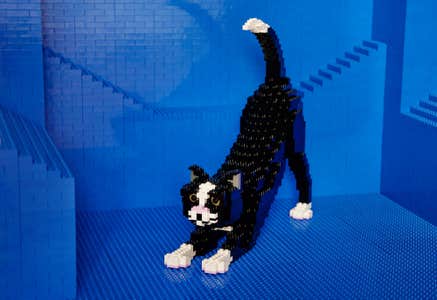 The lucky winners will also be able to craft their own lunch out of LEGO bricks and send it to the kitchen where it will be made into real food and served by robots. The full experience will include an opportunity to tour the house with the guidance of expert Lego builder Jamie Berard, direct a short Lego movie, engineer robotic cars, design cities, and build a Lego masterpiece.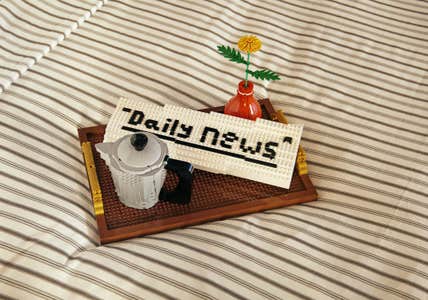 "Airbnb is all about helping people find magical and unforgettable travel experiences," James McClure, Airbnb's General Manager for UK and Nordics explained in a press release. "What could be more magical than having the brand new Lego House all to yourselves for the night? This really is a dream come true for any family with a passion for Lego, and I doubt there will be much sleeping as there is so much to enjoy in this incredible space."
While the house's cozy, Lego-filled bedroom (accented with a 6-foot Lego waterfall) does look pretty comfortable, it is definitely easy to see why it could be hard to fall asleep when surrounded with the opportunity to indulge your every Lego dream.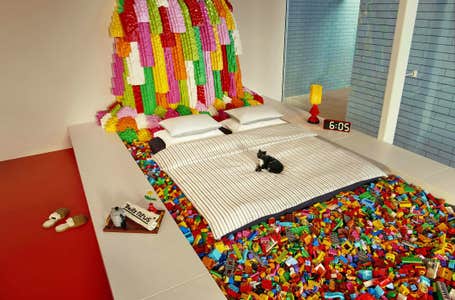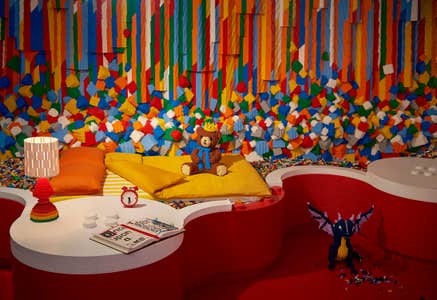 Want in? All you need to enter is a passion for Lego, a big imagination, and amazing answer to the question: "If you and your family had an infinite supply of Lego bricks, what would you build?"
Here's the fine print on the rules and details:
To enter for a chance to win, visit the listing page of LEGO House on Airbnb and answer the question: If you and your family had an infinite supply of LEGO bricks, what would you build? Describe your dream creation and complete your entry by Nov 16 at 11:59pm Pacific Time (November 17, 6:59am GMT) and you could win the prize of a night among an infinite supply of LEGO bricks—and create a version of your entry with a LEGO master builder! Winners will be flown in from anywhere in the world. Submissions should be 50-550 characters in English, French, German, Spanish, Italian, or Portuguese, Russian, Swedish, Danish, or 100-300 characters in Chinese (Simplified or Traditional), Japanese, or Korean.
You can find eligibility requirements and full contest terms and conditions here.