Milo Manara's butt-centric variant cover for Spider-Woman #1 was revealed two weeks ago, and has since inspired an impressive amount of mockery and criticism online. The art depicts Spider-Woman in what can charitably be described as an anatomically unlikely pose, which many people found either preposterous or offensive. It didn't help that the pose was very similar to an illustration from Manara's erotic comic book, Click!
A lot of time and energy has already been spent on debating the artistic merit of the infamous Spider-Woman butt picture, but now it's time for science to weigh in. Following a brave attempt from some real human women who tried to replicate Spider-Woman's pose, redditor dinoignacio has actually made a 3D model of her body, which was posted to Imgur.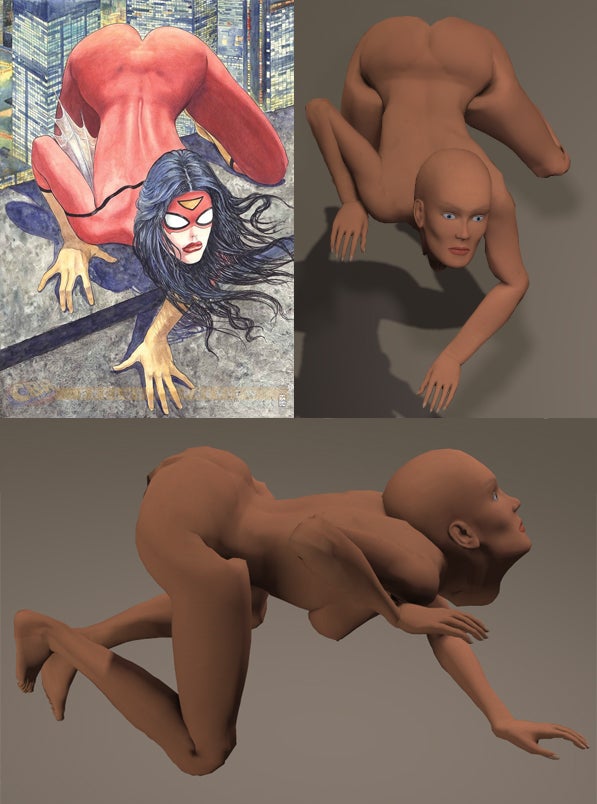 These images certainly shed new light on the issue. Instead of being an overly sexualized depiction of Spider-Woman, it's now clear that this variant cover was intended for a horror comic. This isn't a case of unrealistic beauty standards—it's a picture of something that crawled straight out of Silent Hill.
Having seen this, Manara's unapologetic response to the many fan complaints makes a little more sense.
"I have to acknowledge," he explained, "that what I think is a beautiful picture, nice, attractive, seductive—for others it is disturbing."
Well, he was definitely right about that last part.
Photo via Imgur