For the first time, citizen journalists can easily offer anonymity to the people in their YouTube videos.
YouTube announced the release of a new face blurring tool for users, making it easy for journalists and documentary filmmakers to provide anonymity for their subjects.
The new technology is the first of its kind to be made widely available to the public; a report from Witness, a nonprofit organization dedicated to documenting human rights abuses, stated that there wasn't a video-sharing website or hardware manufacturer that offered "users the option to blur faces or protect identity."
But now, whether you're protecting the subject of a sensitive story, hiding the identity of minors in a baseball game or protecting protesters in a country torn apart by war from possible persecution, citizen journalists have the same capabilities as TV news stations.
"We are at an evolution point where pictures and video are the most powerful ways to get our stories across, but people need to have the option to protect themselves," Witness program director Sam Gregory told the Los Angeles Times.
The ability for journalists to blur faces is even more significant in light of the fact that a study by the Pew Research Center's Project for Excellence in Journalism revealed that YouTube is a top news destination.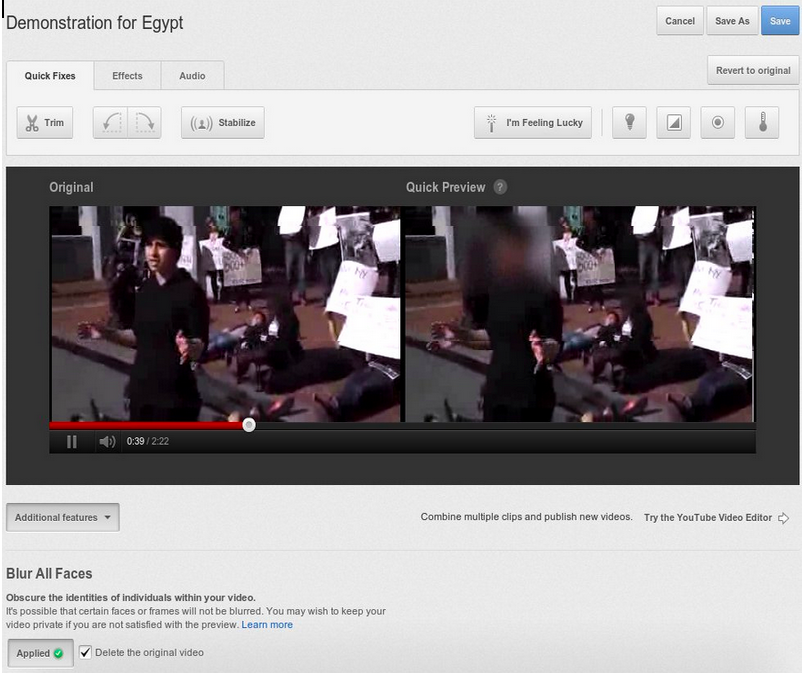 To take advantage of this new tool, head over to YouTube's Video Enhancement tool after selecting a video (or after uploading one), select "Additional Features" and click "Apply" under the option to blur all faces. You'll get to preview your work—and the finished product makes another video so the original isn't changed—so you always have the option not to apply the changes.
The technology isn't perfect yet, so Google's Public Policy site has been updated with information on how to protect yourself and others in these videos, which ask you to assess your risk, protect yourself and consider all factors of the video, not just the subjects you can now blur, when uploading.
"This is emerging technology, which means it sometimes has difficulty detecting faces depending on the angle, lighting, obstructions and video quality," YouTube policy associate Amanda Conway wrote. "It's possible that certain faces or frames will not be blurred."
Many approve of the larger implications this tool could have for news reporting.
"Not only can people get the news out, but I'm pretty sure this tool will save lives," 11james wrote. "Well done YouTube well done."
"Congratulations on developing such tool that will most certainly help protecting freedom of speech," Daniel Nascimento wrote.
The face blurring tool is now available for all accounts.
Photo via marioanima
Pure, uncut internet. Straight to your inbox.