Reddit administrators are testing out a new feature that will turn its news addicts into news reporters.
This "liveupdate stream" will work as a sort of chat where redditors can post text updates, videos, and photos in real time, said programer Neil Williams (spladug) in a post.
These streams will exist outside of subreddits and "are designed to be submitted like any other link to whatever (multiple) subreddits are relevant to the stream."
"The first and most important thing is to open it up to allow anyone to create and manage a stream," Williams wrote Friday night. "I'd also really like to see embedding of source media in updates, including pictures, video, and Reddit comments. It's also become clear that we need a good system for reporters to coordinate with each other privately and to get reports and feedback from the community."
Right now, the new feature is being handled by Reddit administrators who will select the redditors responsible for posting to the feed.
The feature was tested out on r/UkraineConflict to crowdsource news regarding the anti-government protests in Kiev that have gripped the country for more than three months.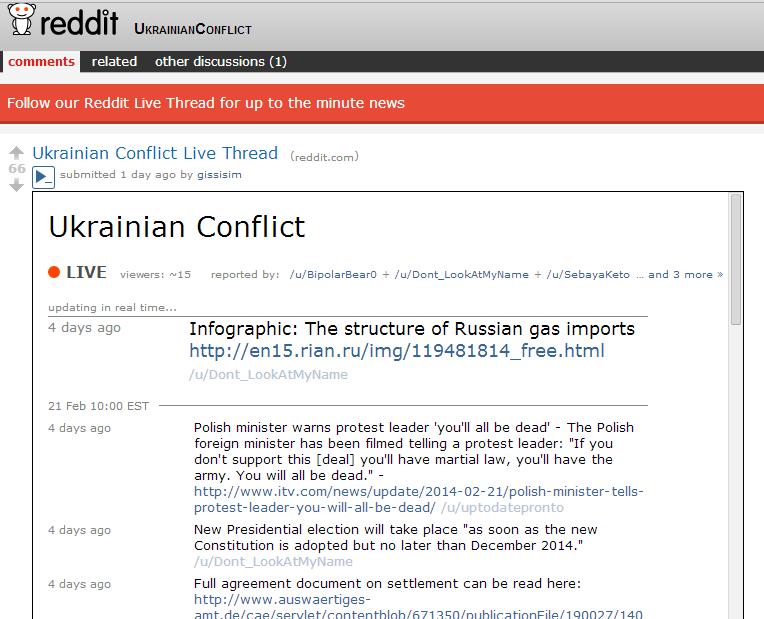 In terms of overall design and functionality, the livestream update is a huge improvement from how redditors covered live events in the past.
Take for example a post from June on the tornadoes that touched down in Oklahoma City. The post features a flurry of manually entered timestamps along with links to video streams, photos, and other websites.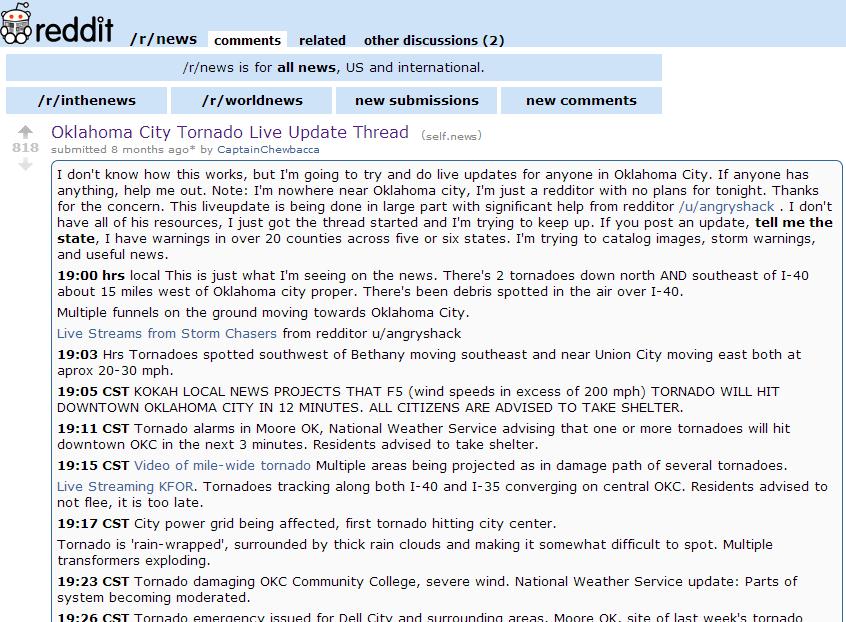 Another example of the old format can be seen in July 2012 after the community collected details following the mass shooting in the Century movie theater in Aurora, Colo. This thread was far more disorganized but ended up providing crucial information to people living around the theater and those looking for loved ones. The Reddit community also raised money for those injured in the shootings.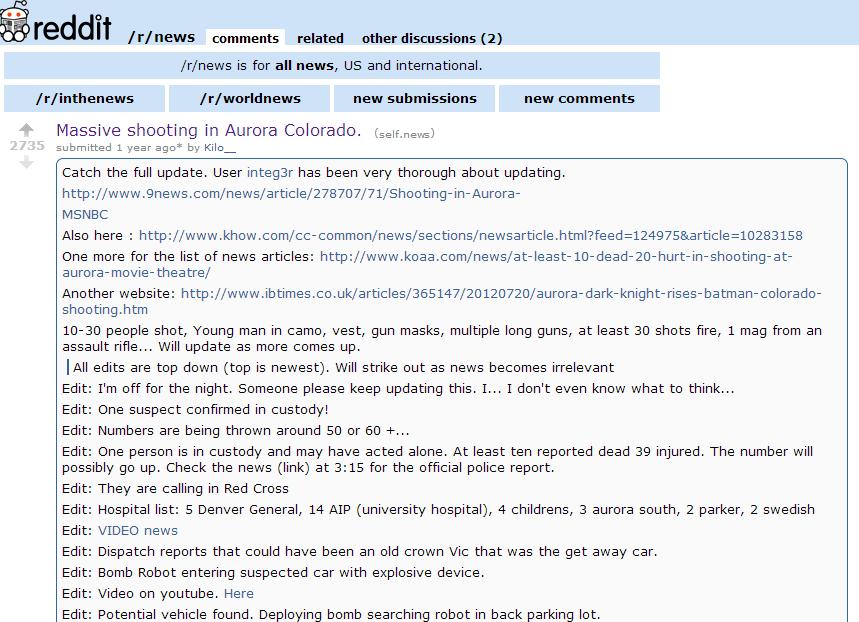 While the tornado updates seem to have been limited to one thread, the Boston Marathon bombings took up at least 15 different threads and became one of the biggest news disasters of 2013.
Almost immediately after the attacks near the finish line of the Boston Marathon, redditors flocked to r/findbostonbombers to crowdsource any  photos and videos they could find of the April 15 attacks. Also in these threads were claims that Sunil Tripathi, a Brown University student who had been missing since March, was one of the bombers they suspected in the photos.
Two days after the attack, using information gathered on Reddit, the New York Post ran a photo of two men it alleged were persons of interest in the case. The newspaper, and Reddit's sleuths, were gravely mistaken. Tripathi was completely innocent.  
In the end, r/findbostobombers was shut down and Reddit issued an apology to the Tripathi family.
This botched reporting was not lost on some journalists on Twitter, despite the fact that Williams tried to play down this new feature in a Friday news dump.
@jaredbkeller @mathewi Reddit News Live, sponsored by the Sunil Tripathi Memorial Fund.

— Slade Sohmer (@SladeHV) February 25, 2014
@mathewi Because Reddit still hasn't proven that it's consistently better at reporting than any other news org. Note *consistently*

— Jared Keller (@jaredbkeller) February 25, 2014
While recognizing Reddit's Boston Bombing errors, Gigaom's Matthew Ingram argues that it was a "stumble" the Reddit community can learn from.
"Reddit has the potential to broaden that pool and bring a kind of open-source approach to news reporting, just as other tools and services like Storyful do,"  Ingram writes. "Will false news reports and other noise be contributed to and/or spread by Reddit's new approach to live news? Undoubtedly. As I've argued before, the reality of news now is that all the messiness and chaos that used to take place primarily inside newsrooms is now happening out in the open."
Regardless of how the new liveupdate feature pans out, it will likely be well received by most redditors considering 62 percent of them claim to get their news straight from the site, according to a Pew Research study.

H/T Gigaom | Illustration by Jason Reed