Lemon's no-nonsense moments of incredulity lead to new fanbase
CNN anchor Don Lemon has become a star of social news site Reddit after a Daily Show video featuring him made it to the site's front page yesterday.
The Daily Show clip, below, celebrates Lemon's frequent, apparent frustration with the quality of stories at CNN.
"We need more people like this in the media," wrote one redditor, in a sentiment that many echoed. "Some of the shit they do on CNN is stupid and not newsworthy and I love that he calls them out on it."
The clip was so popular, in fact, that redditors began a movement asking Lemon join them in an online question and answer session. On Reddit, that's known as an IAmA ("I am a") where redditors AMA ("ask me anything"). Numerous celebrities have dove into IAmAs in the past.
And it seems that the movement may have paid off. According to Lemon's twitter feed: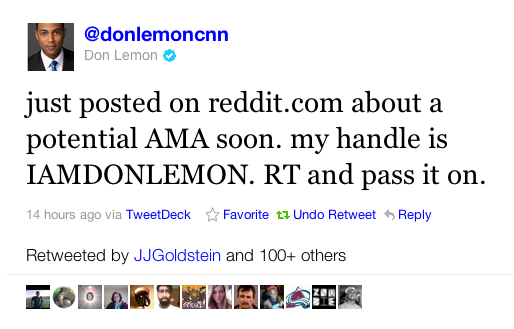 If he takes the plunge, Lemon would be the first national news anchor to grace the IAmA stage (though not the first reporter — PBS NewsHour correspondent Hari Sreenivasan had a back-and-forth with Reddit about seven months ago).
The Daily Dot is in touch with Lemon's representatives at CNN and will let you know as soon as we hear more.
Pure, uncut internet. Straight to your inbox.