The Oatmeal's Matthew Inman is calling out another website for rehosting his incredibly popular webcomics without so much as a link back to the original source.
This time it's 9GAG, a user-driven humor site notorious for allowing users to post freely with no credit or link back to creators—even going so far as to slap "via 9GAG" on every image, whether it originated on 9GAG or not. 
But this time, they've messed with the wrong motherf*cking pterodactyl.
"My Dog: The Paradox" is one of the more popular comics on The Oatmeal, and has even been turned into a book. It's a comic that almost any dog owner can relate to, explaining all of the hypocritical things that dogs do and why we love them anyway.
It's also hosted on 9GAG without credit to Inman.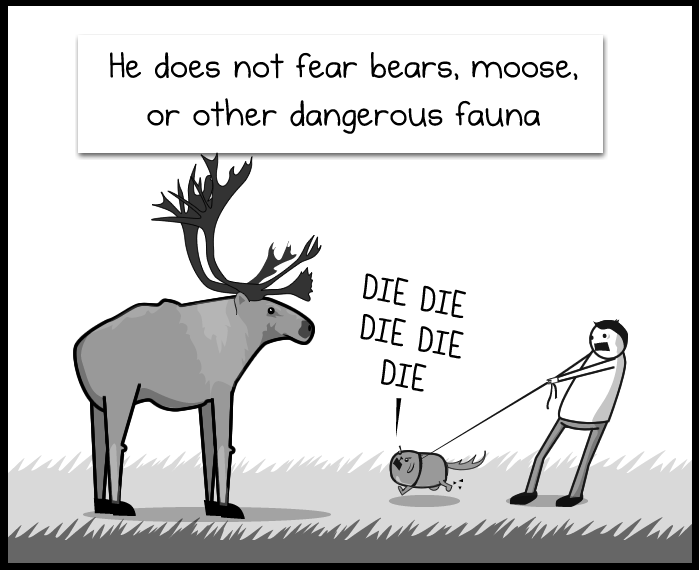 Photo via The Oatmeal
While Inman is perfectly fine with sites linking to his work, he would prefer they only use a portion of the comic, linking to his website for the rest.
"Don't just re-host material, but instead show a preview and then drive the traffic to the artist who created it," Inman wrote on Facebook. "I make comics for a living, and when you re-host my material in its entirety and cover it in ads on this rotten, spammy travesty you call a website, you're effectively ripping me off."
With a quick search on 9GAG, Inman discovered that just about every one of his comics has been reposted on the website at one time or another; there's 12 copies of the dog comic alone.
9GAG's FAQ asks users to source the photos they post, but that's easier said than enforced. The source link of this latest reposting only goes to The Oatmeal's main page, not the comic itself. Some of the 9GAG posts don't link to him at all.
This isn't the first time that 9GAG has been under hot water for reposting stolen work without proper credit. The Internet cried foul after the site stole a joke from Rob Delaney and an image from Reddit novelty account shitty_watercolour last year without attribution. Both posts have since been removed.
But this is the first time 9GAG has found itself in a head-on confrontation with Inman, and messing with The Oatmeal never ends well. Just ask attorney Charles Carreon.
Representing the image-hosting site FunnyJunk, Carreon originally sued Inman for $20,000 last year after Inman called the website out for the same shady rehosting he's accusing 9GAG of now. 
In response, Inman set up an Indiegogo campaign to raise the $20,000—not for a settlement, but for the National Wildlife Federation and the American Cancer Society. Carreon sued again, but dropped that lawsuit. A judge eventually ordered the lawyer to pay $46,100, and Carreon finally gave up trying to appeal the judgment earlier this month.
As of press time, The Oatmeal dog paradox comic is still on 9GAG. 
Photo via The Oatmeal/Facebook