More than a month into the Occupy Wall Street protests have many media outlets and political pundits wondering about the movement's funding. Where do all these unemployed, so-called smelly hippie-types get their money anyway?
WePay, which is more or less an online payment and donation site, is about to shed some light on that mystery, and no — it still isn't George Soros.  
WePay is releasing donation data related to Occupy Wall Street tomorrow, in a handy infographic, and according to data shown via e-mail to the Daily Dot, the results are surprising.
To date, WePay has been used by Occupy Wall Street to collect more than $380,000 dollars, through a total of 363 groups. Donations grew by 301% in a 17 day period, at 17.72% average growth per day.
"We're excited to see people raising money for causes they're passionate about," said Bill Clerico, the CEO of WePay, via phone interview.
"I've seen this type of growth before, in a lot of our donation campaigns," said Clerico. He said similar spikes occured when causes proliferated over social media — an undeniable advantage for Occupy Wall Street, which is more popular on social networks than in mainstream media.  
WePay allows users to create groups, to raise funds for specific purposes, but it's also handy at breaking down how the money is being used.
The Occupy Wall Street funding groups break down as such: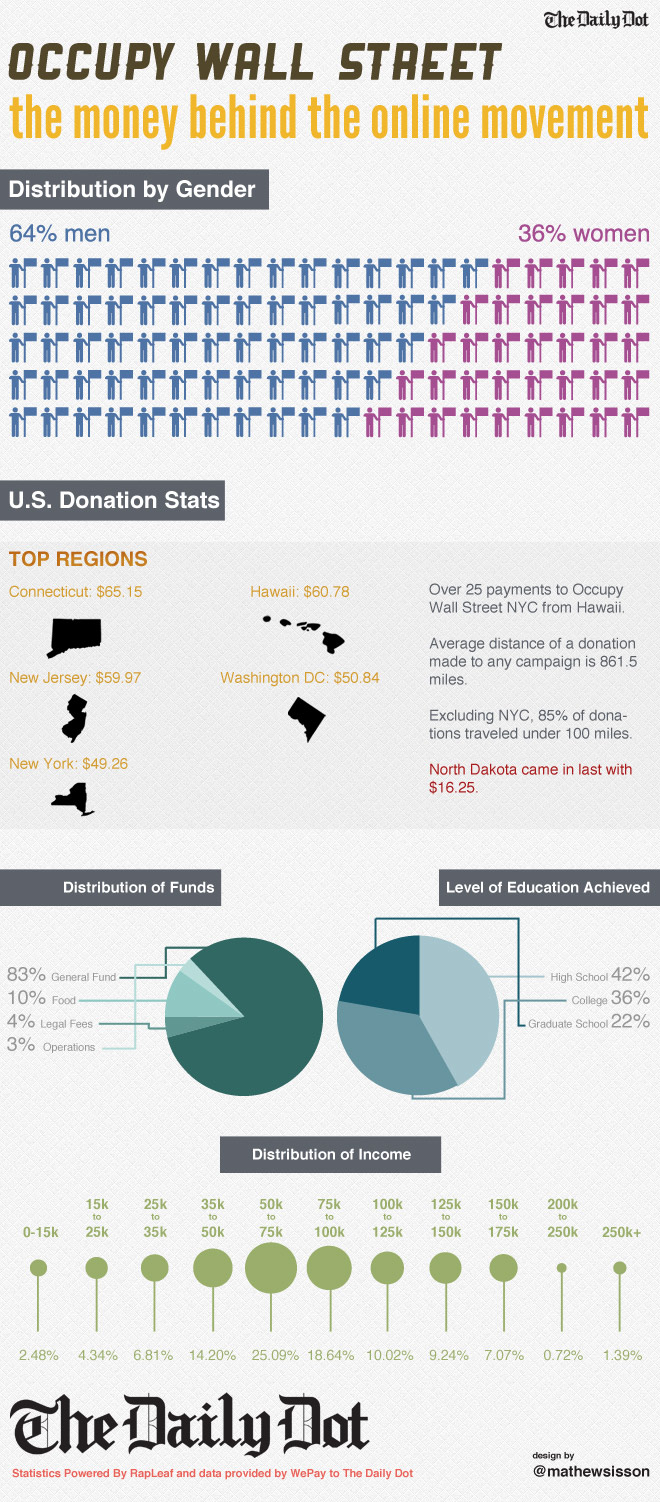 According to average donation sizes by state, Connecticut had the largest pockets, giving $65.15, while North Dakota donated the least, at $16.25.
Occupy donations didn't just come from the United States: 37 countries donated to Occupy Wall Street-related groups, including Canada, Finland (which had the highest number of donations per capita), and Mexico.
Other highlights of the data include the disclosure that three campaigns collected money to power their campsites with renewable energy, a la wind mills and solar panels.
Mass arrests and alleged police brutality tend to generate a spike in donations; on the day 141 demonstrators were arrested in Boston, WePay saw a spike of more than 400% in donations in Massachusetts.
After Scott Olsen was critically injured in Oakland last week, two more Occupy groups sprung up in Oakland, and 98.66% of all Occupy Oakland donations raised came in after Scott Olsen's injury.
Males were almost twice as likely to donate than females, and people whose highest level of education was High School donated the most, at 42%.
Folks making between 50K and 75K a year made up the largest percentage, at 25%. The top two income brackets making over 200K a year, combined, donated less than the income bracket below 15K.  A telling statistic; the rich do feel antagonized by the Occupy movement.
Clerico, who said he was a banker on Wall Street but left because the work wasn't "fulfilling," finds himself in an unintentionally ironic situation: as the head of a site channeling funds to a movement dead-set against his old job. Just a happenstance, Clerico assured me.  (WePay was also founded in 2008, well before Occupy Wall Street was even an idea.)
Clerico says he hasn't "taken a stance" on Occupy Wall Street, though added he is personally excited about the growth in donations, saying "we encourage raising money for social activism."