What started off as a potty humor tweet became a perfect opportunity for two brands to show off their Twitter savvy.
Back in November, Mike Blauman, who goes by @DJMikeBlau on the social media platform, made the following joke: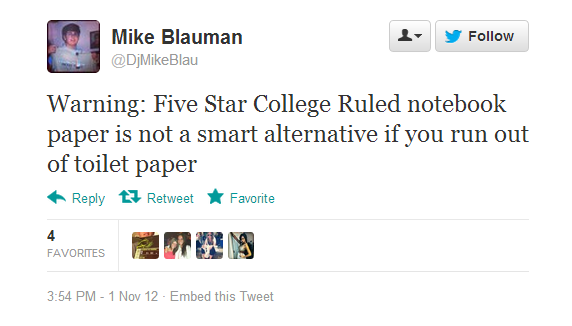 Photo via Mike Blauman/Twitter
Funny enough. Not George Carlin-level material, but still worthy of a "heh."
But then Mead Five Star, the choicest of choice notebooks, stepped up. Sensing an opportunity, the brand's social media manager responded with a quip and did a shout out for Charmin, the toilet paper brand owned by Procter & Gamble.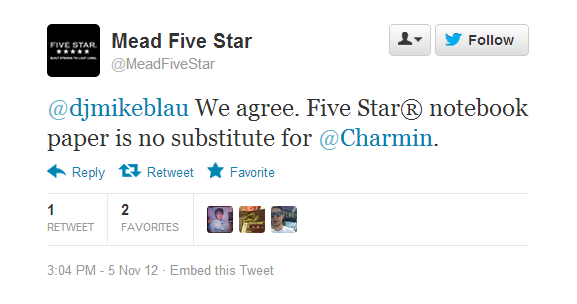 Photo via Mead Five Star/Twitter
Yes, Charmin responded, too, and beautifully, I might add.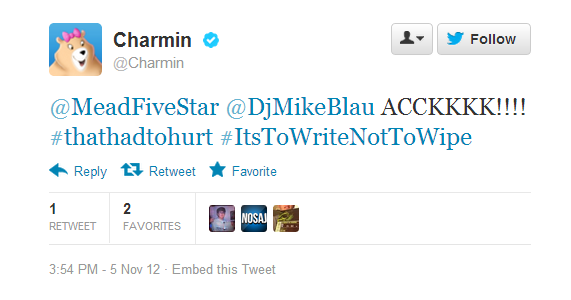 Photo via Charmin/Twitter
Serve, set, and spike.
The comical Twitter exchange remained dormant for over two months until Reddit user Vital0ne submitted it yesterday to r/funny—the subreddit for all things comical on the social news site—where it rose to the front page by receiving 1,900 karma points and 380 comments as of this writing.
Unsurprisingly, the lot of the latter were jokes about wiping or fun facts about various other paper products. This one, penned by the charmingly named iUsedtoHadHerpes, is among the best ones:
"Fun Fact: (According to my dad, who worked at [Procter & Gamble] for thirty years) Bounty is one of the only paper towel brands that doesn't use minerals like titanium dioxide to strengthen their paper towels, making them much less likely to scratch whatever it is you're cleaning with them."
Noted.
Photo via Charmin/Twitter