In a series of Instagram stories, surfer Sarah Brady accused actor and ex-boyfriend Jonah Hill of being emotionally abusive and called him a "misogynist narcissist."
The pair confirmed their romance in August 2021 and split about a year later. Hill became a parent for the first time earlier this year with girlfriend and business owner Olivia Millar.
A Twitter thread by user @_celia_bedelia_ recapping the screenshots and adding additional context and opinions is going viral with more than 63,000 likes, about 8,000 quote tweets and more than 6,750 retweets.
"SHE IS A SURFER AND SHOULDN'T…post pictures of herself in a bathing suit? WTF," Celia tweeted.
In the screenshots, Hill allegedly sets a series of 'rules' that Brady must follow to be in a romantic partnership with him.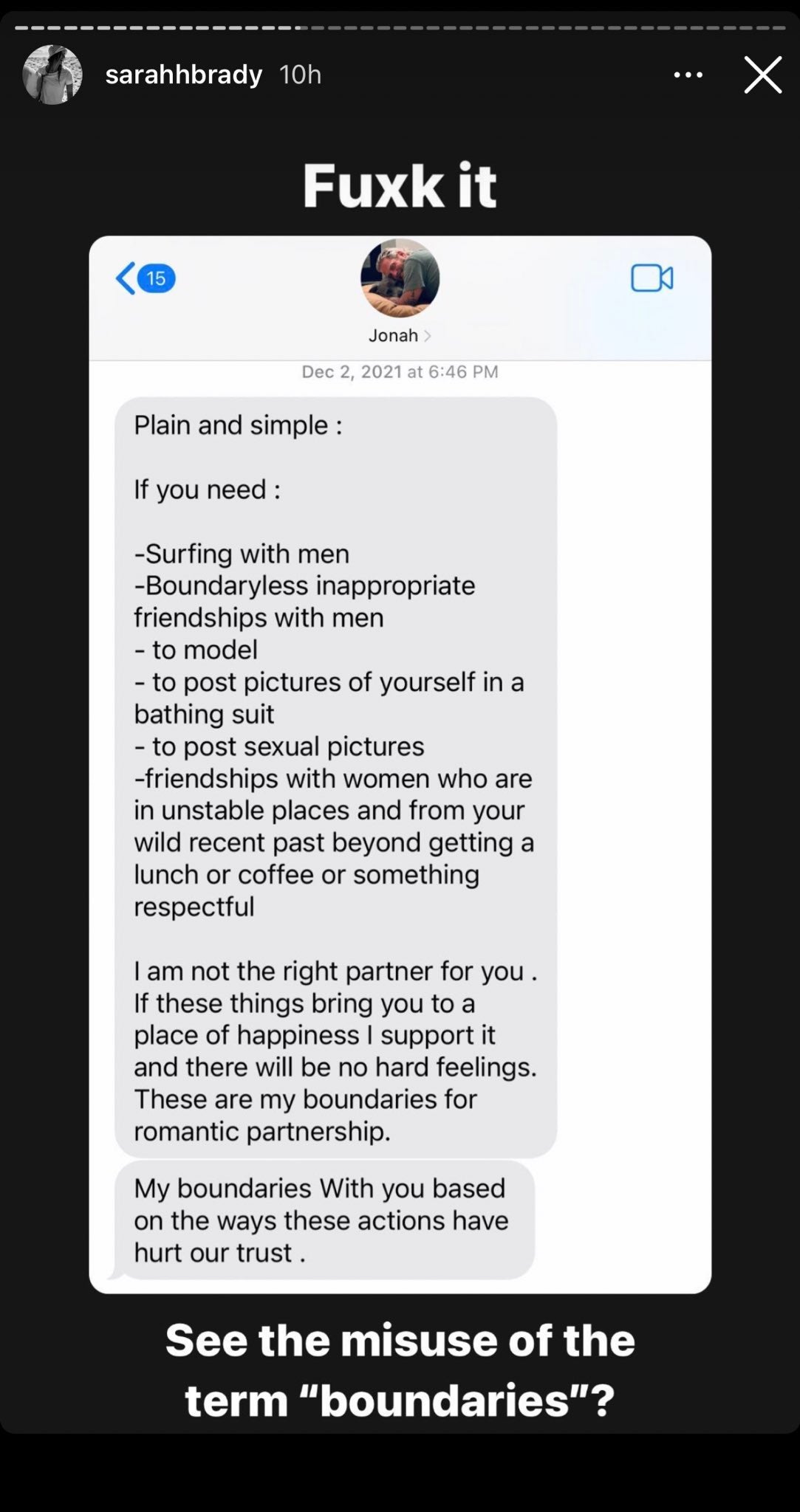 He tells the surfer that he is not the "right partner" for her if Brady surfs with men or has inappropriate friendships with them, models, posts photos of herself in a bathing suit or that are sexual, and is friends with the women from her recent past beyond "getting a lunch or coffee."
"If these things bring you to a place of happiness I support it and there will be no hard feelings. These are my boundaries for romantic partnership. My boundaries With you based on the ways these actions have hurt our trust," Hill allegedly wrote her.
The actor refers to the rules as "boundaries," but Brady claims that he is misusing the word. Boundaries are the physical or emotional limits people set to create a healthy sense of personal space for themselves, according to GoodTherapy.com. Boundaries help distinguish one person's desires, needs, and preferences from another. Late last year, Hill came out with the self-directed documentary "Stutz," centering on his therapist Phil Stutz.
Brady also resurfaces a black and white photo of herself in a white tie top and wrap skirt standing in front of a group of cacti. In the caption, she said she originally took down the image by request of a "misogynist narcissist," referring to Hill.
Other alleged messages between the two show Hill sending Brady screenshots of the Instagram pictures he wants her to take down. They're mainly images of her surfing in a bathing suit. In the exchange, Brady appeased Hill's request, took down three photos, and offered to change the cover image of a video Hill disapproved of.
"Would you feel better if the cover frame was different?" Brady asked.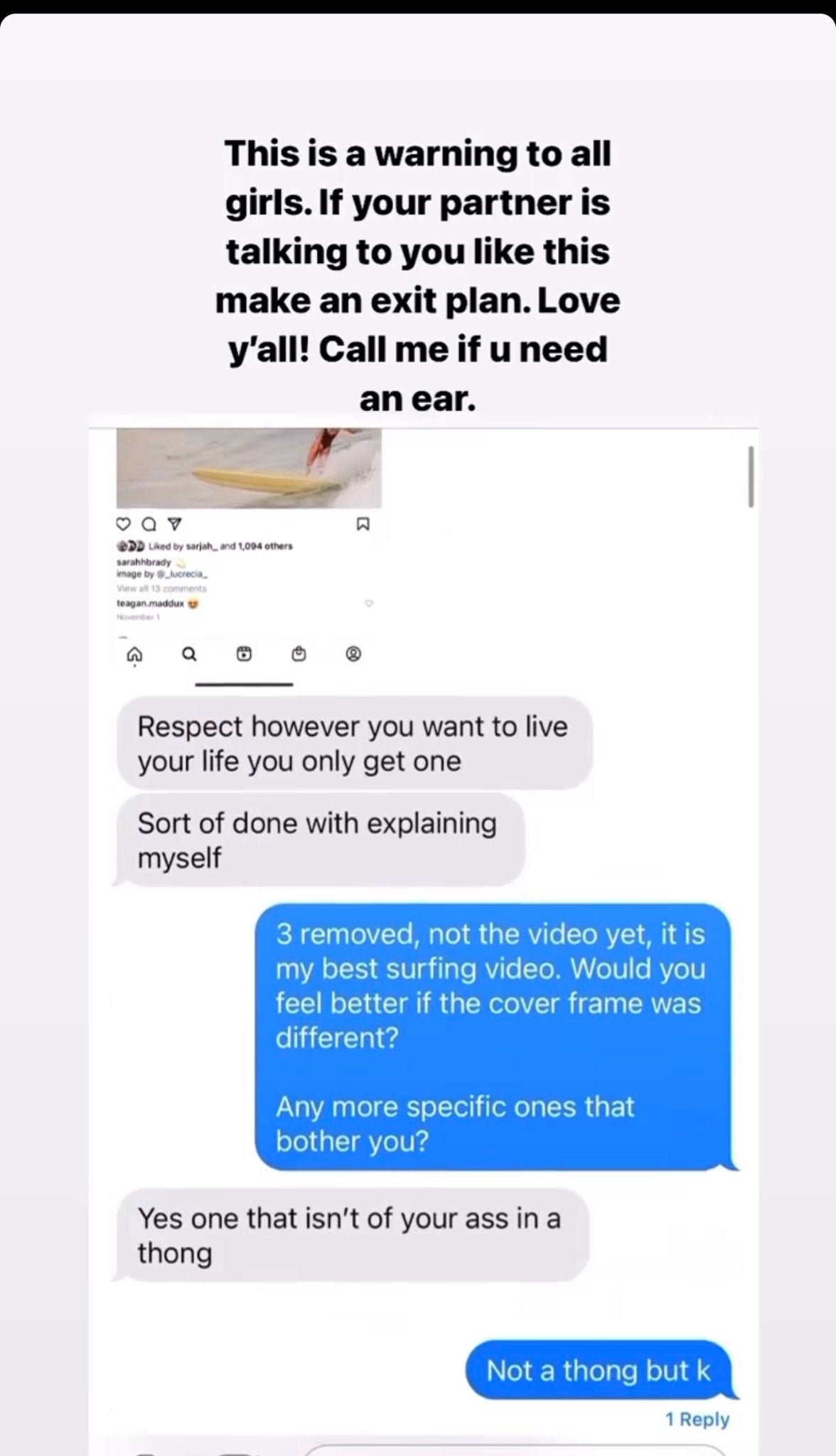 "Yes on that isn't of your a** in a thong," Hill wrote.
"Not a thong but k," Brady responded.
In what appears to be an Instagram direct message prior to the pair dating, Hill reacts to one of Brady's surfing images with a heart eyes emoji. Brady points out that there is no way she could have known that the same person who used to react positively to her surfing images would expect her to take them down once they got into a relationship.
In a screenshot posted on Brady's Instagram Story that appears to be between her and a friend, the surfer says she hopes Hill does not respond to her allegations.
"I don't wanna talk to him. He scares me. I just hope all this information reaches the people in his life who need it the most," Brady said.
Hill, who is not active on social media, has not publicly commented on Brady's allegations.
The Daily Dot reached out to Brady via Instagram direct message.


We crawl the web so you don't have to.
Sign up for the Daily Dot newsletter to get the best and worst of the internet in your inbox every day.