Tech

Tech

The gadgets, platforms, and software that make your digital life possible. If it bleeps, clicks or blinks, you'll find it here.

Internet Culture

Internet Culture

There's a community for everyone online.

Streaming

Streaming

News, reviews, and guides for the world of online entertainment.
Wordcloud: How we talked about the quake
An earthquake on the East Coast set Twitter into a frenzy of reaction. We aimed the Daily Dot's wordcloud camera at the mayhem and captured this picture of your reactions to the event.
If you want to take the pulse of the Internet community, there are few better places than Twitter. Following Tuesday's East earthquake on the East Coast of the United States, Twitter's collective reactions flooded through the Daily Dot newsroom. We've analyzed the search results for the term "earthquake" over the moments since the event to produce this wordcloud, which highlights terms used in related tweets by frequency. The larger the word, the more often it appeared in tweets.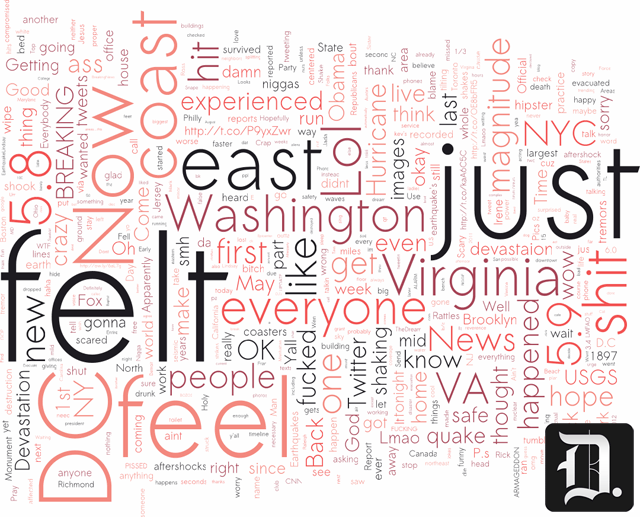 "Just felt", along with "Virginia", "DC", "Washington", "feel", and "everyone" rank among the most used words on Twitter post-earthquake.
A bit deeper into the wordcloud you begin to pick up the curiosity and news-spreading nature of tweets moments after the quake. "5.8" and, "5.9" reflect the Richter-scale rating of the quake — a standard measurement scientists use to compare the strength of siesmic events. "Aftershocks", although present, do not appear to be among Twitter's greatest post-quake concern.
1897 is a reference to the year in which Virginia last saw an earthquake of this intensity.
Grant Robertson is a software engineer and product manager, but he started his career at the Daily Dot as a senior editor focused on data-driven journalism. He previously served as an editor for Download Squad and AOL's Digital Music Weblog.
© The Daily Dot, all rights reserved.
Represented by Complex Media, Inc. for advertising sales.