Fanfic of a fanfic of a fanfic. Is it a meme? A fandom Inception?
Nope. It's Devil's Brand, the first fanfic of noted Twilight fanfic Fifty Shades of Grey to make the leap from fanwork to professional work.
It was probably only a matter of time before this happened, as Crushable noted when pointing out that Devil's Brand began its life as a Fifty Shades fanfic entitled The Darkest Shade.
Since Crushable posted its side-by-side comparison of the fanfiction and the original work, author Casea Major has deleted her preview of the book off of her website, but the cached version still remains, including comments where Major tells a fan that all she did was file off the serial numbers: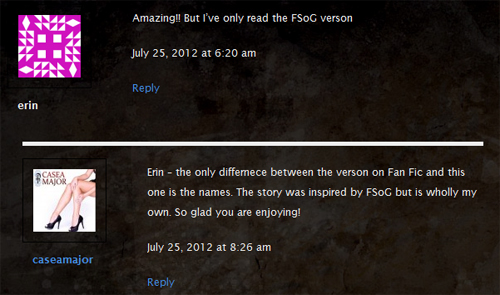 Major has also yanked all mention of the book from Manic Books and other locations where she was previously marketing the title and its forthcoming October publication date. You can still see old promotions for the book on Major's Facebook, but nothing new has been announced since the Crushable article was published.

Major even had an exclusive excerpt of Chapter 1 posted on Kary Rader's book review blog removed from that website. But, again, Google cache to the rescue:
The door buzzed again. My jaw dropped open. A god-like man in a black suit and white shirt stepped through.

Tall and lean with dark hair slicked back, the man exuded a territorial confidence that would make any lynchpin cower. His dark eyes swam with unfathomable depth. Sexy and sinister, he was frightening. Glorious. Fearsome.

My heart thumped against my chest at the sight of him. Or maybe it was the energy charge that filled the room with his presence. He took up more than just physical space. The air seemed to crack and buzz with his appearance. It was as if someone had hit me with the paddles of a defibrillator. And kept on hitting.

He stopped abruptly. A hint of something stirred in his face. Surprise? Recognition? Whatever it was—and it was something—vanished as quickly as it appeared.

My knees went weak, and I fell back, landing awkwardly in the club seat.

A razor-thin scar ran from his temple to his chin, cutting his left cheek in half. The indifferent expression he wore screamed he'd just as soon kill you as fuck you or maybe both.

And maybe in that order.
As far as characterization goes, this doesn't sound much at all like Christian Grey, who's described in the opening chapter of Fifty Shades as "having unruly dark copper colored hair…intense, bright gray eyes," and "an impassive expression. He looks mildly interested, but above all, polite."
And it sounds even less like Edward Cullen, who's known as a bronze-haired, eternally pale, eternally 17-year-old vampire with topaz eyes who sparkles in the sunlight.
Provided that all her characterizations are similarly transformed, we have to wonder what she was trying to hide in deleting the excerpts from her website, as well as all promotional material. It's not as though we can't find them again, for one thing; for another, it's not as though books like 50 Shades and Dante's Inferno being spotted as Twilight fanfics have kept those books from charting bestsellers lists.
And it's no secret in the publishing industry that Twilight fandom has been churning out such books by the dozens, with entire publishing houses being formed around the concept of turning fanfic into "pro-fic." This is not your mother's publishing industry. Fanfiction and original fiction are often interchangeably equal online; and it looks as though the publishing industry has decided there's no reason they can't be interchangeably equal in the world of publishing, too.
Attempts to contact Major went unanswered at press time. Since Major was self-publishing the book, she may have decided to avoid scandal and yank the book altogether.
But given that the Fifty Shades of Grey trilogy now sold over 31 million copies worldwide, "scandal" is becoming a relative term.
Photo via Casea Major/Wordpress