Thanks to a single Tumblr post from a disgruntled comic book artist, fans the world over are currently tweeting their admiration for their favorite colorists.
For those not in the know, a colorist is, unsurprisingly, the person who adds color to the illustrator's black-and-white art—a job that can completely transform the mood of a comic. Understandably, some colorists are annoyed that their work does not seem to be valued as highly as that of their colleagues.
Jordie Bellaire, who has worked on a variety of big-name comics including Winter Soldier and last year's popular reboot of Captain Marvel, posted an open letter to an unnamed convention, titled "I'm mad as hell and I'm not going to take it anymore." She writes:
"Your archaic view of creatives is part of what keeps jobs of this industry undervalued. Congratulations, you've officially locked out a great percentage of talented, friendly, hard working creatives who would originally have had great interest in attending your convention.

Your one sentence, 'this is not a colorists thing', was surely the most pigheaded and dismissive thing I've been told since I began professional coloring."
She goes on to point out that colorists are almost always paid less than the main artist of a comic, and have no way to sell original versions of their own work. "Colorists," she says, "Are the unknown amazing backup singer who makes every track awesome."
While there were some dissenting voices, most fans seemed to agree. Less than 12 hours after the original post went out, the #coloristappreciationday tweets are coming in thick and fast, with more than 200 sent in the last 24 hours, along with before-and-after pictures of the colorists' work.  
"The colorist is every bit as critical to the look of a comic as the line artist, if not more so," offered Rachel Edidin (@RaeBeta).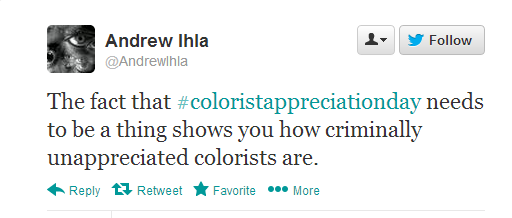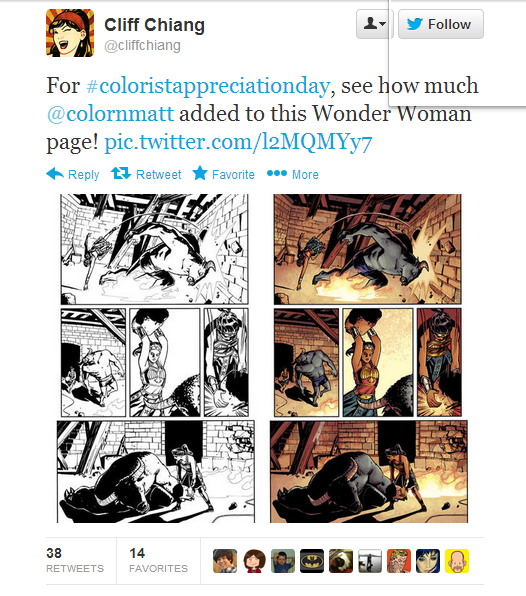 The question is, will this have any effect on the mystery con Jordie Bellaire mentions on her blog? And how long will it be before someone works out which convention she's referring to?
Photo of Comeback, coloured by Jordie Bellaire via illustrator Michael Walsh/Tumblr