A Dallas television station has apologized for making a large "BOOops" on its Facebook page.
KXAS-TV linked to a story about a Fort Hood soldier who was accidentally, fatally shot by a friend. The NBC affiliate linked to the story (along with a picture of a gun) writing "BOOops." The page then asked visitors to share the "best solutions" of getting rid of the hiccups.
The post generated several comments—mostly chastising the channel for its insensitivity. "It's not funny to make a joke about someone's death," TVSpy quoted one person as writing.  "Especially a young soldier who died because of a stupid, stupid prank."
The message remained on NBC DFW's Facebook page for 40 minutes before it was deleted. The station issued an apology early Friday.
"We have removed the previous post to our Facebook page that many of you felt was insensitive, we apologize for the error in judgment," it wrote.
We checked NBC's career webpage and there's not an opening for a social media position. Yet..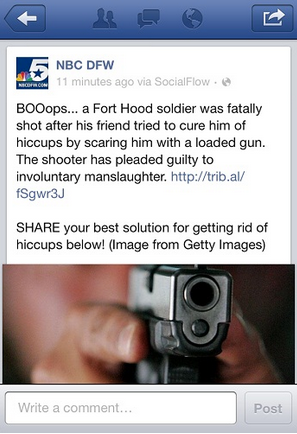 Photo via NBC DFW/Facebook