If there's a Mona Lisa of the Internet. it's probably not an animated GIF of an overweight Spider-Man swirling his belly like a drunk Jack Black. But hey, that GIF is undeniably hypnotic, and GIFs as a medium have certainly had a huge influence on art and popular culture over the years—surely enough to warrant a place in a museum.
So thank goodness the Internet has its own Louvre. Say hello to The Big Internet Museum.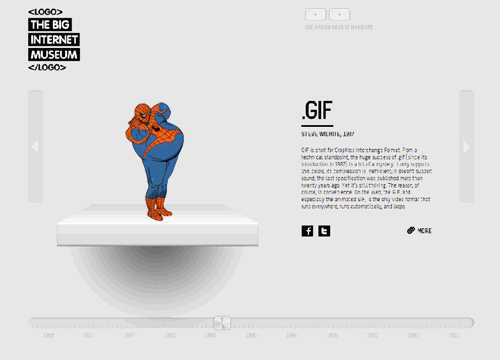 Launched by three Dutch ad men—Dani Polak, Joep Drummen, and Joeri Bakker—on Wednesday, the museum is fittingly virtual. It's open 24 hours a day, and admission is free.
The three, whose day jobs are at the TBWANEBOKO ad agency in Amsterdam, came up with the idea while stuck in rush hour traffic one day in July. They're all huge fans of the Internet and Internet culture, but they realized there's nowhere that thoroughly chronicles the Web's history. There's the Computer History Museum in Mountain View, California, but its exhibitions are limited to technology. Then there's KnowYourMeme, the authoritative encyclopedia of the Internet, but with a more narrow focus on culture and people.
Polak, Drummen, and Bakker wanted to write about ARPANet, modems, HTML—and memes like RickRolling. So they worked nights and weekends for six months, sneaking in a few hours here and there at their job (TBWANEBOKO fully supported their endeavor). Drummen, a copywriter, handled the writing, while Polak, the company's art director, worked on the design.
"We were both in relationships and now we're single," Drummen said. (Bakker, the company's account manager, was the only one whose relationship survived the six months unscathed.)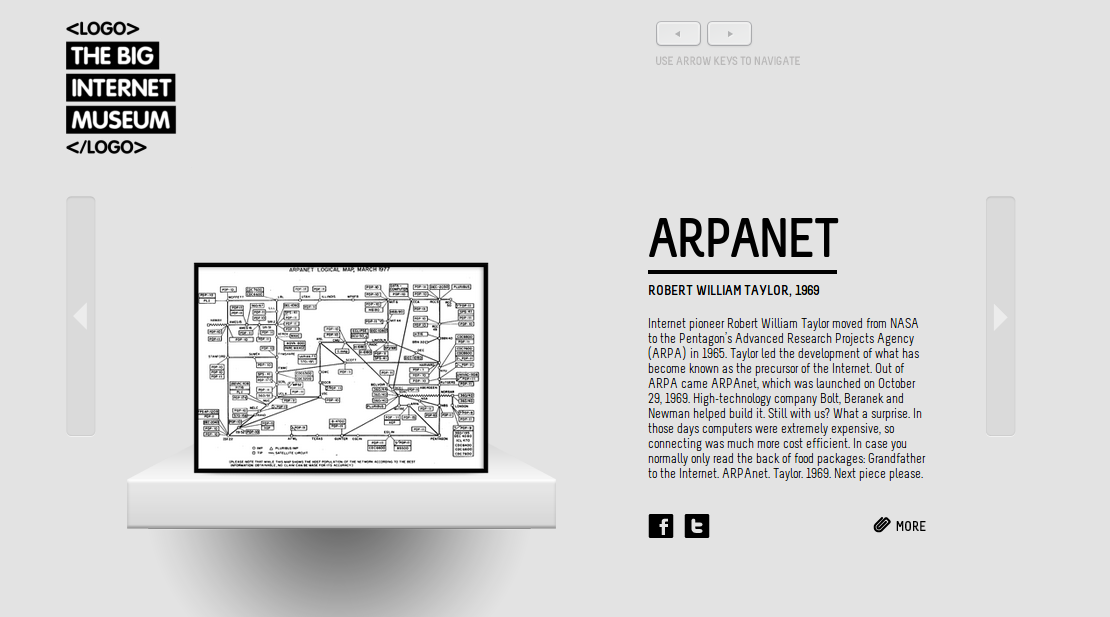 The result is about 60 gorgeous, full-screen entries, from ARPANet (the proto Internet) to the Nyan Cat, from 1969 to 2011. Exhibits are divided into virtual "wings"—audio/visual, social media, technology, memes, and so on.
"It's an ode to the pioneers who made the Internet," Drummen said told the Daily Dot. "Guys who are 14 and writing perhaps what will be the next YouTube in the future."
Polak added: "I want to have something to show to my children: 'This is what Facebook was like.' We want to make something so people can look back on."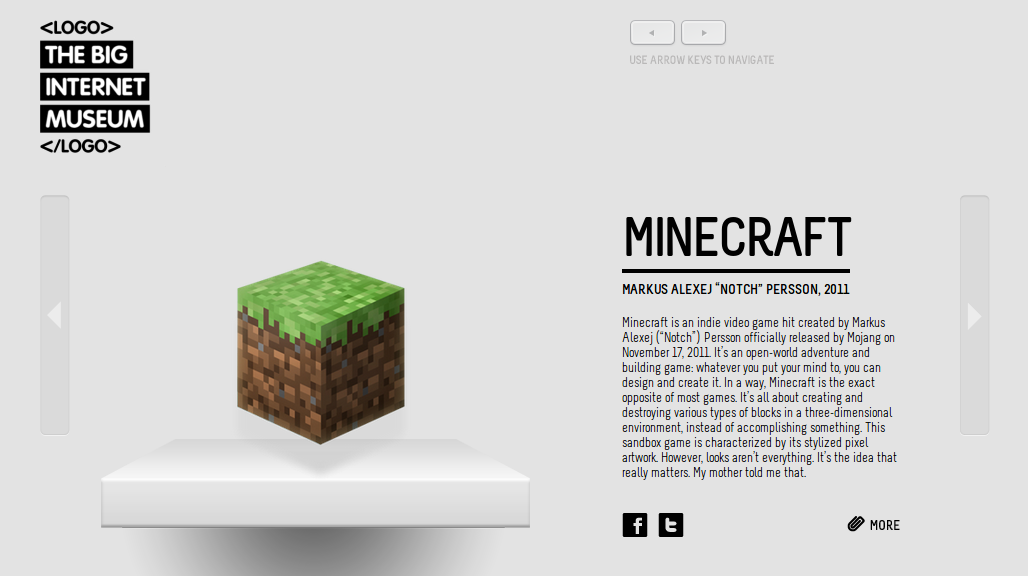 Thanks to some good press from sites like The Verge, the museum saw 13,000 unique visitors on it's first day. For it to become the type of museum its creators are hoping for, it'll need to sustain that kind of traffic. Like Wikipedia, The Big Internet Museum hopes it's exhibits will be populated with user submissions—the difference being, however, that all submissions will be fact-checked and verified.
"It's a curated museum," Polak emphasized, though the public will also be able to vote on whether an exhibit stays or goes.
"We get so many emails from people saying thank you for building this," Polak said. "That's such a crazy cool thing about the internet. It's for everyone. That makes this so much fun to work on."
Image via The Big Internet Museum