Applebee's is in the midst of a public relations fiasco after an employee who shared the bill of a stingy pastor online was fired. As far as Facebook goes, it appears that thousands are boycotting the chain until it rehires the worker.
Chelsea Welch was none too pleased when Alois Bell refused to pay the automatic 18 percent tip on a bill. Bell struck the tip amount off a bill, added the words, "I give God 10%—why do you get 18?" and writing "pastor" as an excuse.
The St. Louis–area waitress, a coworker of Bell's server, posted the bill to Reddit. It went viral, and she was fired.
To explain its side of the situation, Applebee's shared a note on its Facebook page late Thursday. It said: 
We wish this situation hadn't happened. Our Guests' personal information—including their meal check—is private, and neither Applebee's nor its franchisees have a right to share this information publicly. We value our Guests' trust above all else. Our franchisee has apologized to the Guest and has taken disciplinary action with the Team Member for violating their Guest's right to privacy.
In a comment on its post, Applebee's further tried to explain the situation, noting that Welch broke employee rules and the franchise had no other option but to terminate Welch's employment. (For her part, Welch told the Consumerist she "didn't break any specific guidelines in the company handbook.")
That explanation didn't stem the tidal wave of complaints pouring into that post's comment section. By Friday morning, Facebookers had left more than 19,000 comments on the post and shared it more than 1,050 times. Many of the comments suggested that lapsed Applebee's fans are upset with the company's handling of the situation, and won't be back until it resolves the matter in Welch's favor.
"Thank you for giving me another reason not to eat in any of your establishments," wrote Jennifer Rivera.
"I'll be taking my business elsewhere. Good luck, Chelsea!" offered Grace Conedy.
"Applebee's has policies it must follow. The employees of Applebee's have to be held to these policies as well. The employee should have known better than to post that online. This a breach of the person's security," said a pragmatic Justeen Beaune. "However, I agree […] the customer was out of line as well. She was being rude, cheap, and petty. … I found it disgraceful that she would use her religion as an excuse to be cheap."
Others accused Applebee's of hypocrisy, asking why it was okay to post notes from some customers online, but not others. A kind message left by one grateful customer earlier this month, apparently at the location where Welch had worked, was the focus of much debate after it was reportedly deleted from the restaurant's Facebook page.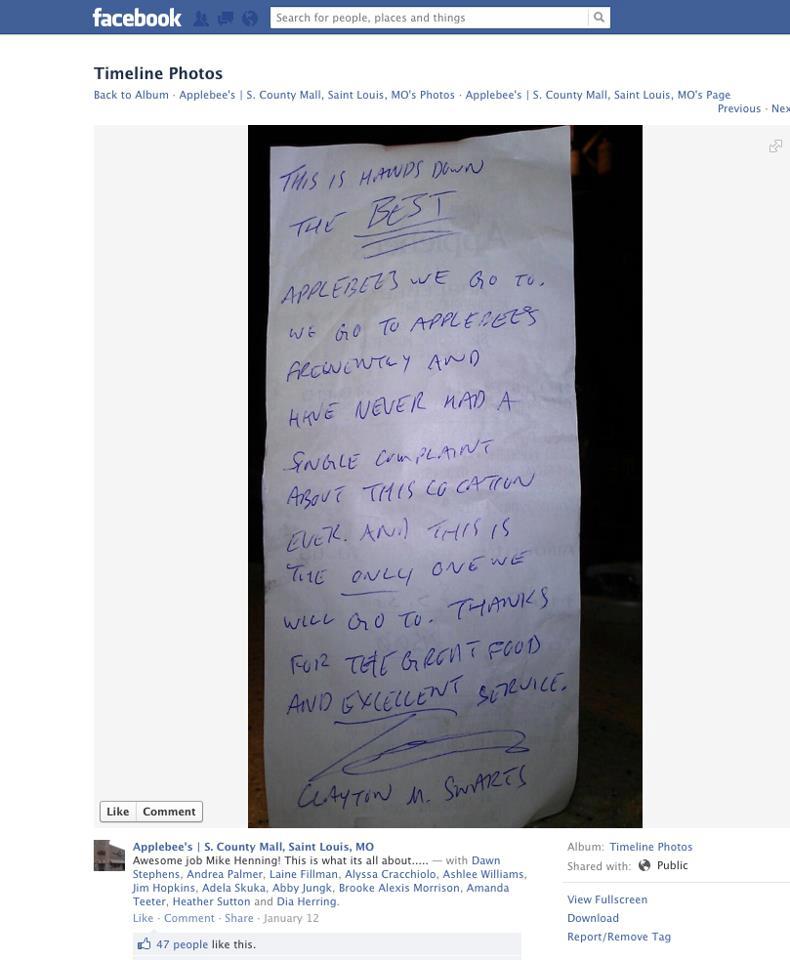 "So posting that receipt was wrong, but posting this one was okay? It still has the personal name. Good way to pick and choose!" Alex J Palacio pointed out. 
"[T]his used to be posted on your one of your facebook pages but now you took it off since its contrary to the BS statement you posted above," claimed Martin Calloway.
Meanwhile, Facebookers also called out the franchise in the "Recommendations" section for the Applebee's location where the incident apparently occurred. However, at least one person plans to continue patronizing the restaurant.
"I will still eat at Applebee's," commented Felicia AppleofHiseye Hepburn. "because I don't know the personal information or the wrong of a pastor to use God in not tipping a server or the wrong of the server that should have read her handbook. I love the food and the atmosphere.
Photo via Applebee's | S. County Mall, Saint Louis, MO/Facebook