We've all been warned to stay safe on the Internet. Some things just  don't come as advertised with online classifieds. Using your personal ad to score drugs and sell sex? Nothing's out of the realm of possibility on Craigslist—not even murder.
Here are 10 real-life horror stories that might leave you thinking twice about responding to a suspicious online ad. 
***
On October 11, 2011, police in Roswell, N.M., arrested 29-year-old Anamicka Dave (pictured top right) after reading an ad she posted on Craigslist. In the ad, Dave allegedly wrote that she was "new to town" and "looking for Mary Jane." According to a police spokesman, the officer who stumbled across the ad while browsing the web off-duty was so stunned, he first thought it may have been another department conducting a sting operation. The officer, posing as a seller, exchanged information with Dave via text message and met her in a parking lot, where she was arrested. She was charged with one felony count of criminal solicitation of marijuana and released on a $5,000 bond.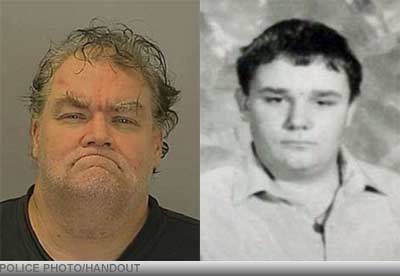 A 52-year-old man and a teenager were arrested on November 16, 2011, in connection with three murders and one attempted murder. Authorities in Ohio believe Richard Beasley and Brogan Rafferty, 16, lured their victims using job postings on Craigslist seeking farm workers. Respondents were told to bring their belongings as they would be living on the fictitious 688-acre cattle farm. Three bodies were found in shallow graves in the woods near Akron, dead from gunshot wounds. A fourth victim escaped after being shot in the elbow. Police believe robbery was the motive for the killings and say Beasley and Rafferty targeted single men without family. 
Beasley has an extensive criminal record and has served a total of 15 years in jail, on charges including drug trafficking. He worked as an unpaid chaplain, and, according to his 70-year-old mother, "has a very caring heart." He acted as a sort of mentor to Rafferty who'd been having difficulties since his parents' divorce. The two went fishing and volunteered together. Beasley is in jail on unrelated charges as prosecutors build a case. Rafferty is in a juvenile detention center, charged with attempted murder and complicity to attempt murder.
On. Oct. 9, 2007, Carlton "Privilege" Simons, 25, and Shernett "Divine" Reevey, 24 [pictured], were convicted of forcing college student Tamla Hutchins to prostitute herself through ads on Craigslist. The two promised Hutchins they would introduce her to hip-hop stars P. Diddy and Lil John if she came to New York and said they would give her money to care for her young son. Simons was sentenced to two to six years in prison; Reevey now faces a sentence of up to seven years.
In 2007, an Illinois man complained to police after he answered an ad on Craigslist for sex, but was allegedly mugged when he arrived at the apartment. Officers set up a sting and arrested Edward Green, 40, and Megan Morris, 26 [pictured], after they allegedly asked undercover police to pay for sex. Both were charged with a misdemeanor charged of keeping a house of prostitution; Morris was also charged with misdemeanor prostitution and Green was charged with felony pandering.
When Shawn and Kitty Sonnenschein of Portland, Ore., were planning their 2007 wedding, they requested Home Depot gift cards instead of gifts. But when they found only three cards after the ceremony, they knew something was wrong. They accused the Rev. Shey-Rima Silveira, who they found through a Craigslist ad, of stealing the cards. Silveira denied stealing the gifts, but police investigated and charged her with second-degree theft.
Michael John Anderson, 19, is facing a second-degree murder charge for allegedly killing a 24-year-old Minneapolis woman who answered a Craigslist ad for a baby sitter. Police allege he shot Katherine Ann Olson [pictured] in the back after she came to his home to inquire about the job. Olson's body was found in the trunk of her car Oct. 26, 2007. Anderson told police he was present during Olson's slaying, but said the killing was committed by a friend who "thought it would be funny."
Six women, including Julia Redd [pictured], were arrested by Pennsylvania police in October 2007 after they tried to solicit sex on Craigslist. Police in Bensalem, who say they monitor Craigslist advertisements, set up a sting to catch the women. One ad read, "THAT'S RIGHT ALL YOU GUYS IN BENSALEM ONLY $180 HR …" All six women now face prostitution-related counts.
Deandre Travon Green pleaded not guilty in September 2007 to forcing a 15-year-old runaway to prostitute herself through Craigslist. Beaverton, Ore., police say Green took the girl from Oregon to Los Angeles, where he advertised for her services on the Web site. Green, 25, pleaded guilty on April 28 to a charge of transportation of an individual for illegal sexual activity and was sentenced in federal court to a 70-month prison term, followed by three years of supervised release.
Former Us Weekly gossip columnist Timothy McDarrah was convicted of charges related to soliciting sex with a minor in December 2006 after he responded to an advertisement on Craigslist that said customers would be introduced to the "freshest, youngest" girls in New York City. McDarrah asked what it would cost for the "cutest white 14-year-old girl with a ponytail in the whole 8th grade," and told an undercover police officer he was willing to pay $200 for sex. He was sentenced to six years in prison.
Police are still searching for Donna Jou, a 19-year-old San Diego State University student who went missing in June 2007 after she left her home with a man she met on Craigslist. Jou was last seen as she left her home on the back of John Steven Burgess' motorcycle. Police eventually found Burgess, a convicted sex offender, in Florida, and he was sentenced to three years in prison for failing to register as a sex offender. He refused to speak to authorities about Jou's disappearance. On March 17, 2009 Superior Court of the State of California for the county of Los Angeles charged John Steven Burgess (a three times convicted sex offender) for the disappearance of Donna Jou.