Every Friday, Cash App, the hugely popular money transfer application advertised on places like Pod Save America, will throw a picture up on its Twitter and Instagram. It'll be totally devoid of context, but feature a colorful image that looks like it was dreamed up by Salvador Dali's intern and a single hashtag as text: "#CashAppFriday." 
There is little to no information online regarding #CashAppFriday's origins or rules. A previous post in June from the application's Twitter account, under the hashtag #SuperCashAppFriday, said commenters could win $100, $250, or $500. 
It's #SuperCashAppFriday – we're giving out $10,000 in space bucks rn. RT this with your $cashtag to enter. You could get $100, $250, or $500

For good luck, tag someone from another planet.

Follow @CashApp to qualify. No purc nec. Void where proh. Rules: https://t.co/P3knshDKS0 pic.twitter.com/ZzwnladpcA

— Cash App (@CashApp) September 27, 2019
Buried on the Square website, which owns Cash App and was started by Twitter founder Jack Dorsey, are rules for #SuperCashAppFriday, but there is no such page for the regular #CashAppFriday posts or clarification about the difference between the two. 
But after following how the #CashAppFriday hashtag is used, it's clearly a textbook marketing gimmick. The payment transfer company posts to social media, and then seemingly randomly selects users to give money away to. People make themselves eligible by commenting on the post with their cash tag, their user ID that is searchable on the Cash App.
And people love it.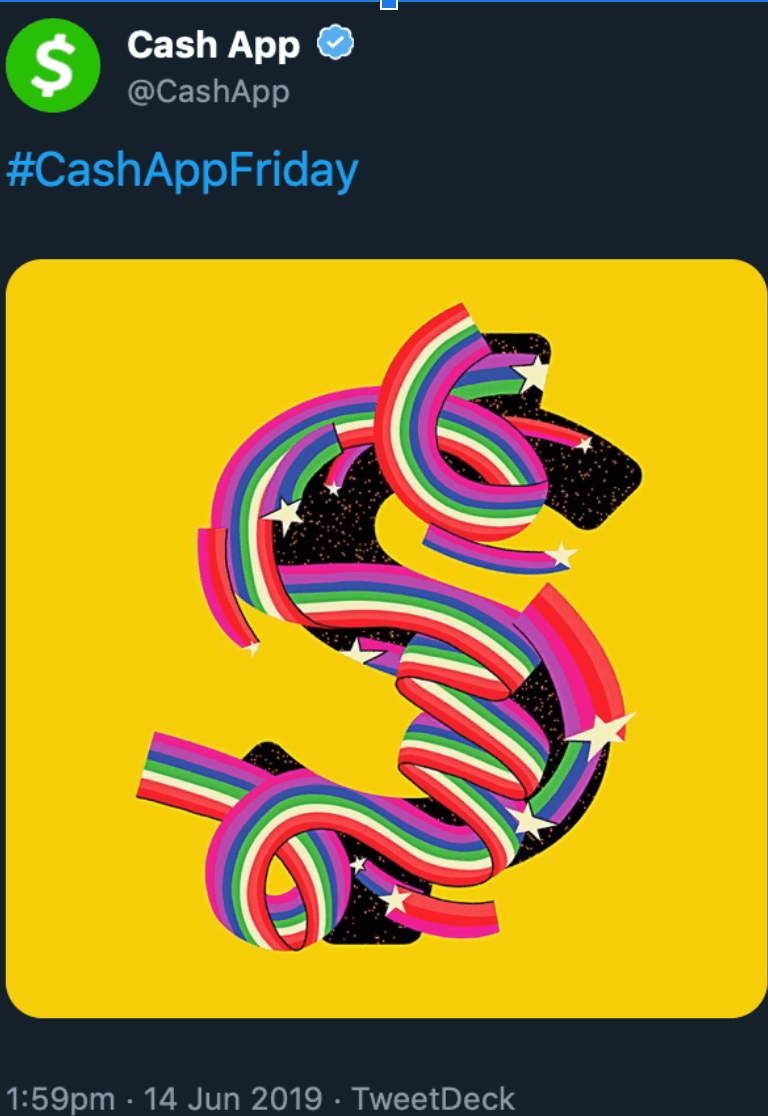 On June 14, for example, the #CashAppFriday post had over 22,000 responses. The comments were people sharing just their cash tag but also included a fair number of screengrabs of overdrawn bank accounts, sad stories, and images of kids whose parents want to buy lunch. From a survey of the responses to the thread, it seems Cash App commonly pays people about $5. 
The company did not respond to multiple inquiries regarding #CashAppFriday, its origin, or how much it pays on average.
The people playing #CashAppFriday are participating in a huge, convoluted online money grab, a digital version of the arcade claw game that flustered many an adult and child as they watched stuffed animals slip through their metallic grasp.
But where free money goes, scams follow, and #CashAppFriday is no different. Scammers are preying on the financially desperate with updated Nigerian-prince tactics. Moreover, the company doesn't seem to be doing anything about these scams and provides fertile territory for them under one thirsty hashtag.
Searching Twitter for #CashAppFriday and #Cashtags results in hundreds of ever-refreshing tweets that promise free money if users retweet, follow, and then direct message people with their cash tags.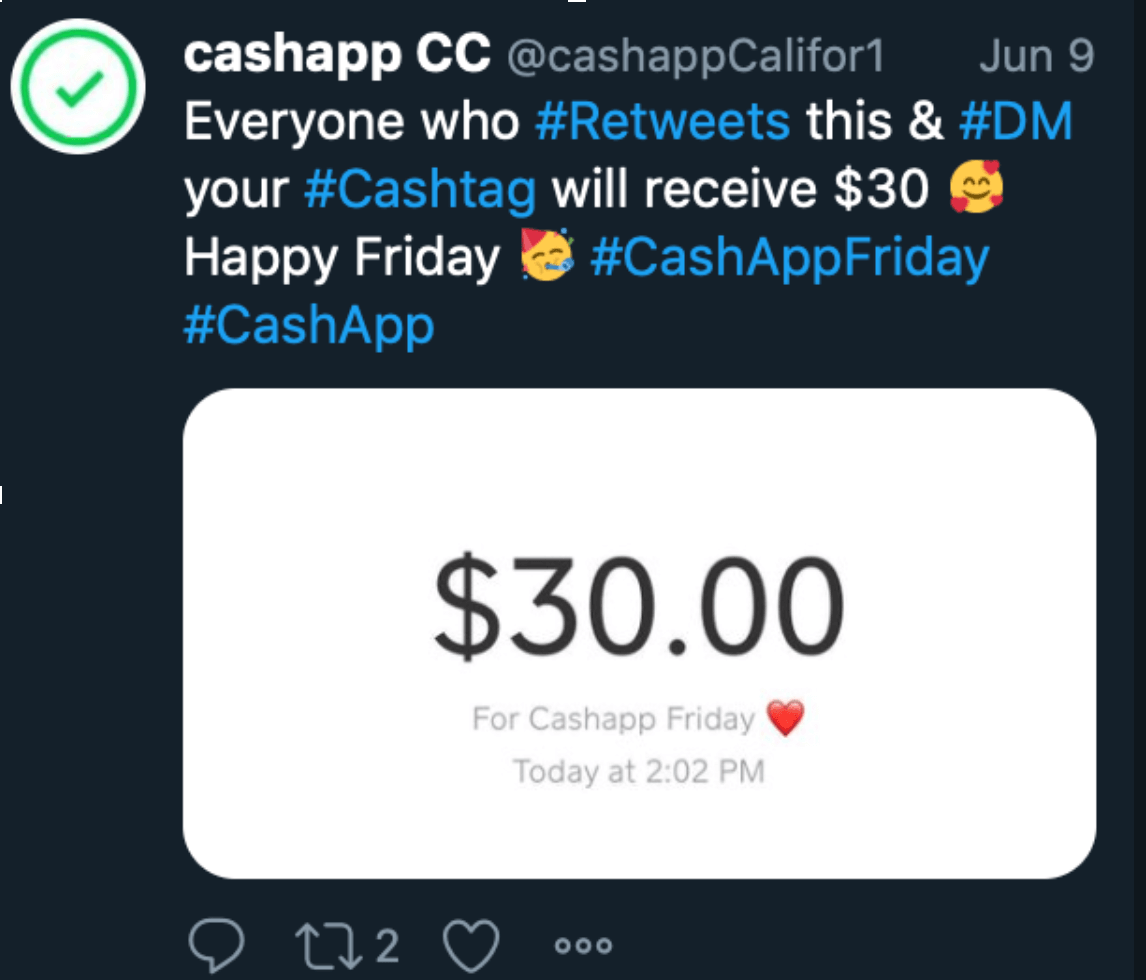 It may seem absurd to fall for things that are clearly too good to be true. 
But take into account that the average person has about $38,000 in student loans (and owes $200 to $300 per month); there are nearly 40 million people living in poverty in the U.S.; and that "inequality is now approaching the extreme level that prevailed prior to the Great Depression," according to the Stanford Center on Poverty and Inequality, and you can see why. People want and need fast cash, and the Cash App has created a digital space where people who are struggling with financial hardship flock, in the hopes of a bit of corporate benevolence.
It's also put them all in one place for scammers to hunt.
…
Jennifer Loran, a mother living in Washington state, had been trying to win a #CashAppFriday giveaway for months when someone reached out to her claiming to work for Cash App.
The social media profile looked legitimate, according to Loran, and they were well-educated about the app. Many accounts like this will use the actual Cash App logo in their profile images, and some have also changed their display name to "Cash App."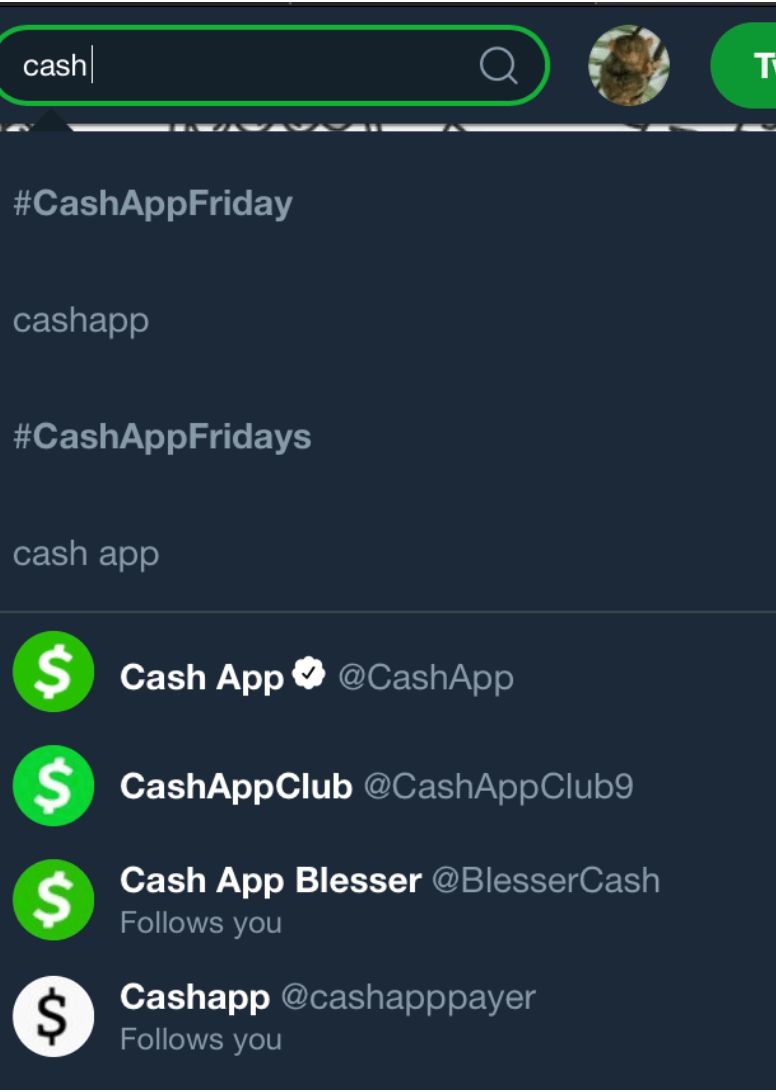 The scammer, who was posing as a Cash App employee, told Loran she had won #CashAppFriday, but she needed to pay a fee for the initial prize. So she sent the $20 they requested for the prize and was soon blocked by the scammer on all social media fronts. 
Frustrated, she reached out to Cash App, and when she finally was able to reach real representatives for the company, they said there wasn't anything they could do, though Loran says they should be able to refund her transaction seeing as they give away money every single week. 
"It is so embarrassing when you have to walk out of the store in tears and leave behind your cart of diapers and wipes," Loran says, recalling the day of the scam that she says took the last bit of money she had in her account.
A cursory search of "#CashAppFriday" and "scammed" on Twitter will pull up people warning against others getting scammed, and rampant testimonials from those who already have been.
https://twitter.com/jareddonigian24/status/1139622673003274240?s=20
https://twitter.com/NoChaed/status/1147278654482857985?s=20
Everyone report @cashappboosted
They are scamming people out their money. They scammed me out of $15 #cashapp #CashAppFriday

— Yours Truly (@gxddessjaspah) September 27, 2019
@CashApp why do you do nothing when you find out there's a scammer? Your #CashAppFriday $150 needs to go directly to my friend who was scammed, dudes.

— craig & mel & steph & tay (@the__watchers) March 9, 2019
When contrasted with other popular payment apps such as Venmo, the Cash App is growing in its use among the underbanked, according to Quartz. It also is beating out competitors when it comes to low-income users and skews toward them. Low income here is defined as earning less than $50,000 a year.
To get inside these scams, I decided to see how they work. Over the course of just one day, I was able to create a burner Twitter account, start liking and retweeting various #CashAppFriday posts that promised benefits, and quickly had a variety of accounts start following me. 
One person, a self-proclaimed YouTuber who goes by the handle @ItssYsnn (and is now suspended), but whose name is Darius, DM'd the account: 
"Hmu if you have a cash App I'm blessing People All Flips Allowed

$10 – $100

$15 – $150

$20 – $200 

$25 – $250

 

Whatever you want me to Flip"
A cash flip is when one party claims they can take advantage of a system and turn a hundred dollars, for example, into a thousand. Another account asking me to do something similar claimed to be a Cash App technician. 
When asked if this was part of #CashAppFriday, they said yes, and that I was one of the "lucky few they'd chosen so far."
Lucky me. I sent $20 to their cash tag after being told it'd be flipped into $200, and, unsurprisingly, was immediately blocked on all social platforms.
I reached out to Cash App support to see if there was any remedy to the situation, particularly given the fairly apparent nature of the scam that was trafficking off its hashtag and cash giveaway. A customer support person politely said that while they understood it was important I get the money back, "Cash App is unable to cancel or refund Cash transactions after the funds have been transferred to the recipient's bank."
But I could, they mentioned, request the money back from the scammer, and include a note as to why I would like it back. 
A couple of days after #CashAppFriday, another account I had messaged got back to me with this response: "Okay so I'm one of the app technicians for Cash App. I can Make A Data Edit & change the numbers around which turns hundreds to thousands. I don't touch any money I can't just take my cut i have to depend on you to be loyal and conduct business accordingly so if you gonna be LOYAL and your interested let's make money. The price range is $150-$950💰do you have enough to start?"
Similarly to the scam account Loran encountered, it was someone claiming to work for Cash App, offering me the chance to earn money. Another account I had messaged got back to me as well, asking about my cash tag. 
I knowingly walked into scammy Twitter to see how this works. But I'm also not continually posting on #CashAppFriday, trying to be randomly selected, or in a desperate financial situation. I'm also extremely online and more aware of these schemes. That's not the case for everyone, and having all these people congregate under a recurring hashtag that encourages people to express that they're interested in money (and sometimes desperate) has consequences.
When reached for comment, Twitter pointed to its policy on financial scams but said it would look closer at the issue.
…
There are psychological reasons for why people are likely to fall for scams. Previous research on the psychology behind scams and victims has found that people who see the glass as half full are more likely to fall prey to marketing scams. Are you sensitive or romantic? That makes you susceptible to scams. Other reasons include the fear of missing out, reciprocity principle (or the idea that because someone does you a favor, you feel obligated to repay them), and even the fact that the scammers seem nice and genuine. 
"We assume that only other people fall for cons and scams, and it will never happen to us," Dr. Paul Seager, a professor of social and forensic psychology at the University of Central Lancashire, tells the Daily Dot.  "That makes us feel a bit more secure about ourselves and bolsters our self-esteem. 'We're not stupid. We don't fall for these kinds of things,' but that self-serving bias lures us into complacency."
Seager says that in the old days, when it came to scams, in order to pull one off you had to telephone everybody or you had to invite two people to a physical place. It was incredibly labor-intensive and time-consuming. Things changed.
"The ease of use of social media or email or Facebook or Twitter, whatever the poison of your choice is, because it's easy for us [means it's] also easy for the scammers," says Seager. 
Loran, the mother who was scammed, even told the person who messaged her that this sounded like a scam. She thought that, if it was a scammer, flagging that the whole thing sounded fishy would scare them off and they'd stop responding immediately or block her, out of fear of being discovered. But instead, the account responded with a lengthy explanation of how they did things, and to her at the time, it seemed legitimate. 
The scammer caught Loran, who had already been trying to win #CashAppFriday for months, on a bad day when she was already tight on funds. 
"When I was contacted, I felt really hopeful that I would be able to get my son all the things he needed," Loran says. "I was even content winning 10 bucks, anything from Cash App. Unfortunately, what seemed to be too good to be true definitely was."
Cash App has no obligation to pay or refund people who are victims of a scam by individuals purporting to be a part of Cash App. But accounts that use the Cash App name and logo on Twitter are in clear violation of its trademark rules. 
Given Dorsey, the founder and CEO of Twitter, also founded Square, the parent company of Cash App, it seems there could be more done to proactively tackle these accounts through trademark violation report forms on Twitter, or Digital Millennium Copyright Act notices.
It could also have clearer information about #CashAppFriday online, such as what it is, and, perhaps more importantly, what it is not. 
When asked what else Cash App could be doing to address this issue, a Cash App spokesperson responded with the following statement: "We are always working to protect our customers, which includes educating them about potential online scams. As a reminder, the Cash App team will never ask customers to send them money, nor will they solicit a customer's PIN or sign-in code outside of the app. If you believe you have fallen victim to a scam, you should contact Cash App support through the app or website immediately."
They also noted that users could refer to the company's web page, which has tips on recognizing scams.
Ultimately, the successful marketing hashtag is attracting people who are in need of money and bad actors who exploit them, all in one place, and without much regulation.
For Loran, the days of being targeted by scammers aren't done. She's had people reach out to her trying to "help," saying they could get her money back for a small fee. 
"No. No thanks," Loran says. "The last scam really turned mine and my son's world upside down, and I'm not going to be fooled again." 
Update 12:39pm CT: After publication, the Cash App issued the following statement to the Daily Dot, saying it is working with Twitter and other social media sites to remove accounts posing as the Cash App.
"We are aware of social media accounts that claim to be associated with Cash App. We are working with Twitter and Instagram to deactivate all accounts that infringe our intellectual property rights (eg: use our name or logo without permission) or seek to take advantage of our customers. As a reminder, Cash App currently has only two official Twitter accounts, @cashapp and @cashsupport, both of which have blue, verified check marks."
Cash App noted this work is ongoing and that they have been aware of the problem.
READ MORE: