All three Shane Dawson's YouTube channels have been demonetized amid renewed controversy and accusations of racism and inappropriate sexual behavior.
A firestorm of controversy reignited after Shane Dawson released a new video titled, "Taking Accountability," in which he apologized for numerous disreputable actions including appearing in multiple videos in blackface, using racial stereotypes of Asian and Latinx people as jokes, and making jokes about pedophilia.
In the same 20-minute video, he also apologized for a clip that recently resurfaced showing him pretending to masturbate to a poster of Willow Smith.
"I made a video six years ago talking about it, and I gave excuses, and I knew it was wrong, and I knew I never wanted to do it again, but I didn't do the work," Shane said in the video. "I didn't actually look into the history of it and why people were so upset. My excuse—'Oh, I was just being funny, I love Black people, I'm not racist, I was trying to be funny'—all of that is stupid and wrong and I put that onto the internet as an adult. And that is insane."
In a statement to Tubefilter, YouTube said, "It takes such action in rare circumstances where a particularly newsworthy creator's bad behavior could have a negative impact across its collective community of creators, viewers, and advertisers."
According to Tubefilter, Dawson's punishment is "indefinite" but not permanent.
After the clip involving the poster of Willow Smith resurfaced, the singer's mother and brother tweeted their disgust.
Jada Pinkett Smith wrote to Dawson on Saturday that she was "done with the excuses." Jaden Smith was more direct in his response.
"SHANE DAWSON I AM DISGUSTED BY YOU. YOU SEXUALIZING AN 11 YEAR OLD GIRL WHO HAPPENS TO BE MY SISTER!!!!!!" Smith wrote. "IS THE FURTHEST THING FROM FUNNY AND NOT OKAY IN THE SLIGHTEST BIT."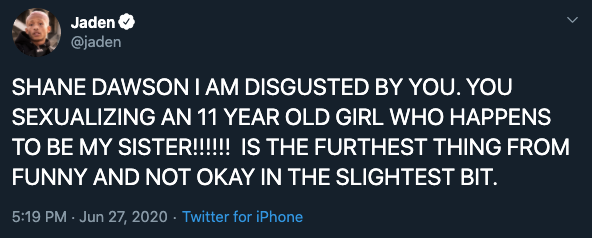 Meanwhile, multiple brands have dropped Dawson's products from their online and retail stores. Morphe dropped Dawson's makeup collaboration with Jeffree Star, and Target stopped selling Shane's books of essays, I Hate Myselfie and It Gets Worse.
READ MORE:
H/T Tubefilter