The Smith family has a message for Shane Dawson: They're fed up.
After a 20-minute long apology video, the YouTuber is now facing heat by the family of Willow Smith after a video recently resurfaced of him "masturbating" to a poster of her in 2010. Willow Smith would've been 11.
In the video, Dawson moans, "Oh, whip your hair back and forth," in reference to Willow Smith's 2010 hit song.
"To Shane Dawson … I'm done with the excuses," Jada Pinkett Smith, Willow Smith's mother, tweeted. 

Willow Smith's brother, Jaden Smith, also addressed the video on Twitter.
"SHANE DAWSON I AM DISGUSTED BY YOU," he wrote. "YOU SEXUALIZING AN 11 YEAR OLD GIRL WHO HAPPENS TO BE MY SISTER!!!!!! IS THE FURTHEST THING FROM FUNNY AND NOT OKAY IN THE SLIGHTEST BIT."
"This Man Was Also Doing Black Face On The Regular," Jaden continues. "As The Youth We Need To Support Creators Who Support Us And Our Morals. This Is Not Okay."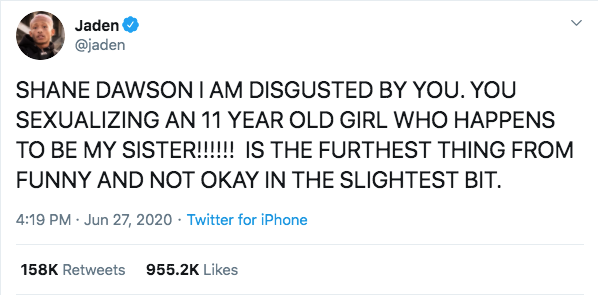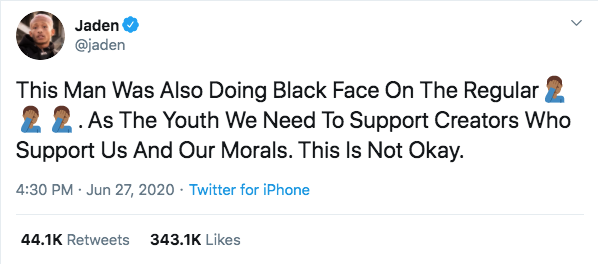 On Friday, Dawson, 31, posted a video to YouTube apologizing for his use of blackface and other racist tropes in past videos, amongst other things. He's also been called out for saying the N-word in videos, homophobia, and "joking" about pedophilia and bestiality.
Though Dawson never mentions Willow Smith in particular in his video, he does apologize for "inappropriate" comments made about children.
"I swear on my life," Dawson says in the video, "I am not somebody who would ever talk about a child—like in seriousness, I would never talk about a child in any way that is inappropriate. That is disgusting, that is gross, it is not something I would ever do."
"It is something I did for shock value or because I thought it was funny or, like 'Oh my god, my child molester character,' or whatever. It's all gross, and I promise that is not real, that is not me," he adds.
Neither father Will Smith nor Willow Smith herself have commented on the resurfaced video. Dawson, too, has yet to respond to the Smith family's condemnation.
READ MORE: