A wrestling coach in Washington state is facing backlash after appearing to mock the death of George Floyd online.
In a photo posted to Facebook, the Bethel High School coach, Dave Hollenbeck, can be seen smiling and giving a thumbs-up while on the floor. Another individual places a knee over his upper back and neck.
"Not dead yet," Hollenbeck said. "This is for all the race baiters and people that don't What they're talking about when they're saying this could kill you."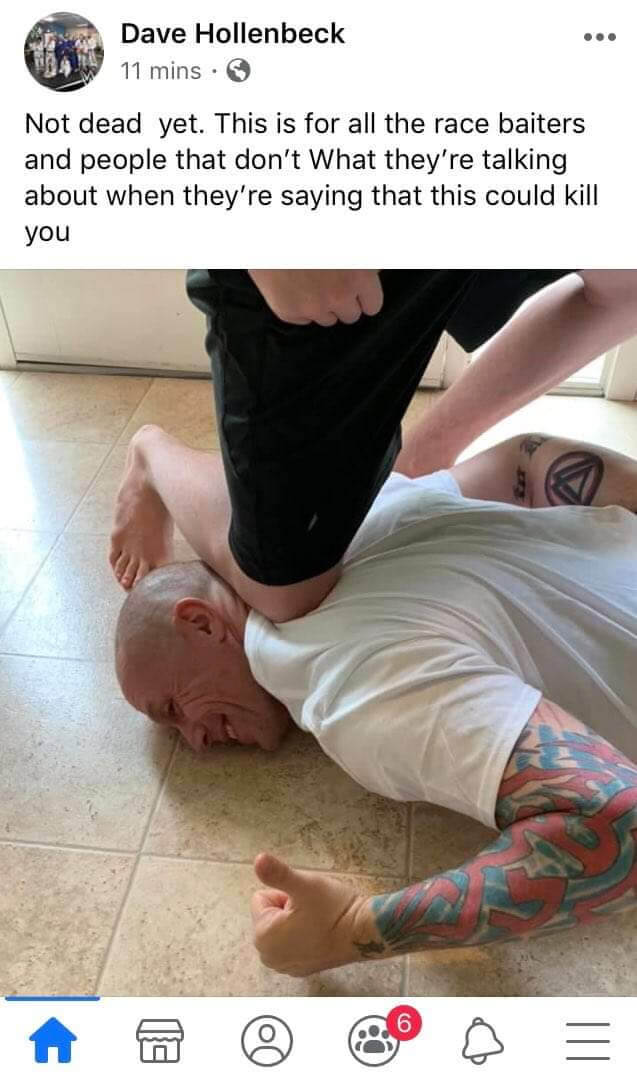 The photo bears resemblance to the viral image of Floyd being pinned down by a Minneapolis officer shortly before his death.
In a previous version of the typo-riddled post, Hollenbeck defended law enforcement while referring to Floyd's death.
"Not dead yet I'm doing this for Are police officers the media is a race baiting machine and I'm tired of it," Hollenbeck said. "I'm going to speak out every time if you don't like that I'm sorry but I love All people.. Wake up America."
The remark, according to the New York Post, appears to have since been deleted. The image was shared more than 14,000 times before disappearing.
In a statement to KING5, Bethel School District's Communication Director Doug Boyles confirmed that he had been made aware of the incident.
"We are investigating the post. Dave Hollenbeck is not a teacher," Boyles said. "This was his first year as a wrestling coach at Bethel High School. As wrestling season is over, he is not working for us right now."
Speaking with Kiro 7, Hollenbeck opted to further defend his comments on Floyd's death before stating that the country "needs to come together."
"I did not tell any lies. I showed that I was okay from a knee on my neck," Hollenbeck said. "That is it. I did not say anything racist."
Aside from the insensitive nature of Hollenbeck's posts, users online also criticized his entire argument regarding the officer's actions.
"His knee isn't even on his neck. That's his upper back," Twitter user @turtle8769 said of the coach's photo. "That officer's knee was on Mr. Floyd's WINDPIPE. This is literally comparing apples to oranges."
It's unclear whether the district will sever ties with Hollenbeck moving forward.
Floyd's death is currently being investigated by both state and federal authorities. Minneapolis Mayor Jacob Frey has also called for the offending officer, Derek Chauvin, to be arrested.
READ MORE: