Online sleuths are taking vengeance after a man called the video showing an officer kneeling on George Floyd's neck, suffocating him, "glorious to watch."
On Monday, a bystander-recorded video of the incident went viral. It shows a Minneapolis police officer keeling on Floyd's neck. The officer had Floyd pinned down for about nine minutes as Floyd yelled that he couldn't breathe. Floyd, a Black man, later died. (The four police officers involved have since been fired.)
Sean Baker Sr. allegedly commented on the video via Facebook.
"Awesome,one less piece of shit in the world. Hope it didn't breed," he allegedly wrote, seemingly referring to Floyd as "it." "It was glorious to watch."
A screenshot of his comment was posted to Twitter, where it went viral.
"Do your thing Twitter," one user wrote, along with the screenshot and contact information for the lawn care company Baker Sr. allegedly owns. Others are posting Baker Sr.'s alleged home address.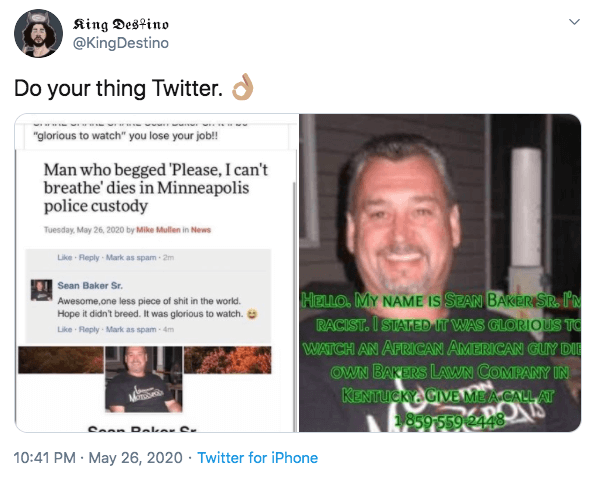 And Twitter did its thing.
People are now review-bombing different business listings they believe belong to Baker Sr. One of them is Harold Baker Lawn Care, which people are leaving one-star, negative reviews for on Google. Another is Baker Lawn Care, which people are leaving bad reviews for on Yelp.
"Told me my lawn would look better with a burning cross in it. I thought that was a strange suggestion. Also, his edging was sub-par at best. Wouldn't recommend," one review for Harold Baker Lawn Care reads. Some are likening Baker Sr. to a "barbaric animal" and a "detriment to society."
"Terrible guy, I do not recommend his business to anyone!! Unprofessional, racist, a pos to sum it up," another reviewer wrote.
Others are turning Baker Sr.'s very own words against him, with one writing, "Unprofessional! Hope it didn't breed."
On Baker Lawn Care's Yelp page, reviewers are posting the screenshot of Baker Sr.'s Facebook comment and leaving reviews similar to those seen on the Harold Baker Lawn Care Google listing.
Harold Baker Lawn Care is listed in Princeton, Kentucky, while Baker Lawn Care is listed in Clay City, Kentucky. There are now over 100 reviews left for each listing. It is unclear if they are the same business rebranded, or if users are confused about which one Baker Sr. actually allegedly owns. Others are leaving bad reviews on just about every lawn care business that has "Baker" in its name on Facebook. Many of those businesses appear to be just collateral damage.
The phone number listed for Baker Lawn Care Yelp is "not a working number." The Daily Dot has reached out to Harold Baker Lawn Care five times throughout the day on Wednesday but was met with a busy signal each time.
Update 10:47am CT, May 29: Harold Baker Lawn Care, one of the Kentucky businesses receiving negative reviews online, told the Daily Dot that Sean Baker Sr. is not an owner, employee, or affiliated with the company in any way.
READ MORE: