A video that showed Phoenix police fatally shooting a man in a parked car on Saturday has led to renewed protests over police misconduct in Arizona's capital.
The incident, which was filmed by a bystander and has since gone viral, took place against a backdrop of nationwide protests over similar police shootings across the country. 
According to the Washington Post, the victim was identified as James Garcia by activists and a Phoenix city councilman. As of Monday afternoon, none of the officers involved in the shooting had been named.
In the video, a silver sedan parked in a driveway is surrounded by four police officers and a police vehicle. At least two of the officers are pointing handguns at the vehicle, and another on the passenger side holds a rod in preparation to break the sedan's window. 
When the officer seems like he's about to swing the rod, a red SUV drives in front of the camera and temporarily obstructs the video. As the SUV drives past, there's a breaking sound—presumably the shattering of the passenger-side window—followed by a loud yell. After that, approximately 10 gunshots ring out across the street. 
Onlookers begin shouting to the officers as they remove the shattered glass from the driver's-side window.
"That's fucked up, that's fucked up man!" an onlooker says several times. 
At least one of the officers yells "back the fuck up!" to the people gathered across the street. A siren can be heard getting closer to the scene as the two-minute video ends. 
The user who tweeted the video, @heybtwj, said the man killed in the sedan was their friend's cousin.
"My friend's cousin was killed today while sleeping in his OWN driveway by Phoenix PD," @heybtwj tweeted. "He was unarmed and shot at close range. Please share so we can get him justice. #justiceforjames"
The user did not immediately respond to the Daily Dot's request for comment.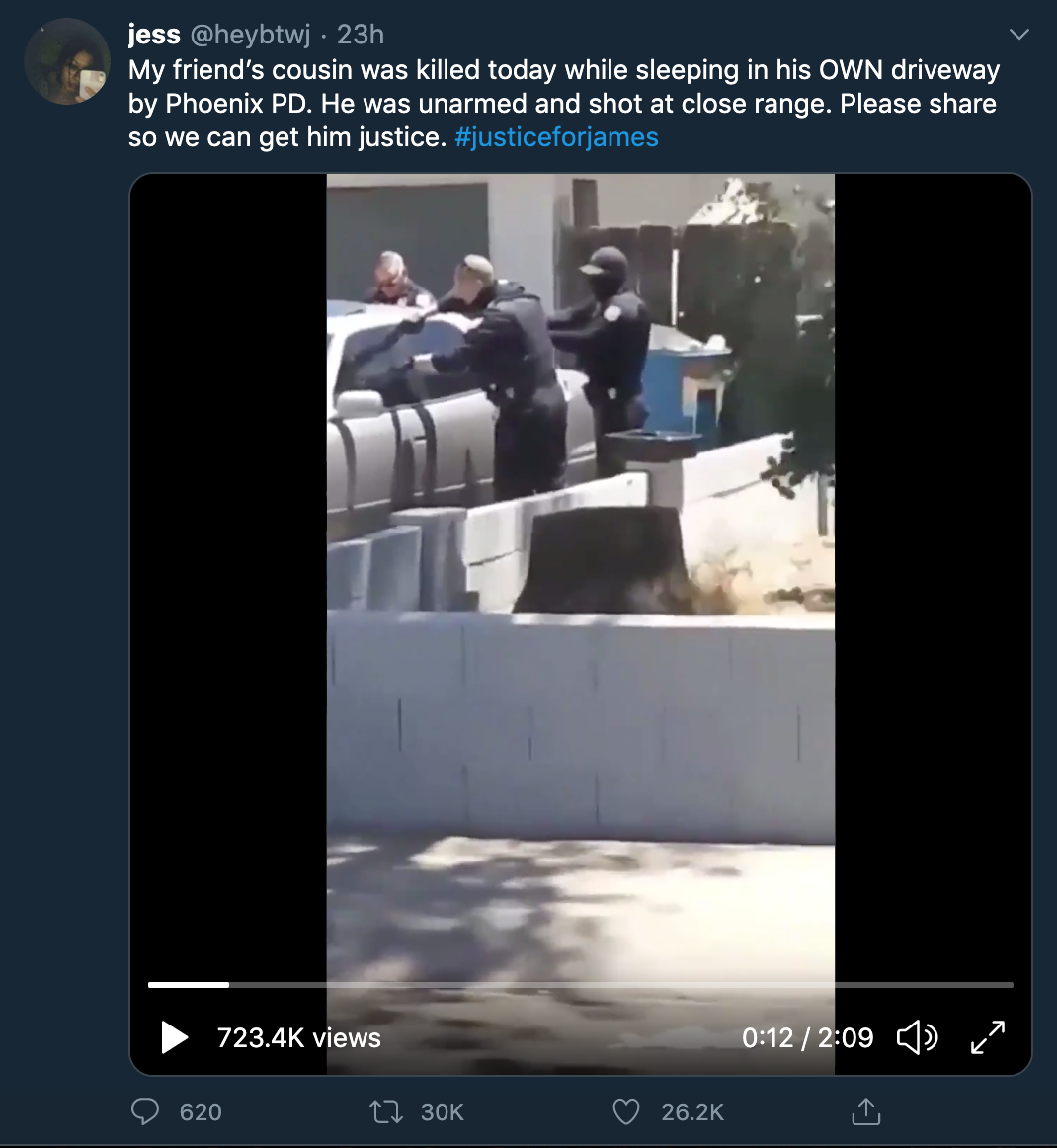 According to the Arizona Republic, the Phoenix Police Department said the man was armed and was in the exact location of a man suspected of aggravated assault. Police said the man refused to get out of the car after being surrounded and then displayed a gun.
The video, which was shot from a distance, doesn't show a gun inside the car. Activists have called for the release of body camera footage from the officers involved.
READ MORE: